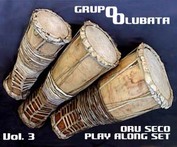 Oru Seco Vol.3-Play Along Set
| Style | Released | Album Tracks | Charts |
| --- | --- | --- | --- |
| Instructional | 2006 | 23 | 0 |
$12.99

© 2006 John Colin Douglas. All rights reserved.
Audio album download includes album tracks and cover art.
All audio tracks in MP3-VBR format. About LPM album downloads.
| # | Name | Play | Time | Info |
| --- | --- | --- | --- | --- |
| 01 | Eleguá (All) | | 1:48 | first Oru Seco orisha (not on this album, on Vol.1) |
| 02 | Eleguá-Itótele | | 1:48 | Eleguá minus itótele (not on this album, on Vol.2) |
| 03 | Eleguá-Okónkolo | | 1:48 | Eleguá minus okónkolo. |
Volume 3 of 3 instructional batá play-along set. Learn and pratice the Oru Seco with Grupo Olubatá. This album contains a total of
23 tracks for a total playing time of 28:38(m:s).
This is
Volume 3
of 3 sets of audio tracks created to help percussionists practice and learn the rich rhythmic content of the afro-cuban Oru Seco. It is meant to be purchased in conjunction with the lead sheet chart or "road map" chart made available on-site (visit
the Volume 1 album page
). It is extremely important to note that no two groups play the oru seco in the same exact way and its interpretation continues to vary. This Volume 3 contains all 23 orishas (tracks) without the Okónkolo parts:
01- Eleguá 1:48

07- Babalú Ayé 0:44

13- Aganyú 1:01

19- Oyá 1:47

02- Ogún 0:55

08- Osain 1:32

14- Orula 1:08

20- Ochún 0:41

03- Ochosi 1:53

09- Osun 0:44

15- Orichaoko 1:01

21- Yemayá 4:15

04- Obaloke 0:56

10- Obatalá 2:33

16- Ibedji 0:34

22- Obba 0:39

05- Inle 1:00

11- Dada 0:51

17- Changó 2:12

23- Odudua 0:36

06- Oyokotá 0:22

12- Oggue 0:22

18- Yegguá 0:54

The first track -Eleguá- is posted in its entirety as a free sample along with its other two play-along sister tracks -one without the itótele and one without the okónkolo. Though not an absolutely exact transcription, we recommend playing along with the chart and MIDI tracks first, and then performing with the tracks recorded by the live drummers.
Volume 1
contains the same 23 orishas (tracks) with all three drum parts: Iyá, Itótele and Okónolo.
Volume 2
contains the same 23 orishas (tracks) without the Itótele part.
Key for the chart:

= open tone, tono abierto /

= muff, tapao /

= slap, tono cerrado
General Info:
Call it a living rhythmic anthology or a collection of percussion lore, the Oru del Igdodú (commonly known as the oru seco, meaning without singing) is a constantly evolving body of work that every respectable percussionist must be familiar with. It is said that every possible interesting permutation between the 4/4 and 6/8 meters is represented in the oru seco. The movements are played on three batá (double-headed hourglass drums) led by the main drum -the Iyá- and supported by the Itótele and the Okónkolo. Even a shallow secular analysis of the rhythms will quickly reveal its profound influence of all Caribbean music (salsa being the most general term).
The word igbodú refers to a specific location in the ancient land of Yoruba (today known as the african nation of Nigeria), where the oracle was received by priests. In Cuba the igbodú is the area or room set aside as the shrine for the orisha and used during a ceremony or "toque de santo". The toques or rhythms of the igdodú are completely instrumental and are performed by the three drummers in front of the shrine at the beginning of the ceremony. The purpose of the toques is to musically salute all of the orishas (afro-deities). There are 22 to 24 primary toques (23 are demonstrated here) signifying a specific orisha and performed in a set order. While the toques themselves are highly evolved compositionally, they function more like a "call" rather than a rhythm. Each of these "musical prayers" is really a representation of that particular orisha. Thus role of the batá in the ceremonies transcends the usual function of drums, becoming a language that is similar to the spoken dialects of the Yoruba but unique in its own aural properties and its abilty to communicate with the divine realm.
Special Acknowledgement:
Colin Douglas and Latin Pulse Music want to thank
Kevin Moore
for his outstanding achievements in the field of Caribbean musicology. Around the world there are many who caught the timba "bug" because of him. The Oru Seco transcription we are offering exists only because of his relentless drive to understand what constitutes truly great music.
Kevin Moore is the music editor of www.timba.com and the musical director of the American salsa band Orquesta Gitano. He has studied with dozens of leading Cuban musicians, written many extensive articles on Cuban music, and served as a consultant for features and articles produced by the BBC, the Los Angeles Times, and musicologists from Harvard and other major universities.