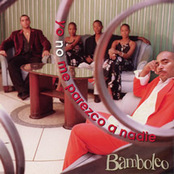 Yo No Me Parezco A Nadie
| Style | Released | Album Tracks | Charts |
| --- | --- | --- | --- |
| Timba | 1998 | 9 | 0 |
$10.99

© 1998 Ahi-Nama Music. All rights reserved.
Audio album download includes album tracks, liner notes and cover art.
All audio tracks in MP3-VBR format. About LPM album downloads.
#
Name
Play
Time
Info
01
Opening Estudio
3:37
camina pa' la pista..........
02
Yo No Me Parezco A Nadie
6:41
empújalo que es de cartón
03
Si Tu No Hablaras Tanto
6:42
viste te cojiste el dedo con la puerta
04
Amor Sin Traspaso
6:17
buen swing, solo de trompeta
05
Tu Y Yo Una Misma Cosa
3:37
bolero insipracional, los 3 vocalistas cantan
06
Pelicula Vieja
6:12
un clásico, con frases únicas y tremendo afinque
07
Cuentales
5:32
con influencias de cumbia y rumba
08
Mirando Al Cielo
3:11
tema romántico, suena como 'gospel' en español
09
Con Un Canto En El Pecho
6:24
otro ejemplo del 'bloque' que todos saben
que es únicamente Bamboleo
Second release from this female-fronted, powerhouse timba band from Cuba sets the standard for Cuban dance music.
Camina pa' la pista que la pista no tiene espinas.
The second CD, "Yo No Me Parezco a Nadie" was a masterpiece. All most all of the material was written by the great Leonel Limonta, who had written a number of hits for Charanga Habanera and Issac, and who would later leave the band, along with Haila Mompié, to form Azúcar Negra. Moreaux was replaced by the the phenomenal young Ludwig Nuñez, who stayed with the band until 2005. José "Pepe" Espinosa played with the band on timbales, but, although he's listed in the credits, left the band before this CD was recorded. Osvaldo Chacón was replaced by two male singers: Rafael Labrrera (son of LVV's Manolo), who would do much of the writing on the third CD, and Alejandro Borrero, who stayed with the group until 2004. The Abreus were replaced by Andrés Gonzalo on congas and the brilliant Rafael Vargas on bass, who wrote several brilliant arrangements for this album and later for Azúcar Negra.
--review by Kevin Moore of www.TIMBA.com


---

Like sweet rum and smooth cigars, Bamboleo is another one of those fine Cuban exports that, once
you get a taste of it, one sampling just won't be enough. The 14-member timba group is one hot number, from its music and choreography to its well-dressed singers and musicians.