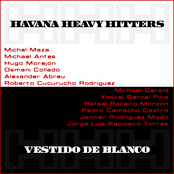 Vestido De Blanco
| Style | Released | Album Tracks | Charts |
| --- | --- | --- | --- |
| Timba | 2010 | 10 | 0 |
$10.99

© 2010 Spanish Music Records. All rights reserved.
Audio album download includes album tracks, liner notes and cover art.
All audio tracks in MP3-VBR format. About LPM album downloads.
| # | Name | Play | Time | Info |
| --- | --- | --- | --- | --- |
| 01 | Vestido De Blanco | | 3:53 | canta Michel Maza y Michael Antes |
| 02 | María | | 5:22 | canta Michel Maza |
| 03 | Sonrisa Bye Bye | | 4:41 | canta Michel Maza y Michael Antes |
| 04 | Para Calmar Tu Alma | | 5:08 | canta Yosbel Bernal Pina |
| 05 | Si Supieras | | 5:09 | canta Michael Antes |
| 06 | Consejo | | 4:34 | canta Jannier Rodríguez Miyán |
| 07 | Si Cae Lluvia | | 5:32 | canta Michael Antes |
| 08 | Te Extraño | | 4:16 | canta Yosbel Bernal Pina |
| 09 | Necesito Un Poquito | | 4:26 | canta Yosbel Bernal Pina |
| 10 | Despedida | | 0:55 | canta Michel Maza |
"Dressed In White" is the new album from an all-star timba project developed by drummer Michael Gerald and brothers Yosvel & Edduar Bernal.
Exclusive
to LPM & Timba.com, this record delivers exactly what it claims: killer timba from Havana's heaviest players.
While other genres and styles impose themselves on the current market, this HHH project arrives just in time to demonstrate the quality and grandeur of the way popular music was created in Cuba during its stellar days of the 1990s, a time for which many musicians -including myself- share strong feelings of nostalgia. -- Edduar Bernal Pina
Musicians on "Vestido De Blanco" from

Havana Heavy Hitters




Michel Maza

cantante

Yosbel Bernal

cantante, piano

Michael Antes

cantante

Jannier Rodríguez

cantante

Alexander Abreu

trompeta

Hugo Morejón

trombón

Osmani Collado

sax y teclado

Pedro Camacho

piano

Rafael Paceiro Monzón

bajo

Michael Gerald

batería y timbal

Jorge Papiosco Torres

congas, bongó, campana

Roberto Cucurucho Rodríguez

piano y teclado


Vestido De Blanco

was produced by Yosvel & Edduar Bernal Pina and Michael Gerald and includes some of the top and most world renown Cuban singers and instrumentalists. The album features members of Los Van Van (Hugo Morejón), Irakere (Michael Antes), Habana D' Primera (Alexander Abreu), Charanga Habanera (Michel Maza & Osamni Collado), Bamboleo (Rafael Paceiro), Klimax (Papiosco Torres), and Issac Delgado & Paulito F.G. (Roberto Cucurucho Rodríguez) among others.




Hoy en el 2010, nuevos géneros y estilos se imponen pero el proyecto Havana Heavy Hitters llega en el momento justo para demostrar al mundo la calidad y grandeza de una forma de hacer música popular en Cuba que por los años 90 tuvo su mayor esplendor y por la que muchos músicos en la actualidad, al igual que Yosvel y Edduar, sienten nostalgia.
-- Edduar Bernal Pina
---
A Story From The 1990´s -- by Edduar Bernal Pina
The decade of the 90´s will be always remembered in Cuba as a time of many social changes but also for the big amount of popular music bands that brought Timba music to the highest level, each of them from their very particular way of develop it. Los Van Van, NG la Banda, El Médico de la Salsa, Charanga Habanera, Paulo FG y su Elite, Bamboleo and Adalberto Álvarez among others that emerged influenced by the spicy flavor and strength of this musical movement, gave life to many dancing halls of Havana City nights at that time.
Deeply immersed in all this musical spell of the moment, Yosvel Bernal , keyboard player and musical director of Paulo FG band and his brother Edduar, translator of music courses which took place at the National School of Art of the city, they decided to record a CD showing what was going on with Timba music by that time. Not only as a meritorious tribute to the development of this interesting Cuban popular music style but also for being able to remember a whole decade with its problems, dreams, realities, all that very well expressed through this musical form.
For that purpose, they were able to gather musicians and singers of the best bands of the country together with composers and arrangers who, from their diverse styles, could show a better idea of the different ways of making this music. A combination of good friends and better musicians joined the project and that was the way Havana Heavy Hitters was created. The concept was always the same, since the very beginning and despite the variety of important musician that were on the studio, leaving in a record, forever, what was going on in the Havana of the 90´s....read more
---
Una historia de los 1990 -- por Edduar Bernal Pina
Los años 90 siempre serán recordados en Cuba por muchos cambios sociales que necesariamente ocurrieron pero también por el gran número de orquestas de música popular bailable que llevaron la Timba a su máxima expresión cada cual desde sus formas muy particulares de desarrollarla. Los Van Van, NG la Banda, El Médico de la Salsa, Charanga Habanera, Paulo FG y su Elite, Bamboleo, Adalberto Álvarez entre muchas otras nuevas bandas que surgieron sazonadas por la pujanza de este movimiento musical, dieron vida a no pocas plazas bailables de las noches de la Habana en esta época.
Inmersos de lleno en toda esa magia musical del momento los hermanos Yosvel , tecladista y director musical de Paulo FG y Edduar Bernal, traductor de cursos de música que se desarrollaban en la escuela de arte de la ciudad, decidieron plasmar para siempre en un CD lo que pasaba con la Timba en esos momentos, no solo como un justo reconocimiento al desarrollo de esta interesante vertiente de la música popular cubana sino también para poder recordar en el futuro toda una década con sus preocupaciones, sueños y realidades que muy claramente se reflejaba en este estilo musical.
Para ello, lograron reunir músicos y cantantes de las mejores bandas del país junto a reconocidos compositores y arreglistas que desde sus diversos estilos podían dar una mejor idea de las diferentes maneras de abordar esta música. Un gran número de amigos en primer lugar y artistas de muy buena calidad también se sumaron al proyecto y así surgió Havana Heavy Hitters. El concepto del proyecto siempre fue el mismo a pesar de la gran variedad de importantes músicos que se unieron a la grabación, dejar registrado por siempre lo que pasaba en la Habana de los 90....leer más