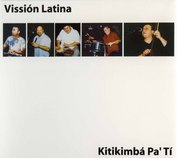 Kitikimba Pa Ti
| Style | Released | Album Tracks | Charts |
| --- | --- | --- | --- |
| Salsa | 2004 | 10 | 0 |
$10.99

© 2004 VL Sounds. All rights reserved.
Audio album download includes album tracks, liner notes, lyric sheets and cover art.
All audio tracks in MP3-VBR format. About LPM album downloads.
| # | Name | Play | Time | Info |
| --- | --- | --- | --- | --- |
| 01 | Tema VL | | 4:03 | Timba |
| 02 | A San Francisco | | 4:06 | Cha Cha Rock |
| 03 | Dale | | 2:43 | Latin Pop |
| 04 | La Mujer Que Tengo Ahora | | 5:22 | Salsa |
| 05 | Déjate Querer | | 4:52 | Salsa |
| 06 | El Kitikimbá | | 4:25 | Mix of Mozambique, Pilón & Conga |
| 07 | Olvida el Pasado | | 5:21 | Salsa |
| 08 | Por Ser Mala | | 4:17 | Afro-Cuban Pop |
| 09 | Muñeca de Cristal | | 4:49 | Salsa |
| 10 | El Timbal Se Queda | | 3:27 | Rumba abierta |
Native to the SF bay area, the 'kitikimbá' is a dance craze born from the jam sessions of the city's top salsa musicians. Download includes liner notes and lyric sheets in both english and spanish.
Vissión Latina Interview
by Rita@Salsacrazy.com
www.salsacrazy.com/salsaroots/vissionlatina.htm
HOW DID YOU GUYS MEET?
Marco: You could say that we are the hired guns of the bay area because we play with so many bands. The three of play for probably a total of 30 different bands. Carlos has been playing with Malo, Saul has been touring with the Snake Trio and I have been touring with Bobbi Cespedes.
Carlos: But the idea from for this album came from the fact that we have been playing together, jamming together for a couple of years. As friends and as musicians we decided to put together this project. The whole process has been a lot of fun. We have also been lucky enough to collaborate with friends of mine in Mexico City who played trumpet on this date without charging a fee. We also invited many Bay Area musicians to contribute to the project including Fito Reynosa, Sandy and Gloria. We tried to do something different with this CD. We wanted to let everyone know that we can play many styles of music. We can play everything. Our minds and hearts are open to all kinds of music.
WHAT KIND OF MUSIC STYLES INFLUENCED THE DEVELOPMENT OF THIS ALBUM?
Marco: My partners come from varied, different musical backgrounds and I think that diversity is what is reflected on the album. We all bring are own styles to this project. Carlos brings hard core Cuban music, Saul is from Mexico City and he has strong Mexican roots in his music. I am from here. You know how SF represents a little bit of everything. The album is a big jambalaya. Recently we were in New Orleans where the photo on the back of the album was taken. Just like in jambalaya, you throw everything into the music and whatever comes out is great and you will love it.