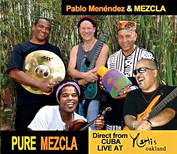 Pure Mezcla
| Style | Released | Album Tracks | Charts |
| --- | --- | --- | --- |
| Latin Jazz | 2015 | 12 | 0 |
$10.99

© 2014 Tilford Productions LLC. All rights reserved.
Audio album download includes album tracks, liner notes and cover art.
All audio tracks in MP3-VBR format. About LPM album downloads.
| # | Name | Play | Time | Info |
| --- | --- | --- | --- | --- |
| 01 | Mambo Influenciado | | 6:52 | Classic composition by Chucho Valdés |
| 02 | Hijos de la Mezcla | | 5:47 | Afro-Cuban blues tune by Pablo Menéndez |
| 03 | Lo que me amarra aqui | | 4:54 | Why Mezcla loves the city of La Habana |
| 04 | I'll see you in CUBA | | 2:54 | Hopefully President Obama's new favorite song |
| 05 | Suzi's Mood | | 3:49 | Not exactly a cha-cha-cha |
| 06 | Oya - Echubelekeo | | 7:13 | A tribute to two orishas |
| 07 | Akete Oba Oba | | 4:09 | A tribute to Obatala |
| 08 | 'Round Midnight | | 5:20 | Thelonious Monk a lo cubano! |
| 09 | Imbe Imbe Mayeye | | 4:40 | A tribute to Ochun |
| 10 | El solar de la cueva del humo | | 2:44 | Deep rumba |
| 11 | El camino se hace con la fe | | 4:19 | Now in spanish (original lyrics were in Yoruba) |
| 12 | Lenguasa | | 4:00 | Not a merengue but you can pretend it is |
This live recording shares a few of the very best moments of Mezcla in concert at Yoshi's in Oakland, California in 2013. The band threw down a special session with an emotional intensify that you just can't capture in most studio recordings these days. Pablo Menéndez really cut loose on guitar here, more than with most previous versions of the group, and in my opinion this album contans some of his best work. Jazz fusion violinist Julio Valdés Fuentes will be a revelation to those who were unaware that Cuba has artists like him. The rhythm section is intense. Mezcla lives up to its name here - whether your bag is serious electric guitar, Monk or hard core Afro-Cuban folklore - Pure Mezcla will satisfy your cravings.
Date of release: Sunday, February 15 2015. Album download includes all 12 MP3 files, full artwork and a 12 page bonus exclusive extra called "The Road To Pure Mezcla (And Other Stories)".
What people are saying about PURE MEZCLA:
"This molten mix of "Mezcla de oro azul y el cegamiento brillante"; colours so powerful that they touch not only the sense of sight, but also stir the depths of the very soul... unique for the manner in which it continues to carve its own niche... --Raul da Gama, Latin Jazz Network - www.latinjazznet.com
"a fierce group of musical entities ... mindful of their roots, ever looking forward and always joyful: a real 'mezcla' " -- Arturo O'Farrill, GRAMMY award-winning Latin Jazz artist
(4.5 Stars) "Rare and beautiful music" -- C. Michael Bailey, AllAboutJazz.com
"...first-rate recording of Cuban hybridization, loaded with dazzling electric and acoustic interplay, irresistible rhythms and captivating melodies" -A. Romero, Worldmusiccentral.org
"A Jazz Meeting Point Between Cuban and North American Traditions....There's a high degree of complexity in the repertoire and corresponding arrangements, which the band executes with a comfortable ease; this remains extra impressive considering that this is a live recording. (Latin Jazz Corner's Album Of The Week - February 20, 2015)" - Chip Boaz, chipboaz.com
Pure Mezcla was recorded, mixed and mastered by two of the best engineers in the business of Latin music - Oscar Autie of El Cerrito Studios (recording and mix) and Michael Lazarus of Latin Music Mastering (mastering), both of whom have engineered multiple GRAMMY-nominated (Oscar) and winning (Michael) recordings.
Click on the image below to visit the full review of Pure Mezcla on AllAboutJazz.com.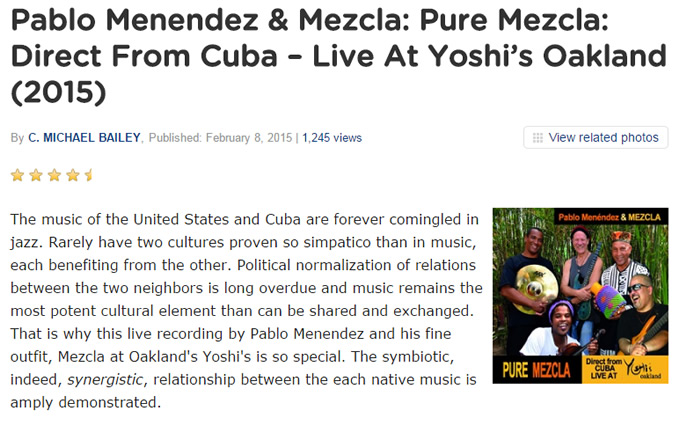 In addition to a growing collection of rave reviews, Pure Mezcla is receiving enthusiastic radio airplay across the planet from as far north as Norway to as far south as Australia, and both Pablo and parts of the recording will turn up in some interesting places in March and April 2015.
With deep roots in both countries, Pablo Menéndez is an ideal artist for these times, and we offer this album to the world to help lift its spirits during what is certain to be both a promising and challenging moment in US-Cuba relations (and perhaps within both societies themselves). Above all else, whatever happens between governments, let us, the peoples, be friends. --William "Bill" Tilford, Producer
PABLO "Mezcla" MENÉNDEZ: leader, guitar, vocals:
Born in Oakland, California, he is the son of blues and jazz singer Barbara Dane. Living in Cuba since 1966, he has been an indelible part of many Cuban music scenes over the past decades: the Nueva Trova movement (Grupo de Experimentación Sonora with Silvio Rodríguez and Pablo Milanés), the Jazz world (Sonido Contemporaneo at the old Club Rio with Gonzalo Rubalcaba and others), Afro-rock group Síntesis (with Carlos and Ele Alfonso) and more. On the basis of this rich experience, Pablo founded Mezcla in 1985, and has recorded 7 albums featuring the band, and a solo project, playing at festivals and clubs all over Europe, South and North America.