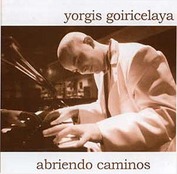 Abriendo Caminos
| Style | Released | Album Tracks | Charts |
| --- | --- | --- | --- |
| Tropical | 2005 | 11 | 0 |
$10.99

© 2005 Yorgis Music. All rights reserved.
Audio album download includes album tracks, liner notes and cover art.
All audio tracks in MP3-VBR format. About LPM album downloads.
| # | Name | Play | Time | Info |
| --- | --- | --- | --- | --- |
| 01 | Opening-Llego La Musica Cubana | | 2:56 | ...que ha nacido en el alma y nos alegra el corazón |
| 02 | Tipica Ichi | | 5:07 | danzón instrumental con outro de chanraga |
| 03 | Asi Yo Hago El Son | | 3:44 | llego la hora de bailar el son....a mi manera |
| 04 | Otro Loco Que Se Enamoro | | 4:42 | una salsita con mucho swing |
| 05 | Alarma De Fuego | | 5:41 | otro tema salsero...atención esto no es un juego |
| 06 | Entregate | | 5:23 | jazzy salsa with nice rhodes solo |
| 07 | Bendicion De Orishas | | 7:25 | an epic 6/8 w/ batá intro & jazz descarga |
| 08 | Los Muchachos Son Candela | | 8:06 | sophisticated latin jazz arrangement w/ burning solos |
| 09 | Pensando En La Habana | | 6:00 | ambitious & entertaining fusion of cuban styles |
| 10 | Las Abuelas Charangueras | | 3:01 | esto es TIMBA....cu-ba-na |
| 11 | De Matanzas A Bejucal | | 1:56 | paying homaje to the cuban style known as 'conga' |
This debut release from composer, bandleader and multi-instrumentalist (piano, bass, flute) Yorgis Goiricelaya features his excellent compositions in various cuban music styles: son, cha-cha, danzón, charange, salsa, timba and latin jazz.
Al Día - www.aldia.co.cr
Yorgis Goiricelaya lanza su primer disco: salsita condimentada con hip hop y jazz
Isaac Lobo - ilobo@aldia.co.cr
Podemos decir que Yorgis Goiricelaya es un músico virtuoso nacido en Cuba y criado en Costa Rica, pero que ofrece su talento al mundo entero por medio de los sonidos de la salsa. Yorgis se formó en Chocolate, grupo que dejó hace un año para iniciar un nuevo proyecto que ya está listo, el álbum "Abriendo caminos", que presentará hoy en vivo, en Tokú, en Escazú, a partir de las 8 p.m.
"Lo grabé entre octubre del año pasado y marzo de este. Buscamos hacer una combinación entre el son cubano antiguo y música actual como el hip hop", comenta Yorgis, quien estará esta noche acompañado de una orquesta. En el disco hay 11 canciones que hablan de la alegría, el amor, la mujer, Cuba y la familia.
"Todos los temas son originales, excepto la conga final que es como un homenaje a las comparsas de Cuba. Todos los arreglos son míos. Grabo el piano, el bajo, la flauta y hasta hago coros y vocales". Las voces principales son de Jorge Rodríguez y Gerardo Díaz.

---
---

El Diario Extra - www.diarioextra.com
San José, Costa Rica, Viernes 12 de agosto de 2005


Yorgis Goiricelaya y una veintena de músicos inundaron de sabor cubano el bar Tokú el pasado jueves 4 de agosto, cuando presentaron los temas incluidos en el primer disco del talentoso joven; son once canciones (diez son originales) de Yorgis, que transitan entre el jazz, el son y la salsa cubana. Con trece años de vivir en Costa Rica, Yorgis es pianista, flautista, bajista, compositor y cantante. Aquella noche de música y talento puro lo acompañaron, entre otros, los costarricenses Lalo Rojas, Ramsés Araya, Eric Sánchez, Marcial Flores, Gerardo Díaz y Jorge Rodríguez. Las coreografías, a cargo de Jeannette Hernández (ex bailarina de Sábado Feliz y novia de Yorgis), fueron el complemento perfecto para inundar de sabor aquel sitio. Fue tan exitosa la presentación de la semana pasada, que el espectáculo se presentará nuevamente el sábado 27 de agosto. La entrada costará 3.000 colones. Yorgis Goiricelaya, cubano de 25 años, estudió música y es arreglista, compositor e intérprete; fue pianista del grupo cubano Chocolate, ocasionalmente toca con Timbaleo y también interviene en grupos de jazz. Su disco compacto Abriendo caminos se vende en las presentaciones y pronto estará disponible en las tiendas Vértigo, de Luis Malvar Cantón, gran impulsor de este excelente espectáculo y de ese talentoso músico.