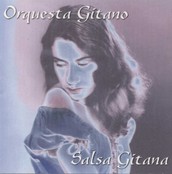 Salsa Gitana
| Style | Released | Album Tracks | Charts |
| --- | --- | --- | --- |
| Salsa | 1998 | 13 | 1 |
| # | Name | Play | Time | Info |
| --- | --- | --- | --- | --- |
| 01 | Intro (Los Desaparecidos) | | 0:22 | album motif |
| 02 | Vacilar | | 5:27 | up-tempo funky salsa |
| 03 | Salsa Gitana | | 6:32 | charanga, mozambique |
| 04 | Mi Promesa De Amor | | 6:07 | salsa clasica |
| 05 | Buscando La Gen | | 6:34 | plena, funk |
| 06 | Gracias Carlos | | 4:58 | bolero, ripping solos |
| 07 | El Manzanero | | 5:04 | yambu, salsa, melodic bass |
| 08 | Merengue Hollywood | | 4:46 | merengue pegajoso |
| 09 | Caballo Viejo | | 5:39 | cumbia, salsa |
| 10 | Poeta | | 5:49 | bolero, rock guajira |
| 11 | Overture (Gitano) | | 1:11 | album motif revisited |
| 12 | Iyamba Okerere | | 7:05 | rumba, salsa |
| 13 | Los Desaparecidos | | 5:00 | rumba guaguanco |
NO MAC. WINDOWS XP and a broad-band internet connection are required for viewing & printing Charts.
| Name | | Difficulty | Notation | Price | |
| --- | --- | --- | --- | --- | --- |
| Chart Salsa Gitana | Sample | Medium | Piano.Bass.Trumpet1.Trumpet2.Trombone | $19.99 | ** credit card processing is down. please email us to purchase via paypal. |
'Salsa Gitana' is a salsa concept album with stunning horn lines. The masterfully arranged songs cover a variety of caribbean styles. GRAMMY award nominee.
Also available is a chart (sheet music) for the track Salsa Gitana, with notation for piano, bass, trumpet1, trumpet2, and trombone.
THE STRANGER
www.thestranger.com
Seattle's Only Music Section • May 13 - May 19, 1999
Orquesta Gitano - Salsa Gitana ****
As a native of South Florida, I've seen the problem up close: bad taste and
bad politics keep Miami from fostering good salsa and merengue. Amazing Cuban groups like Los Van Van get almost no radio play, out of the ridiculous fear that it would legitimize Castro; besides, most people's bad taste seems to prefer unimaginative rock en Espanol, or vanilla bandleaders like New York's Marc Anthony. If that's the problem, Orquesta Gitano is the answer. Based in Santa Cruz, CA, far from the traditional centers of Latin music, Orquesta Gitano have nonetheless made their second release, Salsa Gitana, an impressive alloy of the finest sounds in salsa, merengue, cumbia, guajira, and Latin jazz. It's all here--seamless compositions, fresh (not canned) horn lines, distinctive vocalists, driving rhythms, plunking piano and thumping choruses. The best part is that, unlike most fusion records in any genre, there isn't a single bad track on this album. ¡Que chévere!
---
WILSON & ALROY'S Record Reviews
www.warr.org/oddlatin.html
Orquesta Gitano, Salsa Gitana (1998)
4 out of 5 stars
This California band plays an astonishing variety of styles, and what's more astonishing, plays them all well. Their
second album opens and closes with spoken incantations, and in between they play merengue, plena, bolero, son, cumbia and rock - but they're so busy swinging they never seem self-congratulatory. Nearly all the tunes are originals, and a number of bandmembers got in on the writing: guitarist Phillip Retamoza's "Gracias Carlos" is, yes, a Santana tribute, but it's also a tender bolero; trombonist Alicia Rodríguez wrote the clever "El Manzanero" in addition to "Merengue Hollywood"; percussionist Edwin Morales wrote the driving title tune. Violinist and co-producer Kevin Moore wrote the lion's share of the material, however, and it's unerringly catchy and danceworthy ("Poeta," "Buscando La Gen"). And all these different styles by different writers are effectively welded into a coherent whole, most notably on the 15 minute closing suite. The only downside is that there's such a strong focus on the ensemble that the individual musicians don't get enough of a chance to shine, aside from Retamoza, leader/percussio nist Bosco El Gitano, and the two husky-voiced, traditional singers, Mario Perez and Eduardo Herrera. The rest of the band is Joey Borrero, percussion; Ken Woodward, Louis Fasman and Tom Daly, horns; Ramon Lazo and Daniel Filip, keyboards. Guests include Rebeca Mauleón-Santana, Luana Pedota, Will Puckett, Wendy Black and Antonio Morrero, keys; Ron Coolidge, Jeff Cressman and Marty Wehner, horns; Steve Cervantes, flute.
---
From Monsters and Critics.com
http://music.monstersandcritics.com/reviews
Music Reviews - Single Reviews - From Billboard
By VNU - Sep 8, 2005, 19:00 GMT

SIMPLY RED - 'Perfect Love'
Verve Forecast
Simply Red`s 2003 indie album 'Home' was the group`s best-selling studio set since 1995. In the process, it spawned three adult contemporary chart hits, including top 10s 'Sunrise' and 'You Make Me Feel Brand New.' Now the group, as ever led by Mick Hucknall, delivers with the Latin-flavored 'Perfect Love.' It utilizes a sizable sample from Orquesta Gitano's 'Salsa Gitana,' which gives the track a sexy, hip-swiveling sensibility. The bilingual song is off to a solid start at radio and is a likely candidate for adult contemporary and adult top 40 stations. Simply Red`s new album, 'Simplified' is out Oct. 18. © VNU eMedia.