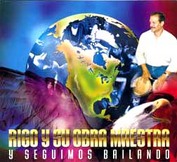 Y Seguimos
| Style | Released | Album Tracks | Charts |
| --- | --- | --- | --- |
| Salsa | 2004 | 10 | 0 |
$9.99

© 2004 O. & M. Records. All rights reserved.
Audio album download includes album tracks, liner notes and cover art.
All audio tracks in MP3-VBR format. About LPM album downloads.
| # | Name | Play | Time | Info |
| --- | --- | --- | --- | --- |
| 01 | El Humilde | | 4:26 | ese soy yo! |
| 02 | Dime Tu | | 4:04 | quien es el que toca el tambor como es |
| 03 | Seguire Sin Ti | | 3:21 | tu tienes una forma de quere un poco extraña |
| 04 | La Gente Quiere Mambo | | 4:34 | las induscutible influencias de Tito Puente |
| 05 | Cusi y su Trompeta | | 5:10 | homenaje al estelar boricua y trompetista |
| 06 | Caramelo y Dona Rosa | | 4:12 | treinta años dandole candela a la pista |
| 07 | Rigo Cha-Cha | | 5:46 | que lindo solo de piano...fuego en las teclas |
| 08 | Para Ti | | 5:42 | descarga total...al estilo Obra Maestra |
| 09 | Compadre | | 5:02 | no faltas a la rumba papá |
| 10 | Seguire Sin Ti (Instrumental) | | 3:17 | sin duda el trombón es la voz de la salsa |
Otra 'Obra Maestra' de la salsa dura de Puerto Rico, este segundo disco de Rigoberto Rodríguez nos ofrece más temas pegajosos y bailables.
Breve historia de la musica 'Salsa'
por Rigoberto Rodríguez
El género de música más difuso e influyente de Puerto Rico es la salsa. El término se traduce al inglés como "sauce" para denotar música que le da sabor y aviva la vida. Es un género de música complejo que se desarrolló de muchas raíces a ser un producto único de Puerto Rico.
Se puede decir que la salsa es, sobre todo, un nombre comercial para la música latina popular contemporánea que connota una impresión, que resume una variedad de estilos redefinidos y reinterpretados a sus raíces. Abarca un amplio rango de los géneros musicales, combinaciones instrumentales e influencias culturales, extendiéndose del son montuno, de Cuba, de la bomba y de la plena, de Puerto Rico, del merengue dominicano, de la música ritual cubana de la tradición Yoruba y del jazz "rhythm and blues" Afro-Americano.
En un momento durante los últimos años de los 60, la música Afro-Caribeño se había convertido en lo que se llama la 'salsa'. Muchos interpretes no estaban de acuerdo con el uso de ese término, creyendo que era un nombre comercial usado solamente para promover lo que había sido simplemente música de baile Afro-Caribeño, o la música latina. Esta música siempre se había llamada por los nombres de los varios géneros, por ejemplo: cha-cha-cha, mambo, guaguancó, son montuno, etc. En último caso, finalmente tuvieron que aceptar que la etiqueta, "salsa", ayudó mucho al desarrollo comercial de este género de música.
---
---
No hay acuerdo exacto en cómo el término fue inventado, o por quién. El término "salsa" ha sido atribuido frequentemente a un locutor de la radio venezolano por el nombre de Fidias Danilo. Se dice que él presentó interpretes de la música con el preámbulo: "A continueción escucharemos la salsa de... ", y entonces añadiendo el nombre del próximo interprete. Mientras que ésta es la mejor explicación que se conoce, pocos han intentado investigar el asunto o aún descubrir porqué él utilizó el término "salsa" de esa manera.
El término "salsa" se comenzó a circular en los últimos años de los 60 para describir este género único, nacido de muchas influencias musicales, de distintas partes del mundo, pero con su locus en New York City. Muy bailable, los rítmos de la salsa son calientes, urbanos, sofisticados y apremiantes. Hoy en día, el centro del mundo de la salsa ha cambiado de Nueva York a Puerto Rico.