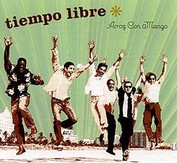 Arroz Con Mango
| Style | Released | Album Tracks | Charts |
| --- | --- | --- | --- |
| Timba | 2005 | 10 | 0 |
$9.99

© 2005 Shanachie Entertainment Corp. All rights reserved.
Audio album download includes album tracks, liner notes and cover art.
All audio tracks in MP3-VBR format. About LPM album downloads.
| # | Name | Play | Time | Info |
| --- | --- | --- | --- | --- |
| 01 | La Cosa | | 4:10 | enseñame la cosa....enseñame la cosita |
| 02 | Ven Pa Miami | | 4:50 | cha-cha-cha estilo 'libre'...tremendo bajo Tony! |
| 03 | Arroz Con Mango | | 3:42 | hasta el inglés se me está olvidando |
| 04 | Lengua Larga | | 4:25 | como te gusta el chisme nené |
| 05 | Un Son | | 4:09 | hace falta un trago de ron |
| 06 | Pare Cochero | | 4:21 | ella tiene un caballo que no usa gasolina |
| 07 | Esa Mujer | | 4:41 | no me va...no me va conmigo |
| 08 | Fe | | 2:41 | un bolerito romántico para las chicas |
| 09 | Se Formo La Rumba | | 4:12 | primos, vecinos y amigos bailaban en un solar |
| 10 | Se Ponen | | 4:20 | tiempo libre 100% cubano y de alto calibre |
Tiempo Libre's hot debut release on Shanachie, ARROZ CON MANGO, was nominated for a 2005 Grammy Award in the category of Best Salsa/Merengue Album. The phrase "arroz con mango" is a Cuban slang expression meaning something completely out of the ordinary.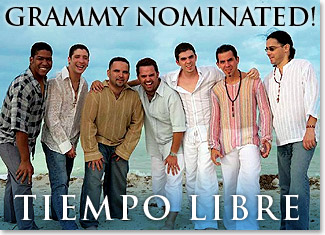 Tiempo Libre is one the hottest young Latin bands today. Equally at home in concert halls, jazz clubs and dance venues, the Miami-based band has become known for their incendiary, joyful performances of timba - an irresistible, dance-inducing mix of high-voltage Latin jazz and the seductive rhythms of son - true modern heirs to the rich tradition of the music of their native Cuba.
Schooled in different Havana conservatories and all enjoying thriving careers in Latin music performing, touring and recording with such artists as Albita, Cachao, Arturo Sandoval, NG La Banda, Gonzalo Rubalcaba, Isaac Delgado, Roberto Torres and DLG, these seven extraordinary musicians came together to realize their collective musical dream: to create the first authentic all-Cuban timba band in the United States. Their eagerness to share their music with others led these multi-talented individuals to come together between projects to develop their new style together. Hence the name Tiempo Libre (Free Time).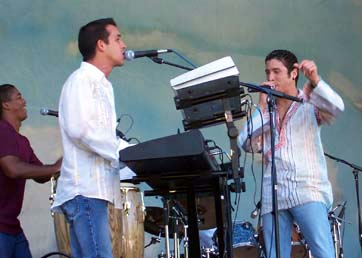 Since their formation in 2001, Tiempo Libre have been on a mission: to share the musical heritage in which they grew up with as wide an audience as possible, reinterpreting and reinvigorating traditional Cuban music with a youthful, modern sound and forging a new style born from the meeting of their Cuban roots and their new American experience. In Summer 2002, at their Ravinia Festival debut opening for Celia Cruz, Tiempo Libre dazzled a crowd of more than 12,000 people. They were quickly reengaged by Ravinia for Summer 2003 where they shared a bill with Aretha Franklin, performing before an enthusiastic crowd of 20,000. Summer 2003 also included performances at the new Heineken Jazz Festival in Hua Hin, Thailand where Tiempo Libre were the undeniable sensation of the Festival. Return trips to Asia included sold out shows at Hong Kong's Kwai Tsing Theatre and the Dewan Filharmonik Petronas, the glorious concert hall at the foot of the famous twin towers in Kuala Lumpur, Malaysia and at the 2005 Java Jazz Festival in Jakarta, Indonesia.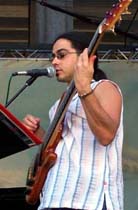 Since that time, in the United States, their busy touring schedule has included performances at Miami's JVC Jazz Festival, Yoshi's in Oakland, CA, SOB's in New York City, Lincoln Center, Celebrate Brooklyn, New Orleans Jazz & Heritage Festival, Festival International de Louisiane, Rochester International Jazz Festival, Society of the Performing Arts in Houston, Kimmel Center, Orange County Performing Arts Center, California Center for the Arts, the Colorado, Interlochen, Green and Eastern music festivals, New Haven Jazz Festival, California World Fest, Lotus Music Festival, New York's River-to-River Festival at the South Street Seaport. August 2005 brought Tiempo Libre's European debut. Among the highlights of that tour, Tiempo Libre performed the closing concert of the new Tuscan Sun Festival in Cortona, Italy where the band wowed a sold-out house.
In January 2005, Tiempo Libre signed a multi-record deal with Shanachie Entertainment. Their debut album on that label - Arroz con Mango - was both a tribute to the deep Cuban roots of Tiempo Libre's members and a celebration of their new life in the US. Released to universally glowing reviews, Arroz con Mango received tremendous attention in the press and was featured in numerous national publications including Latin Beat, Hispanic Magazine, Jazziz and American Airlines' American Way Magazine. They performed songs from the new album on many of Miami's highest-rated Spanish-language shows and were featured in a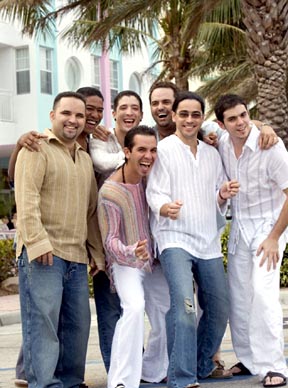 nationally-aired radio interview by Maria Hinajosa on NPR's Latino USA. Fulfilling the meaning of its title ("arroz con mango" is a Cuban slang expression meaning something completely out of the ordinary), the album was nominated for a 2006 Grammy Award in the category of Best Salsa/Merengue Album. One year later, the band released Lo Que Esperabas - What You've Been Waiting For. And, once again, it's title proved prophetic when the group was nominated again, this time for Best Latin Tropical album.
In Spring 07, Tiempo Libre embarked upon one of the most exciting projects of their career, the creation of a new work - Rumba Sinfónica - for symphony orchestra & Cuban band. The new work, a collaboration with highly-respected Venezuelan classical composer Ricardo Lorenz, is being commissioned by the Minnesota Orchestra, the Detroit Symphony and the Ravinia Festival and will be premiered in Minneapolis in November 07.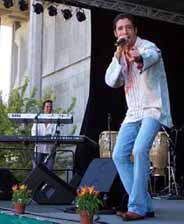 Additional presentations of the work will include performances with the National Arts Centre Orchestra in Ottawa, the Portland (ME) Symphony and the San Antonio Symphony, among others. Other highlights of the 07-8 season include performances at the Istanbul Festival, Singapore Sun Festival, Rochester International Jazz Festival, Eastern Music Festival, Cascade Music Festival, Savannah Music Festival, Festival of the Arts Boca, Vanderbilt University, Kentucky Center for the Arts and the Celebrity Series of Boston, to name a few.
In addition to their performing and recording careers, the members of Tiempo Libre are particularly committed to the sharing of their rich musical traditions through outreach and educational activities. They have become known for their inspiring classes on rumba, Latin jazz and traditional Cuban music, designed to reach audiences of all ages and backgrounds. --bio courtesy of www.tiempolibremusic.com