Muy Caliente
| Style | Released | Album Tracks | Charts |
| --- | --- | --- | --- |
| Instructional | 1999 | 23 | 1 |
#
Name
Play
Time
Info
01
Muy Caliente Track01
0:31
tuning notes - concert A and concert Bb
02
Muy Caliente Track02
3:47
guaracha
03
Muy Caliente Track03
3:21
bomba / guaracha 3-2
04
Muy Caliente Track04
3:18
songo 3-2
05
Muy Caliente Track05
2:18
cha-cha-cha
06
Muy Caliente Track06
3:21
guaracha 2-3
07
Muy Caliente Track07
3:08
guaracha 2-3
08
Muy Caliente Track08
3:25
guaracha 2-3
09
Muy Caliente Track09
4:01
songo 2-3
10
Muy Caliente Track10
3:21
guaracha 2-3
11
Muy Caliente Track11
3:10
afro-cuban 6-8
12
Muy Caliente Track12
2:54
charanga
13
Muy Caliente Track13
3:14
mozambique 2-3
14
Muy Caliente Track14
3:07
guaracha 3-2 with "bota" section
15
Muy Caliente Track15
3:43
guaracha 3-2
16
Muy Caliente Track16
2:52
cha-cha-cha
17
Muy Caliente Track17
2:48
merengue
18
Muy Caliente Track18
2:37
guaracha 3-2
19
Muy Caliente Track19
3:23
guaracha 3-2
20
Muy Caliente Track20
2:16
latin jazz 2-3
21
Muy Caliente Track21
3:44
latin jazz - fast guaracha 2-3
22
Muy Caliente Track22
3:00
guaracha 2-3
23
Muy Caliente Track23
3:31
timba-funk 3-2
Play All - Oir Todas
NO MAC. WINDOWS XP and a broad-band internet connection are required for viewing & printing Charts.
| Name | | Difficulty | Notation | Price | |
| --- | --- | --- | --- | --- | --- |
| eBook Muy Caliente | Sample | Med - Hard | Piano.Bass.Chords.Breaks | $11.99 | ** credit card processing is down. please email us to purchase via paypal. |
Learn to play Afro-Cuban music the most enjoyable way: with the masters! Featuring Rebecca Mauleón and Oscar Stagnaro, this album + book combination has over 70 minutes of play-along latin grooves with their corresponding sheet music (52 pages / 52 páginas). HIGHLY RECOMMENDED for all musicians studying afro-cuban styles!
** The Muy Caliente ALBUM (audio) and eBOOK (charts) are sold separately.
** La descarga del album (audio) y el libro (partituras) se venden separadamente.


This instructional play-along album + book combination has over 70 minutes of play-along latin grooves with their corresponding sheet music (charts). All 22 tracks have stereo separation for the piano and bass --meaning you can use the 'Balance' control on your system to pan from the right channel (bass + percussion) to the left channel (piano + percussion). El libro contiene texto bilingüe (la introducción y el glosario están disponibles en Español).
Each music track has piano, bass, timbales, tumbadoras, bongos and minor percussion. While it serves as core studies for those instruments, horn players commonly use 'Muy Caliente' as backing tracks to improve their soloing. Furthermore, as anyone who has participated in a salsa band can confirm, typically every musician and singer is also familiar with the basic percussion movements (clave, cáscara, bell, etc). For these purposes 'Muy Caliente' is your perfect practice band.

ABOUT THE MUSICIANS:
Rebeca Mauleón (piano) - Author of The Salsa Guide Book and solo artist, Rebeca has played and/or recorded with Tito Puente, Carlos Santana, the Machete Ensemble, Pete Escovedo, Israel Cachao Lopez, Giovanni Hildago, Planet Drum, etc.

Oscar Stagnaro (bass) - Professor of Bass at Berklee College Of Music and bassist with Paquito D'Rivera, The United Nations Orchestra, The Caribbean Jazz Project, etc.

Orestes Vilató (timbales) - One of the original masters of Latin percussion. Orestes has recorded with The Fania All-Stars, Celia Cruz, Ray Barretto, Ruben Blades, Santana, Cal Tjader, Eddie Palmieri, and hundreds of others.

Carlos Caro - Direct from Havana, Cuba, Carlos is a bubbling fountain of rhythm. In Cuba, he played with Opus 13, Paulito y su Elite, and Grupo Clave and currently directs his own band, Vission Latina.

Edgardo Cambon (tumbadoras) - One of San Francisco's most in-demand percussionists, Edgardo has recorded with Jesus Chucho Valdez, Carlos Santana, Claudio Gomez, Michael Spiro, Sovoso, Omar Sosa and his own band, Candela.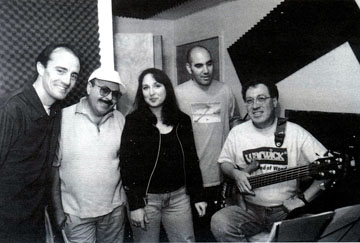 SOBRE LOS MÚSICOS:
Que Rebeca Mauleón (piano) es una de las grandes pianistas latinas en el mundo es evidente para cualquiera que escuche este CD. Su conocimiento eciclopédico de los varios estilos que comprenden la música latina y su puro disfrute en perpetuar esta música son obvios en cada tema. Mauleón es también la más sobresaliente educadora de esta música en el mundo, contando en su curriculum haber escrito dos de los libros esenciales que documentan la historia y extructura de la música afrocubana: "The Salsa Guide Book for Piano and Ensemble" y " 101 Montunos," ambos publicados por Sher Music Co. Mauleón ha grabado y actuado con diversos artistas desde Carlos Santana hasta Tito Puente, incluyendo el proyecto Planet Drum con Mickey Hart y su propio Ensemble, "Round Trip."
Oscar Stagnaro tiene el honor de ser un músico y profesor de clase mundial en el género de la música latina. Es profesor asociado de bajo en el Colegio de Música de Berklee en Boston, y co-autor del próximo volumen "The Latin Bass Book," el cual es un trabajo definitivo que será publicado en el año 2000 por Sher Music Co. Su maestría en los dos estilos "tradicional" y "moderno" del bajo lo ponen en la élite de los bajistas latinos. Actualmente es el bajista del grupo de Paquito D'Rivera, y ha grabado con la Orquesta de las Naciones Unidas y The Caribean Jazz Project. Su primer CD bajo su propio nombre,"Mariella's Dream" fué recientemente lanzado al mercado por el sello Songasaurus.
Orestes Vilató es uno de los creadores de la manera moderna de tocar el timbal, y continua siendo un maestro en la mejor etapa de su carrera como pueden comprobar en este CD. Ha grabado virtualmente con el panteón entero de las estrellas de la Salsa (más de 300 albums), desde Eddie Palmieri, Cheo Feliciano y Ray Barretto hasta Rubén Blades, Celia Cruz y Cal Tjader. Vilató fue miembro fundador de la Fania All Stars, La Orquesta Típica 73 y los Kimbos, y fue nominado al premio Grammy en 1995 por su presentación en el CD "Ritmo y Candela" junto a Changuito y Patato. No hay nada mejor que Orestes Vilató.
Carlos Caro es el miembro más joven de la sección rítmica, habiendo imigrado a los Estados Unidos de America desde Cuba en 1995. En Cuba tocó con la Orquesta Opus 13, Paulito y su Elite y grupo Clave, así como la Orquesta Filarmonica de México antes de establecerse en California. Actualmente toca con varias orquestas de música latina en el Area de la Bahía, entre ellas su propia orquesta Vission Latina.
Edgardo Cambón es uno de los cantantes y percusionistas más solicitados en San Francisco y el Area de la Bahía, y este CD muestra por qué. Sus créditos de grabaciones incluyen trabajos con Jesús "Chucho" Valdéz, Carlos Santana, Claudia Gómez, Keith Terry and Crosspulse, Michael Spiro, Sovoso, Jackie Rago and Campana, Sol y Luna, Omar Sosa, y su propio grupo "Candela."