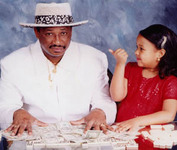 Fito Reinoso
| Home Base | Established | Albums | Charts | PTracks |
| --- | --- | --- | --- | --- |
| San Francisco (CA), United States | 1980 | 3 | 0 | 0 |
This artist has albums and
podcasts
available.

Click on each album title for an expanded view.

Sonero y compositor cubano que emigró a California después del Mariel. For a partial performance schedule click
here
.
English: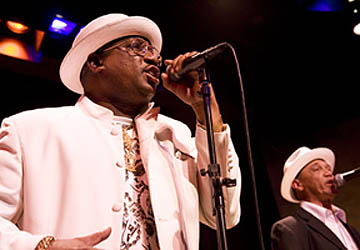 As well as being a talented Cuban sonero, Felix "Fito" Reinoso is also an accomplished singer-songwriter. At a very young age, Fito began playing tres and bass in the streets of Candekaria, in the province of Pinar Del Rio. He joined Orquesta Gloria de Cuba at the age of 12. A proud Mariel, he arrived to the United States in 1980 and soon began impacting the thriving Bay Area Latin Music scene. Fito has played with Cuban legends such as Francisco Aguabella, Armando Peraza, Carlos "Patato" Valdez and Israel Lopez "Cachao", among many others. He has companied the greatest local musicians without ever loosing his strong ties with Cuba, which transpire in his vibrant and modern repertoire.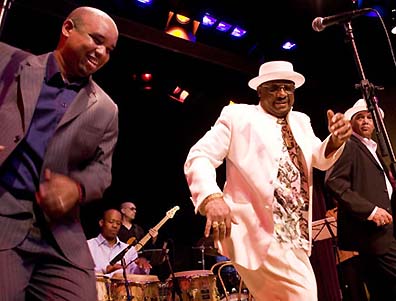 If you are looking for the scorching rhythms of Cuban new-wave, Fito Reinoso y su Ritmo y Armonía is guaranteed to please.
Español:
Una estrella del area de la bahía de San Francisco, Felix "Fito" Reinoso es un sonero y compositor cubano que emigró a California después del Mariel. Cantante, bajista, guitarista, trecero y percusionista, la vida de Fito es una historia de evolución musical. Hay muchos en la comunidad musical latina, a nivel mundial, que lo consideran como el mejor sonero del oeste de los Estados Unidos. En camino al reconocimiento nacional Fito continua grabando con los "caballos" de la industria al igual que produciendo sus propios discos.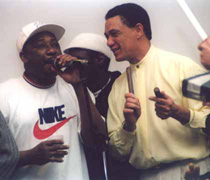 Después de tocar con los 'Cuban Boys' en Washington, para los que viven en California la participación de Fito en grupos como 'Alma del Barrio', 'Conjunto Céspedes', 'Tumbao y Cuerdas', 'Bomba y Play', 'Orquesta Guayacan' y 'Ira del Caribe' es algo que ya han disfrutado. Poco después, temprano en los '90s sale su primera producción original titulada 'La Puerta Está Abierta'. Esta obra tiene un estilo muy influenciado por el sonido de la salsa de los '80s y, para los coleccionistas, una grabación clave en el desarollo de muchos de los grandes de la bahía. Como pasó con Miles Davis, aquí empieza una característica innata de la música de Fito: que la mayoria de los músicos que en un momento participan en su orquesta siguen adelante a dirijir sus propios grupos. Al final del día todos confesarán que de Fito se aprende.



Podcast is free to download.
Name
Listen
Description
'Comunicación' CD Release
Radio Interview 2007
West Coast's 'Sonero Mayor' Fito Reinoso promotes his new release 'Comunicación' in a radio interview on KCSM. Fito discusses his family and musical background -from the time he learned folkloric music to his rise in the SF Bay Area. Total time is 37:02