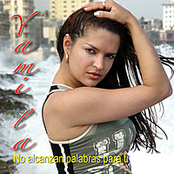 No Alcanzan Palabras Para Ti
| Style | Released | Album Tracks | Charts |
| --- | --- | --- | --- |
| Salsa | 2009 | 8 | 0 |

| # | Name | Play | Time | Info |
| --- | --- | --- | --- | --- |
| 01 | No alcanzan palabras para ti | Your browser does not support the audio element | 4:22 | written by Yalil Guerra |
| 02 | Santa Barbara (Chango) | Your browser does not support the audio element | 4:30 | tribute to Celina González |
| 03 | Guajira | Your browser does not support the audio element | 3:53 | written by Yalil Guerra |
| 04 | Quimbara | Your browser does not support the audio element | 4:15 | tribute to Celia Cruz |
| 05 | El Paralitico | Your browser does not support the audio element | 4:11 | tribute to Miguel Matamoros |
| 06 | Dame un besito | Your browser does not support the audio element | 3:41 | written by Yalil Guerra |
| 07 | Nocivo | Your browser does not support the audio element | 2:58 | written by Yamila & Yalil Guerra |
| 08 | El Alacran | Your browser does not support the audio element | 3:46 | written by Yamila & Yalil Guerra |

This album is a tribute to three great artists from Cuba: Celia Cruz ("Quimbara"), Celina González ("Santa Bárbara - Changó") and Miguel Matamoros ("El Paralítico"). Produced by Grammy nominee Yalil Guerra. Download includes 160kbps MP3s and the full cd booklet in pdf format.
Participating Musicians on NO ALCANZAN PALABRAS PARA TÍ

| | |
| --- | --- |
| Yamila Guerra | Lead Vocals |
| Yalil Guerra | Director, Piano, Electric Bass |
| Rigoberto López | Baby Bass |
| Luis Conte, Joey de León Jr. | Congas & Bongó |
| Jimmy Branly, Raúl Pineda | Drums and Timbales |
| Ramón Flores & Luis Eric González | Trumpets |
| Humberto Ruíz, Francisco Torres | Trombone |
| Rosell, Cary, Yalil, Yamila, Samuel Ovieda | Voices |
Yamila brings the rhythm of her native Cuba to the Los Angeles Latin scene. She learned a wide variety of artistic talents from Cuba, Europe, and the United States. At a very early age she was enrolled in Cuba's National Ballet School where she studied Russian influenced Ballet for five years and ultimately began performing as a soloist. Following that, Yamila continued her studies at Cuban's National School of Performing Arts where she learned music, dance, and acting.
In 2000 Yamila moved to Miami and there started to perform in the famous national TV show "Sábado Gigante", Univisión TV. In the same network she worked at "Caliente" show & Los metiches. She co-hosted the show Luna Verde, channel 41. Yamila's experiences and talents eventually brought her to Los Angeles, working on NBC, "King Pin" series, "Cante y Gane", Azteca America and "De todo un poco", Channel 22, Telemundo. She was invited to participate in the last season of the Mexican show "Super sabado", Azteca TV. Mexico city. She also has performed in many Latin based venues. She has performed at the Mayan, Rumba Room, The Century Club, Mama Juanas and many other famous clubs in the Los Angeles area. She has also participated in several cultural events such as the Cuban Festival and the Latin American Festival, Day of Mexico Independence, among others. Currently Yamila is recording her fourth album and is working on many other projects that will debut soon.