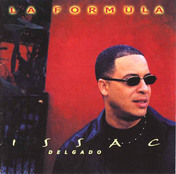 La Formula
| Style | Released | Album Tracks | Charts |
| --- | --- | --- | --- |
| Tropical | 2001 | 15 | 0 |
$12.99

© 2001 Ahi-Nama Music. All rights reserved.
Audio album download includes album tracks, liner notes, lyric sheets and cover art.
All audio tracks in MP3-VBR format. About LPM album downloads.

| # | Name | Play | Time | Info |
| --- | --- | --- | --- | --- |
| 01 | Nadie Me Quiere Bailar | Your browser does not support the audio element | 4:38 | very funky cha-cha with r&b feel |
| 02 | O Estás Loca | Your browser does not support the audio element | 4:11 | ...nada mas puedo pensar que tu estas loca |
| 03 | Amor Sin Ética | Your browser does not support the audio element | 4:27 | entre tu y el no hay nada...absolutamente nada |
| 04 | El Solar de California | Your browser does not support the audio element | 5:47 | ** live versions of this track are collector items |
| 05 | Quando | Your browser does not support the audio element | 4:07 | ..wow..issac singing in portuguese |
| 06 | La Fórmula | Your browser does not support the audio element | 6:24 | un poquito de todo el mundo y un poco del mas allá |
| 07 | Caricias | Your browser does not support the audio element | 4:44 | a la manera que tu quieras..te voy amar |
| 08 | El Pregón de Chocolate | Your browser does not support the audio element | 3:08 | ** studio version without the live intro |
| 09 | A Ti Todo | Your browser does not support the audio element | 4:59 | salsita con mucho jazz...great piano and bass work |
| 10 | Malecón | Your browser does not support the audio element | 4:37 | juega tu domino que se te va la vida..en el Malecón |
| 11 | España Tiene | Your browser does not support the audio element | 3:29 | wonderful voice work...great duet and coros |
| 12 | Te Perdono | Your browser does not support the audio element | 4:27 | un perro, la madrugada y el frio |
| 13 | Afortunada Tu | Your browser does not support the audio element | 4:33 | groovy salsa with soprano sax featured |
| 14 | Gracias a la Vida | Your browser does not support the audio element | 5:46 | clearly gonzalo rubalcaba is on piano |
| 15 | La Vida es un Carnaval | Your browser does not support the audio element | 5:05 | international hit also popular with Celia Cruz |

Grammy nominated album, with super hits "El Solar de la California" and "La Vida es un Carnaval", shows Issac's great versatility as a singer and pregonero.
English: To fully appreciate Issac Delgado's recordings, it really helps to see the band live. An indiscrimate sampling of some of his more subtle studio tracks could easily lead to the erroneous conclusion that Issac's music is not as daringly original and energetic as some of the other Timba bands. This could not be farther from the truth, as anyone who's seen the band live will confirm.

Issac Delgado's first solo album was "Dando la Hora". It features some strong songwriting from Giraldo Piloto and Pablo Milanes and unusually tame arrangements featuring synthesized horns. This disc, and Issac's duo record with Adalberto Álvarez, "El Chévere de la Salsa y el Caballero de Son", are welcome additions for those already in love with Issac's music, but they are no place to start.

It was with "Con Ganas" that Issac returned to the level of brilliance he had already achieved with NG La Banda. He added Giraldo Piloto, also from NG, as drummer and musical director, and created the first of his many powerhouse Timba groups, featuring Tony Pérez on piano, Andrés "Negrón" Miranda on congas, "Yonder", who later joined Klimax, on timbales, and Boris Luna, now in Los Van Van, on synthesizer. It should also be noted that Piloto's predecessor, although he never recorded a full album with the group, was none other than Samuel Formell. The quantity of brilliant musicians who have passed through the Issac Delgado band is staggering.


When Piloto, Pérez, and Yonder broke off to form Klimax in 1995, Delgado put together another astounding band, with Jimmy Branly on drums, José Miguel on timbales and the incomparable Iván "Melón" González on piano. Melón played such a critical role in the history of Timba that he has his own artist page, although he now no longer plays Timba and never had his own group. The first album with Melón was "El Año Que Viene" which in addition to a collection of beautiful melodic songwriting, contains three arrangements which became staple of Issac's powerful live stage show: "No Me Mires a Los Ojos", "¿Por Qué Paró?", and "La Vida Sin Esperanza", the latter arranged by the new musical director, Joaquín Betancourt, probably the most prolific arranger in Cuba. Betancourt, whose work on "La Rumba Soy Yo" helped that CD win a Grammy award, continues to work with Issac today, as well as dozens of others. His arrangements are featured on the CD's of everyone from Aldaberto Álvarez to Anacaóna and Tumbao Habana. Click here to go to the Joaquín Betancourt section of timba.com.

Melón was the only Cuban musician to play on "Otra Idea" which RMM recorded in New York. It features the original studio versions of three more classic pieces which Issac still plays live and which have grown into mammoth 10 to 15 minute arrangements. These are "Luz Viajera", "Deja Que Roberto Te Toque" and "La Chica del Sol".

Sometime in late 1996, Issac's band changed dramatically for the third time and the group that resulted is considered by some to be the greatest Timba band of all time. Joining Melón was a young musical prodigy named Alain Pérez, who could sing, write, and play almost any musical instrument with astounding virtuosity. He played bass in the new band and almost immediately began contributing arrangements, such as "Con la Punta del Pie" -- a tour de force which we'll examine in detail when we do the real Issac pages. For now, just listen to it! It, along with two incredible Melón arrangements, "Se te fue la mano" and "Pa' que te salves" can be found on "Exclusivo Para Cuba". Here are some brief audio excerpts: "Se te fue la mano", "Con la punta del pie". This album also contains "Tú tranquilo", which was Issac's vocal contribution to Juan Ceruto's wonderful "Gracias Formell" project. It was the first arrangement Ceruto wrote for Issac, but since leaving Paulito in 2001 he has written many arrangements on Issac's most recent two albums. In the excerpt we hear first Ceruto's horn-writing and then a great Melón piano tumbao leading into the coro.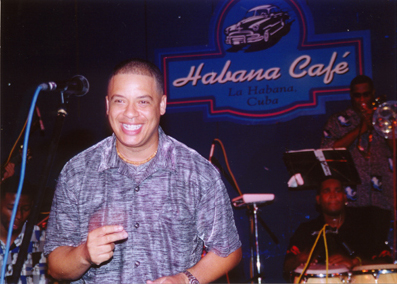 Issac en el Habana Café
As the name implies, "Exclusivo Para Cuba" was originally released only in Cuba, but thankfully RMM released it in its entirety (albeit without any liner notes to speak of) as "Rarities", part of its Forbidden Cuba in the 90's series. "Rarities" is no longer available, but "Exclusivo Para Cuba" is no longer exclusive, it is now available in the US on the Ciocan Music label and is our recommendation as the entry point to the world of Issac Delgado, along with a front row ticket to see the band perform live!

It was this band that Delgado brought on his controversial first US tour, and it was this band which played the famous Central Park concert, about which so many New York musicians, are still buzzing, including New York Times music critic Peter Watrous, who called Issac Delgado "one of the best singers in the world -- in any genre" and who still considers this group to be at the very pinnacle of Timba's long list of amazing Timba bands. Here are some examples of the group in concert: Luz viajera,

When Melón moved to Spain, the very capable synthesizer player, Pepe Rivero, took over on piano and Alain Pérez took full control of the arranging as well as doing much of the songwriting. The rest of the group remained largely the same and it was this incarnation of the band that recorded Issac's final disc for RMM, "La primera noche". Like most of Issac's discs, it contains lots of smooth, well-crafted and emotionally satisfying vocal tracks which don't necessarily sound like hardcore Timba, but, again, it also contains a handful of numbers which have become staples of Issac's incomparable live concerts, including "La Sandunguita", "Amigo Juan" and "Que Me Disculpen" -- all written by Alain Pérez. Here's an excerpt from a live version of "La sandunguita". Joaquín Betancourt wrote the title song and contributed an arrangement, "Amigo", before returning to a much more active arranging role in the subsequent two albums.

In 1998, Issac returned from a brief residency in Spain, but most of the band, including Alain Pérez and Issac own sister Daria, stayed behind. The band is still together today and in 2001 recorded Pérez first effort as a bandleader and singer, "El desafío".

Back in Cuba, Issac, undaunted, put together another of Timba's greatest bands, this time with three key members from Paulito FG's best group: Joel Domínguez, Joel Paez, and Yaniel "El Majá" Matos. Tragically this group never recorded, but it played constantly in Cuba through 1999, including a concert atop El Morro which was perhaps the most emotionally powerful performances I have ever experienced.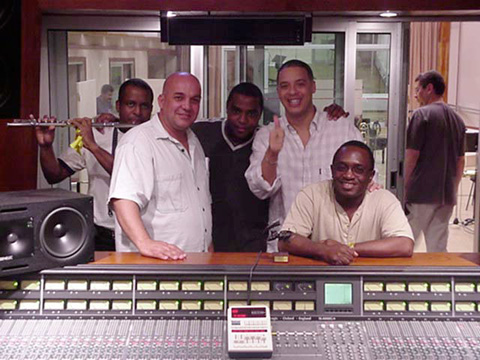 Issac in the studio with Juan Ceruto, Alexander Abreu, Joaquín Betancourt

The key members of this band left Cuba as well in January of 2000 and Issac brought in, among others, Roberto "Cucurucho" Valdés, now the pianist with Van Van. In mid-2000 Valdés and Rolando Luna switched places with Luna coming from Paulito to Issac in a move that also included the addition of a new musical director, Oscarito Valdés, Jr. Issac also enlisted services of yet another key member of Paulito FG's group, the brilliant arranger Juan Ceruto. It was this band that recorded the grammy-nominated album "La Fórmula", known as "Malecón" in Cuba. The title song is arranged by Joel Domínguez and the others are split between the arranging team of Ceruto & Betancourt. Here's an excerpt from Betancourt's arrangement of "Malecón".

The album "Grandes Éxitos" has plenty of great songs, but is far from the best of Issac. It has only three of the songs we'd include on an Issac Delgado greatest hits CD. For those looking to buy just one disc, we suggest "Exclusivo Para Cuba" (aka "Rarities") or "La Fórmula". NG La Banda's "En la Calle" would also be a good introduction to Issac.

The most recent Issac CD is "Versos en el cielo". All of the songs are re-arrangements of Cuban classics from the Nueva Trova era. Issac brought in several New York musicians to play on the disc, including Ralph Irizarry, who tells us about the experience in his timba.com audio interview. Issac also enlisted the talents of nother famous New Yorker, Jon Fausty, regarded by many as the Latin music world's leading recording and mixing engineer. The result is one of the most beautiful sounding Cuban CD's. It's Issac's farthest departure yet from the earthy Timba of his live performances, but the great arrangements by Ceruto and Betancourt, Fausty's recording magic, and Issac passionate singing make this album well worth having, even for the most diehard Timbero. And Issac can't help but sneak some Timba in, as in this excerpt from the emotionally-charged Betancourt arrangement of "Vamos a Andar".

2005 - Prohibido - The reuinion of Issac with Alain turns out to be with an all-New York percussion section! Go figure. This has been but a brief and wholly inadequate glimpse at the immense world of Issac Delgado's music, which spans the full range of sonic color and emotion. We hope to do justice to the task in the near future!


---

Español: Para apreciar la música de Issac Delgado, es recomendable ver la banda en vivo. Una muestra indiscriminada de sus temas de estudio más conservadores podría resultar en la conclusión equivocada de que su música no es tan enérgica y desafiante como la de las otras bandas timberas. Esto no podría ser menos cierto, como lo podrán confirmar aquéllos que hemos asistido a sus conciertos.

El primer disco de Issac como solista se titula

"Dando la Hora". En este trabajo se observa buena composición por parte de Piloto y Pablo Milanés y arreglos peculiarmente sosegados en los cuales se suplen los instrumentos de viento por sonidos secuenciados de sintetizador. Este disco, y el disco a dúo con Adalberto Álvarez, "El Chévere de la Salsa y el Caballero de Son", son bienvenidos en la colección de aquél que ya adora la música de Issac, pero a nuestro criterio no representan su mejor trabajo.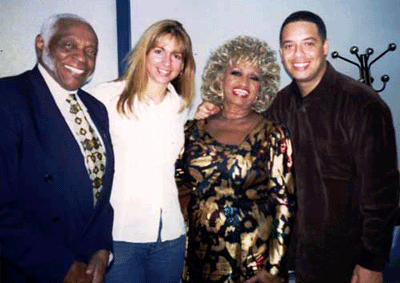 Issac y su esposa junto a Celia Cruz y Pedro N.

Es con "Con Ganas" que Issac vuelve al nivel de calidad que habría demostrado en NG La Banda. Incorpora de dicha agrupación a Giraldo Piloto para que sirva de baterista y director musical, y crea el primer grupo tope de los grandes conjuntos de la timba moderna, con Tony Pérez en el piano, Andrés "Negrón" Miranda en las tumbadoras , "Yonder", quien luego se incorporaría a Klímax, en las pailas y Boris Luna, hoy de Los Van Van, en el teclado. También queremos acotar que el precursor de Piloto en la batería, aunque nunca grabó un disco entero con el grupo, fue nada menos que Samuel Formell. La cantidad de músicos brillantes que hicieron escala en el grupo de Issac Delgado es asombrosa.

Cuando Piloto, Pérez y Yonder se separan para formar su propio Klimax en 1995, Delgado reúne a otra agrupación sobresaliente con Jimmy Branly en la batería, José Miguel en las pailas y el incomparable Iván "Melón" González en el piano. Melón es pieza fundamental en la historia de la timba y cuenta con una página suya propia en este sitio web, aun cuando ya ha dejado la timba atrás y nunca tuvo grupo propio. El primer disco con Melón es "El Año Que Viene" que a más de ser una colección de composiciones muy hermosas y melódicas, contiene tres arreglos indispensables que luego serían aprovechados espectacularmente durante las presentaciones de Issac: "No me mires a los ojos", "¿Por Qué Paró?" y "La vida sin esperanza", esta última servida por el arreglo del flamante director musical Joaquín Betancourt, probablemente uno de los arreglistas más prolíficos de Cuba. Betancourt, cuya labor en "La rumba soy yo" fue capital para el galardón que dicho trabajo obtuvo en los premios Grammy, continúa colaborando con Issac al igual que con muchos otros artistas más. Sus arreglos aparecen en todo lado desde las producciones de Adalberto Alvarez y Anacaóna a Tumbao Habana. Ingresa aquí a la sección personal de Joaquín Betancourt en timba.com

Melón, por su parte, es el único cubano que participa en "Otra Idea" lanzado por la casa disquera RMM en New York. Cuenta con las versiones originales de estudio de tres obras más que Issac todavía interpreta en vivo y que han mutado a verdaderos acontecimientos musicales que duran entre 10 y 15 minutos. Estas son "Luz Viajera", "Deja Que Roberto Te Toque" y "La Chica del Sol".

A fines de 1996, la banda de Issac cambia drásticamente por tercera vez. Este grupo, para algunos, resulta ser la mejor banda timbera de todos los tiempos. A Melón se le suma un genio muy joven llamado Alain Pérez, que canta, compone y toca cualquier instrumento musical que se le ponga en frente con un virtuosismo exagerado. En esta oportunidad, Alain toca el bajo y a poco tiempo empieza a contribuir arreglos, como el de "Con la punta del pie", un ejemplo excelente de su alta calidad que tendremos la oportunidad de analizar detenidamente cuando completemos esta sección de Issac Delgado. ¡Por ahora sólo te queda escucharla con atención! La puedes encontrar, junto a los dos arreglos formidables de Melón, "Se Te Fue La Mano" y "Pa' Que Te Salves" en "Exclusivo Para Cuba". Hemos incluido, para tu deleite personal, un par de ejemplos de audio: "Se te fue la mano", "Con la punta del pie". Este disco tiene también "Tú tranquilo", la canción de Juan Formell que cantó Issac en el gran proyecto de Juan Ceruto --"Gracias Formell". Era el primer arreglo que escribe Ceruto para Issac, pero ahora ha escrito varios otros en los últimos dos discos. Después de la parte de metales de Ceruto podemos oír un tumbao de piano muy interesante de Melón.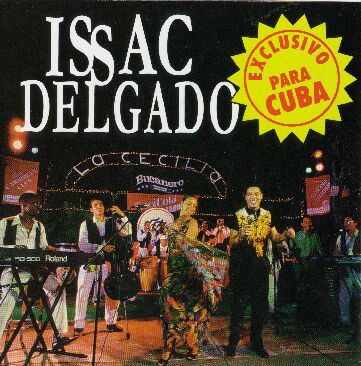 Como sugiere el título, "Exclusivo Para Cuba" fue lanzado en un principio sólamente dentro de Cuba, pero gracias a RMM, el disco también se distribuyó (pero sin mucha información impresa que digamos) como "Rarities", formando parte de la serie Forbidden Cuba in the 90's. "Rarities" ya no está disponible, pero afortunadamente "Exclusivo Para Cuba" ya no es exclusivo y es adquirible en los EE.UU. y es nuestra primera recomendación para conocer el mundo de Issac Delgado y su grupo ¡junto a una entrada de primera fila para verlos tocar!

Fue esta banda que Delgado trajo a su primera y polémica gira a los EE.UU., y fue esta formación que se presentó en el famoso concierto de Central Park, que sigue siendo tema de elogio para tantos músicos neuyorquinos, incluyendo a Peter Watrous, crítico del New York Times, que no sólo manifiesta que Issac Delgado "es uno de los mejores cantantes del mundo actual" pero que también considera a este grupo como la cúspide de la timba entre una larga lista de asombrosas bandas que han salido de Cuba en los últimos años. Escuchemos entonces un ejemplo del grupo en concierto: Luz viajera
Cuando Melón se traslada a España, un tecladista muy hábil y talentoso, Pepe Rivero, lo reemplaza en el piano y Alain Pérez toma el mando de muchos aspectos del arreglo y composición de los temas. El resto del grupo permanece esencialmente intacto y es esta alineación la que graba el último disco de Issac para la RMM, "La primera noche". Como la mayoría de discos de Issac, este ejemplar contiene muchos temas suaves, coherentes y emocionalmente satisfactorios que no son particularmente la timba que nos vuelve loco, pero, por otro lado, también podemos entrever algunas de las canciones ejes del trabajo en vivo, incluyendo "La Sandunguita", "Amigo Juan" y "Que Me Disculpen" -- todas obra de Alain Pérez. Escuchen esta versión en vivo de "La sandunguita". Joaquín Betancourt compone el tema titular del disco y contribuye su arreglo de "Amigo" antes de entablar un papel mucho más activo para la realización de los próximos discos.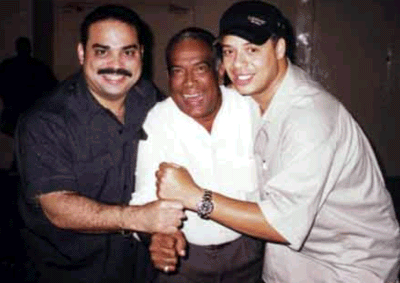 Issac junto a Cheo Feliciano y Gilberto Santa Rosa

En 1998, Issac vuelve por un breve lapso a España, y la mayoría de su banda, incluyendo a su hermana Daria y el mismo Alain Pérez, deciden no volver a Cuba. Esa banda que se queda atrás permanece junta y en el 2001, Pérez graba su primer disco como director de orquesta y cantante principal, "El desafío".

Pero Issac, que para esto habría vuelto a su isla, aparentemente no siente el golpe de su repentina carencia de músicos y junta una vez más a otra de las bandas timberas más grandes de la historia, esta vez con tres de los miembros claves del equipo musical de Paulito F.G.: Joel Domínguez, Joel Páez, y Yaniel "El Majá" Matos. Lamentablemente, este grupo no alcanza a grabar, pero se presenta constantemente en Cuba durante el 99, en conciertos entre los cuales cabe destacar aquél realizado en la cima de El Morro. Es probablemente una de las experiencias más palpitantes que he presenciado en toda mi vida.

Los miembros importantes de esta banda dejan la isla en enero del 2000 e Issac recruta, entre otros, a Roberto "Cucurucho" Valdés, pianista actual de los Van Van. A mediados del 2000, Valdés y Rolando Luna cambian de lugar, Luna arribando de Paulito en un ajuste que también incluiría la incorporación de un nuevo director musical, Oscarito Valdés Jr. Issac también adquiere los servicios de otro miembro clave del grupo de Paulito FG, el brillante arreglista Juan Ceruto. Y esta banda es la que concibe "La Fórmula", nominada para el Grammy y conocida también como "Malecón" en Cuba. El tema titular recibe un excelente arreglo por parte del bajista Joel Domínguez, y los números restantes son repartidos entre el equipo arreglista de Ceruto y Betancourt. Este es un extracto de "Malecón" un arreglo de Joaquín Betancourt.

El disco "Grandes Éxitos" contiene algunas canciones de buena estampa, pero está lejos de ser lo mejor de Issac. En realidad sólo incluiríamos tres temas de los que aparecen en esa compilación si fuésemos nosotros a sugerir lo mejor de su música. Para los que procuren un sólo disco abarca todo, tendríamos que inclinarnos hacia "Exclusivo Para Cuba" (alias "Rarities") o "La Fórmula". "En la Calle" de NG La Banda también representa una buena introducción a su espléndida calidad interpretativa.

El disco más reciente de Issac se titula "Versos en el cielo". Todos los temas son arreglos nuevos de clásicos de la Nueva Trova cubana. Issac se trae a algunos músicos de Nueva York para este disco, incluyendo a Ralph Irizarry, quien nos comenta sobre dicha experiencia en esta entrevista de audio para timba.com. Issac también adquiere los servicios del talentoso Jon Fausty, otro neuyorquino con renombre en el mundo de la música, considerado por muchos como el primer ingeniero de sonido y grabación de la música latina. El resultado es uno de los discos cubanos de mejor fidelidad sonora. Es también lo más distinto que Issac ha hecho desde sus tenaces presentaciones de timba dura, pero los arreglos fantásticos de Ceruto y Betancourt, la magia de Fausty, y la apasionante calidad vocal de Issac hacen de este trabajo una inclusión indispensable en la audioteca de todo aficionado de la música cubana, incluyendo al adepto timbero más ferviente. En todo caso, Issac no pudo dejar la timba dura del todo atrás, como, gracias al poderoso arreglo del maestro Betancourt, lo percibimos en este ejemplo de "Vamos a Andar".

Hemos sido muy breves. Este vistazo le queda cortísimo al inmenso mundo de Issac Delgado y su concepto, que en sí abarca toda la gama de emociones y expresiones musicales. ¡Esperamos encarar este desafío en un futuro muy cercano!