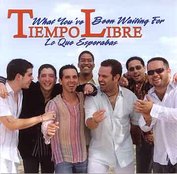 Lo Que Esperabas
| Style | Released | Album Tracks | Charts |
| --- | --- | --- | --- |
| Timba | 2006 | 10 | 0 |
$9.99

© 2006 Shanachie Entertainment Corp. All rights reserved.
Audio album download includes album tracks, liner notes and cover art.
All audio tracks in MP3-VBR format. About LPM album downloads.

| # | Name | Play | Time | Info |
| --- | --- | --- | --- | --- |
| 01 | Opening | Your browser does not support the audio element | 0:57 | Tiempo Libre viene arrazando |
| 02 | Lo que Esperabas | Your browser does not support the audio element | 4:12 | te la traigo yo, el que pare que tenga freno |
| 03 | Manos Pa'rriba | Your browser does not support the audio element | 4:47 | yo te aseguro que mira mamacita yo te cojo el... |
| 04 | Arrebatao | Your browser does not support the audio element | 5:10 | ya no se quien soy, ya yo no se donde estoy parao |
| 05 | A Bayamo en Coche | Your browser does not support the audio element | 4:38 | santiago de cuba donde yo nací |
| 06 | Tengo Que Olvidarte | Your browser does not support the audio element | 3:24 | otro bolerito romantico al estilo TL |
| 07 | Ven a Bailar | Your browser does not support the audio element | 5:03 | un rapeito...timba con timba y mas timba |
| 08 | La Llave | Your browser does not support the audio element | 4:28 | mira que yo traigo la clave |
| 09 | Esto Esta Listo | Your browser does not support the audio element | 4:19 | mambo con batá....ahi namá |
| 10 | Ella Tiene | Your browser does not support the audio element | 5:03 | ..lo que me entretiene...mucho dembo |

Tiempo Libre's follow-up, LO QUE ESPERABAS, was nominated for a 2006 Grammy Award in the category of Best Latin Tropical Album. This release launched them on a world tour.
Interview with Jorge Gómez, music director of Tiempo Libre, about the new release – "Lo Que Esperabas ("What You've Been Waiting For") on the Shanachie label. --courtesy of sister site www.TIMBA.com
--how does the new album compare to the last album? What did you intend to accomplish that is different with this album?
First, I'd like to comment on the title of the album. For the last few years we have been touring all over the US, Asia and Europe. We play in very big cities and some very, very small places where there are at times no Latinos at all. Often we have been in places like that and new fans have come back stage saying "my god, I had never even heard of timba before, but now that I have, I know it's what I have been waiting for." That happened to us so many times, we decided to name album "Lo Que Esperabas" - or "What You've Been Waiting For".
One always hopes that from one album to the next there will be a development, a musical maturing that happens spontaneously. And I think that that has, in fact, happened between "Arroz con Mango" and "Lo Que Esperabas". There is more musical variety. While we have maintained the signature "Tiempo Libre sound" - and everything here is still timba, timba, timba - we have, for example, incorporated more stylistic elements - like "rapeos" - or rap sections that come in as choruses between verses. In "Manos Pa'rriba", there is a decidedly funk feel. Now, when I listen to "Arroz con Mango", I still love its energy but I also am aware of how young and breathless it feels. It's a very exciting disc, but there was very little room for people to breathe while listening to it. It was really music meant to be put on for dancing. In "Lo Que Esperabas", we have tried to give people more room to sit back and savor "pan con timba" - which is a Cuban phrase that refers to throwing different flavors together and creating something newly delicious.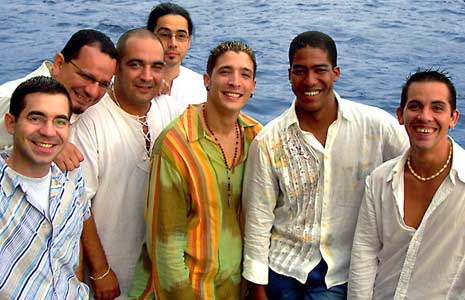 --how has playing for different, non-Cuban audiences around the world affected or changed Tiempo Libre's music?
As many people know, our key mission has always been to introduce timba to as wide an audience as possible. We believe that this music has a kind of transformative power - releasing people from their preoccupations and from their inhibitions to get up and dance. It's one thing if you are playing traditional Cuban songs that even non-Spanish speakers are somewhat familiar with. It's another thing if you are introducing both a new style and new lyrics. It can sometimes be hard for new audiences to assimilate all of that. So what we have done is focus more on the music than the lyrics. The arrangements, in particular, incorporate elements that are perhaps more familiar to international audiences. Before I became obsessed with timba, I came first from a classical and then a jazz background. So, as I am working on the arrangements, I am naturally drawing from musical sources that are universal languages and not just a vocabulary specific to timba. Playing for non-Cuban audiences and watching their responses to what we do has given me the confidence to follow my instincts with this approach.
--what were you trying to do on "Manos Pa'rriba"?
Well, you have to understand that growing up in Cuba, our only way to hear American music was listening - illegally - to American radio from Miami. And one of the groups that almost all Cubans - and particularly timberos - were enamored of - was Earth, Wind and Fire. So, in one way, this song is an homage to EWF. We started doing this in concert as a kind of improvisation - a kind of palate-cleanser between straight ahead intense timba songs, to give people a break, but the audiences went crazy. And we, ourselves, had an amazing time doing it. So, over time, we worked that funk-timba improvisation into a song called "Manos Pa'rriba". The lyrics are very simple, but they are once again celebrating this crazy, wonderful life we have of bringing our world of timba to audiences outside of Cuba.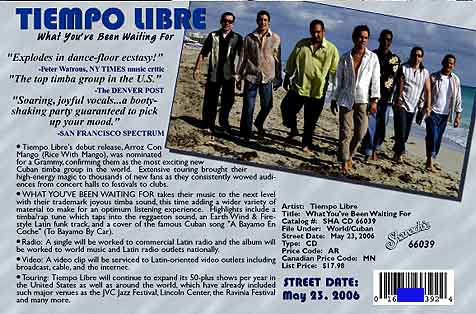 --talk about the significance of "A Bayamo" and why you included it?
When Tiempo Libre began, we really focused on re-interpreting traditional Cuban songs timba-style. That was for the same reason I mentioned before of giving audiences something familiar to hold onto while introducing this new style of music. Our very first album – "Timbiando" - which was made in a friend's garage and was never released commercially, was all covers. With "Arroz con Mango", we wanted to write all original material, but we felt it was important to have at least one cover ("Pare Cochero") - to continue the tradition we started with "Timbiando". And so, "A Bayamo" is a cover of a song that was very very popular in Cuba. In the first part of the song we simply re-interpret timba-style a song that extols the virtues of Bayamo, a beautiful, historic city in the eastern part of Cuba. The lyrics say "I want to go to Bayamo in horse and carriage", a memory of an idyllic moment. What we have done in the second half of the song is flip the lyrics over and we say "ahora voy a Miami en bote" - and now I am going to Miami by boat - and there is a little rap section that follows that speaks about the priceless things - the music, dance and rum - that the immigrant carries with him. Our intent with this song was not only to reinterpret it musically, but also give it a new, contemporary twist in the lyrics and sound - something that will certainly speak to all Cubans who have left the island.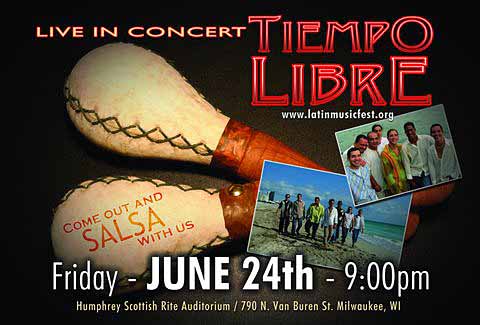 --what is the meaning of "timba" today; how is it evolving?
It's hard for me to answer that question because most of the great timba groups are still in Cuba - and I have not been back there for 10 years. So, I can actually only answer that question from the point of view of Tiempo Libre. There are people who have said that timba is dying out. There are also some timba fanatics who say that real timba cannot exist outside of Cuba. But I strongly disagree with both things. Timba is not dying out, it is evolving the way jazz did as it moved from New Orleans to Chicago to New York. I always use the analogy of a tomato. If you plant a tomato in Havana soil, it will taste different than if you plant it in Miami soil or Los Angeles soil, but it will still be a tomato. We in Tiempo Libre are pure timberos. We listen to timba, we play it, we dance it, we live it. But we are also now Cubans living in the United States. We are absorbing the musical nutrients, the essential elements found in this country that are very different than what is found in Cuba. It's very much like food. I grew up on rice and beans and yucca and roast pork. But now I am in a place where I have access to fresh vegetables and herbs and spices, not to mention cuisines from all over the world that I could never have dreamed of in Cuba. It's only natural that I will experiment with new flavors and textures that weren't previously available to me. But rice and beans and yucca will always be the foundation of my diet, my comfort food. It's all about having deep roots - and allowing yourself to take in new experiences and grow.
--right now, what can you say is that is special about Tiempo Libre?
I've talked a lot about the musical aspects of Tiempo Libre, so I think its important to comment on the essential non-musical aspects of the group. Perhaps it will sound cliche to say that we are like a family, like brothers. But it is so. Cubans are extremely social people. And family closeness is very, very important among Cubans, among Latinos. So, perhaps we are recreating in our career what we miss living outside of Cuba, away from our native land. But the truth is that we write music together. And when we are on tour together, we eat together, we travel together, during breaks we play pool and dominoes together. And, on stage, we have an incredible time together. So, I think that what people feel when they hear at a TL concert is the intense bond we share which, of course, comes out in the intensity and tightness – and the playfulness - of the performance. These are things that are difficult to achieve with a group that consists of a star performer and back-up musicians. Another thing is that, individually and collectively, we are aware of how incredibly lucky we are - not only to live in this country, but to have had so many amazing opportunities - to record, to perform, to teach - all the time with the intent of celebrating our Cuban roots and the new life we have here in America. Every time we walk into a classroom or onto a stage, we recognize how precious that moment is. We feel this tremendous excitement, joy and abandon. Our number one desire is that our audiences share in that with us, that they become a part of our family.