A new homage to the classic "salsa-dura" sounds of the 1970's
May 14, 2012
By Michael P. Lazarus, Founder LPM
A new homaje to the classic salsa sounds of the 1970's has been released (May 1, 2012) by Miami-based pianist, Grammy nominated producer and band director Marlow Rosado and his band La Riqueña. Entitled "RETRO", the album has been touted as a "major DJ alert" with it's "army of salsa greats and killer dance-club ready tracks that throw fireballs left and right" by the editors of Descarga.com among other high profile Latin music websites.
This new album, called RETRO, is an all-star release that counts with the participation of legendary instrumentalists and singers, among them:

Bobby Cruz - singer and composer
Ismael Miranda - singer and composer
Tony Vega - singer
Luigi Texidor - singer
Marlon Fernández - singer
Kevin Ceballo - singer
Enrique "Papo" Lucca - pianist (Sonora Ponceña)
Salvador Cuevas (bass with Ruben Blades)
Tito Puente Jr. - timbales
and Quique Dominich - cuatro.

**Update - Marlow Rosado y la Riqueña will be performing at Yoshi's Jazz Club in San Francisco on Wednesday, August 15nth at 8pm. For tickets click here.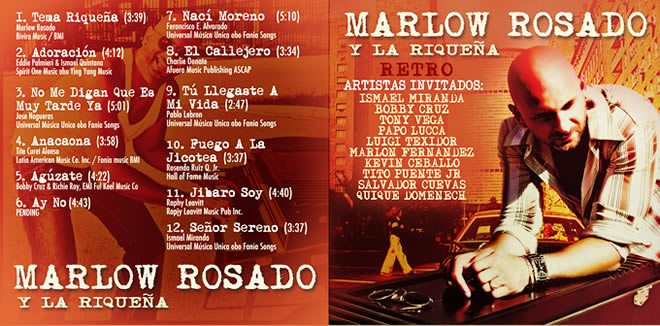 After the success of his album "Salsalsa" under the Fania label, where director and pianist Marlow Rosado counted with the participation and support from none other than "THE GODFATHER OF SALSA" Andy Montañez, and the great singer of Puerta de Tierra PR, Jay Lozada, he embarks on a mission almost impossible as it is normal for this pianist and producer.
Marlow is transported to the 70's and takes his whole band "La Riqueña" with him. Marlow Rosado, whom the boys refer to as "THE GURU", attack 12 of the most important songs of the decade -- such as "Señor Sereno", "No me digan que es muy tarde ya", "Adoración", and "Fuego A La Jicotea" -- to mention some.

"I wanted to give tribute to the music that made me a musician, to the golden decade of our music," says Marlow, "but in my mind I always thought, how do I cover these songs when they are already perfect? I did want to take some stylistic chances without gambling with the integrity of each iconic tune". "How can I present them with the new La Riqueña vibe without damaging the magic that they hold?" Each song he chose for this record is a classic, and the the responsibility to work in good taste and stay true to the concept was very important to him.
The formula Marlow used was simple, he started with all the musical arrangements as originally recorded, and with great respect and delicacy, he began injecting his own style, while at the same time making sure that the songs did not lose their essence. And now the almost unbelievable part...at the end of the 12 arrangements, he asked himself "wouldn't it be incredible to invite the original singers and musicians to participate in these new versions?"...."would they accept my changes?". Marlow then approached Bobby Cruz first, and said, "Bobby, listen to this version of Agúzate and tell me what you think, if you like, I'd love you to sing." Bobby heard it and the same day he put his voice to the arrangement. Counting and the voice of Bobby, he then reaches out to Luigi Texidor and Papo Lucca, and shows them his version of "Moreno Soy". A week later Luigi recorded his voice and Papo added a killer piano solo. Inspired by the acceptance form these legends, Marlow contacts Tony Vega, Marlon Fernández, Kevin Ceballo, Quique Domenech, Sal Cuevas and Tito Puente Jr.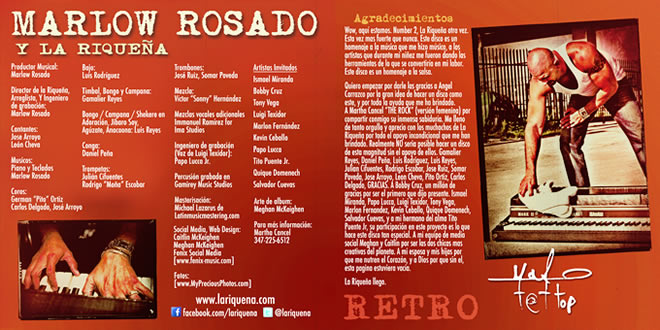 Marlow comments: "This album in my opinion is very important. I think our industry suffers from very few releases from orchestras (bands as opposed to individual artists). I hope this album works up an appetite for the "roots style sounds" that that we are used to hearing. This production is full of energy, with modern sound production and new arrangements, but each songs is a theme that reflects the core of "salsa dura" (heavy sauce). This record is part Eddie Palmieri y la Perfecta, Papo Lucca and La Sonora Ponceña, Raphy Levitt and La Selecta, Willie Rosario and His Orchestra, Los Hermanos Lebron....and all the other great orchestras right through the years that delivered strong and original music.

This new album carry the title "Retro" because it's a throw-back and homage to a decade that all salseros and salseras remembers with real nostalgia, and for the new enthusiasts of the genre, it's a great opportunity to explore the works of the masters that have been crowned as the pillars of our Latin sound.