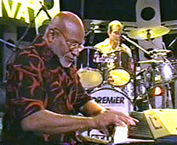 Lazaro Valdes Sr.
| Home Base | Established | Albums | Charts |
| --- | --- | --- | --- |
| Havana, Cuba | 1958 | 1 | 0 |
This artist has albums available.

Click on each album title for an expanded view.
| Album Name | Preview | Style | Price | |
| --- | --- | --- | --- | --- |
| Lazaro Valdes y Son Jazz | Your browser does not support the audio element | Latin Jazz | $10.99 | |

Pianist, professor and lecturer, Lázaro Valdés is part of a prestigious family of cuban musicians. He has been performing with his latin jazz quintet SON JAZZ since 2003.
Born in Havana on December 17 (ST. Lazarus) 1940, Lázaro Valdés starts his piano classes with the members of his already prestigious family: his father Oscar Valdés and his uncles Alfredito and Vincentico Valdés. As a kid his first concert was the 'Claire of Moon' from Beethoven, performed at the Marianao Amphitheater. At 18, Lázaro begins his professional career with Benny More's Giant Band in 1958. He performs on many hits: "Que Solo Las Mujeres Acaricien Tu Cara", "Dolor y Perdón", Cuando a Varadero Llegué", Se Te Cayó el Tabaco", Rezo en la Noche" and "Guantanamera". After the Great Sonero's death he continues as band director until 1966.
Lázaro then works with several reknown Cuban orchestras: Casino de la Playa, Orquesta Riverside, Sabor a Cuba, Conjunto el Niño Rivera and Teatro Marti's Orchestra under the direction of Rodrigo Prats. Later he launches his first band "Te Con E" in 1972 and makes his premier at the Cabaret Tropicana next to Cuban divas Elena Bourke and Omara Portuondo. From 1995-97 he is musical director of the Parisien Cabaret at the National Hotel and Havana's East Beach Cabaret circuit.
His international touring includes: Germany, Angola, Mongolia, Italy, Peru, Canada, Martinica, Mexico, Japan, Hungary, Rumania, Russia, Panama, Spain and Thailand. A recognized professor and lecturer, Lázaro has various international awards in Cuba and other countries. He has lectured many universities about the Origins & Roots of the Cuban Son and the Birth of Ragtime in Cuba.
Beginning in 2003, Lázaro Valdés has been performing with his quintet SON JAZZ. His powerful sound fuses Son, Timba and Jazz with the Danzón, Contradanza and classical music with virtuosity and originality. He has played at all the International Jazz Plaza Festivals and recently at the Huan Hin Festival 2006 in Thailand.