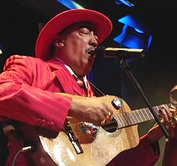 Heriberto "Tito" González
| Home Base | Established | Albums | Charts |
| --- | --- | --- | --- |
| El Cerrito (CA), United States | 2000 | 1 | 0 |
This artist has albums available.

Click on each album title for an expanded view.
| Album Name | Preview | Style | Price | |
| --- | --- | --- | --- | --- |
| Tito y su Son de Cuba | Your browser does not support the audio element | Son | $10.99 | |

Heriberto "Tito" González, known as 'El Trecero Mayor', arrived in the San Francisco Bay area in the summer of 2000. A singer and tres player, Tito's music is in the style of the traditional Cuban son, the music you know from the Buena Vista Social Club.
Tito plays a Cuban instrument similar to the guitar, called the tres. He studied with tres master Papi Oviedo of the Buena Vista Social Club and then with the greatest guitarist in Cuba, Octavio Sanchez Cotán.
He has played with such famous Cuban groups as Conjunto Estrellas de Chocolate, Aribu Quartet and Chapotin y sus Estrellas, all from Havana, Cuba.
Before leaving Havana, Tito founded and played with the Nuevo Conjunto de Arsenio Rodríguez, a group carefully structured to represent the music of the famous Cuban tresero Arsenio Rodríguez. This group was assembled by Arsenio's daugther, Regla Rodríguez Travieso. She thought long and hard as to who should represent and play her father's music. She chose Heriberto "Tito" González, a great honor.
Tito is playing with several groups in the San Francisco Bay Area, as well as accepting private students who wish to study the Cuban Tres. He has also participated in community funtions at the Mission Cultural Center, in San Francisco and La Peña, in Berkeley.
---
San Francisco Chronicle, December 15, 2005 -- Peter Hartlaub, Chronicle Pop Culture Critic

Now that he's found the musical love of his life, he's never letting go. Tito Gonzalez pours his heart and soul into a Cuban tradition. Growing up near Havana in the 1950s and '60s, Heriberto "Tito" Gonzalez didn't think too much of traditional Cuban son music -- he would listen to Elvis Presley or whatever other rock, jazz or blues recordings found their way to the Cuban underground.


Gonzalez worked for decades in Cuba in the fishing industry and as a taxi driver, and was in his 40s when he finally dedicated himself to the music of his ancestors. But he made the most of his opportunities, appearing on Cuban television in the mid-1990s and eventually joining one of the country's major son bands -- just as Ry Cooder was introducing son to the world with his "Buena Vista Social Club" movie and recordings.

"When I was a young boy, I loved the music, but not the son. The Cuban youngsters didn't like the traditional music of Cuba," Gonzalez says in Spanish, speaking in his apartment near the BART tracks in El Cerrito. "When you get to about 28 or 30, you do a little thinking about your life, and then you see what's happening with the music. That's when you start getting into the traditional music."

Gonzalez got a late start, but his timing keeps getting better. He moved to the East Bay five years ago, and since then, the 53-year-old has found an enthusiastic audience for Cuban music in the United States -- playing in clubs across the Bay Area and in Los Angeles and Las Vegas. Last year, Gonzalez formed the band Tito y Su Son de Cuba, and released his first CD this fall. He plays tomorrow night at La Peña Cultural Center in Berkeley, and Saturday at the Cigar Bar & Grill in San Francisco.

Gonzalez grew up listening to the traditional music -- his father was accomplished with the tres, a guitarlike instrument from Cuba with three double strings. But just as his truck-driver father never wanted to teach his son to drive, Gonzalez learned to play the guitar from other teachers. He didn't pick up a tres until 1971, when he was 19.


Music was a hobby for Gonzalez after he got the Cuban equivalent of a marine biology degree, and toured the world by sea in a giant fishing boat. He returned to Havana in the 1980s, and started driving a cab, forgetting about music until March 8, 1995, the Día Internacional de la Mujer -- International Day of the Woman.

"Other musicians who were taxi drivers said, 'Let's play something and have a little celebration for the women for the day,' " Gonzalez recalls through a translator, remembering the day that Un Grupo de Taxi Son was born. "We went around giving parties at different taxi offices, until an important person saw us."

A few weeks after an audience member with ties to broadcasting saw the group, Gonzalez was featured on a local television program, "Joven Joven." Gonzalez soon lost his taxi job, but his notoriety from the TV show allowed him to form an orchestra and tour the country.

"They eliminated the taxi. Because of the economic problems, there was no gasoline," he says. "I started playing the tres to the tourists who would come to the hotels and restaurants and clubs."

Gonzalez was struggling to get by as a musician when he met Papi Oviedo, a popular tresero who had played for decades with members of the Buena Vista Social Club -- a group of musicians who were popular in the 1940s and experienced a resurgence after Cooder introduced them to the world in the late '90s. Hoping to take his music to the next level, Gonzalez studied with Oviedo, who thought his student was crazy to try learning a complex repertory of traditional Cuban songs so late in life.

"I would sleep with my tres. I would play all the time," Gonzalez says. "Even when I was sleeping, I would keep the tres close and get up and start playing again. I would cook the food with my guitar hanging on my back. I would play the guitar while I was cooking."


After his first tryout with Conjunto Estrellas de Chocolate, Gonzalez was accepted as a member of the respected Cuban group. It was the Cuban equivalent of a U.S. citizen picking up an instrument again at 40, mastering it in a year or two and suddenly touring with the Allman Brothers. Before Gonzalez left Cuba, he was hand-picked by the daughter of Arsenio Rodriguez, the greatest tresero in Cuban history, to lead the group Nuevo Conjunto de Arsenio Rodriguez.

Gonzalez departed Cuba in summer 2000. While he misses the country, he says his passion for music is stronger than ever. The tresero plays his own songs now -- with the occasional cover song in tribute to Rodriguez or another Cuban master -- with a group of Bay Area musicians whom Gonzalez says are as accomplished as the artists he worked with in Cuba. He is a big guy who likes to dress sharp, and moves slowly when he's not playing for an audience. He's trying to stop smoking cigars (he wrote a song about quitting on his CD) but can still be seen with small stub now and then, leading Moss to nickname him "Puro" -- a reference to Cuban cigars.

"The history of this instrument comes from the Cuba mountains," Gonzalez says, holding his tres out for display while describing a legend about Cuban farmers who would party and play music from evening to morning. "The guitar could not withstand all that playing. The strings broke. There were three strings remaining on the guitar, and those were the only ones that remained on the rest of the evening. The tres was born."