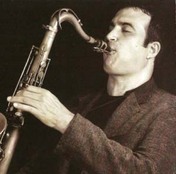 Felipe Lamoglia
| Home Base | Established | Albums | Charts |
| --- | --- | --- | --- |
| New York (NY), United States | 1990 | 1 | 0 |
This artist has albums available.

Click on each album title for an expanded view.
| Album Name | Preview | Style | Price | |
| --- | --- | --- | --- | --- |
| Dimensions | Your browser does not support the audio element | Latin Jazz | $9.99 | |

Cuban born Felipe Lamoglia is a saxophonist, composer, arranger and solo artist that has worked with NG La Banda, Celia Cruz, Arturo Sandoval, Gonzalo Rubalcaba and Ignacio Berroa.
Born in Holguin, Cuba, Felipe Lamoglia is a saxophonist, composer and arranger. At the age of 18 a scholarship came from the prestigious Superior Institute of Arts (ISA) the most important University of Music in Latin America. His big professional opportunity came at age of 18, being hired to play with NG La Banda one of the most acclaimed Cuban orchestras ever. Felipe funded his own Orchestra called Oni-Ache, traveling to Sao Paulo, Brazil in 1992 for a musical exchange program with the University of Sao Paulo and went on to live in Brazil for seven years.
After moving to the United States in 1999, he started playing locally with great artists such as the late Celia Cruz, and also began performing regularly with Grammy Award-winner Arturo Sandoval since 2001.
Felipe had the opportunity to participate in the recording of Arturo's album 'Trumpet Evolution' along with two DVD releases (Live at Blue Note NYC and Live at the Ann Arbor Summer Festival) as well as performing all over the world and participating in some of the most important Jazz festivals in America and Europe where he shared the stage with Herbie Hancock, Michael Brecker, Wynton Marsalis, Eldar, Marcus Miller and others. It was later in 2004 when Felipe joined the Grammy Award-winner Gonzalo Rubalcaba, recording his Grammy Award-nominated album 'Paseo' released by the prestigious Blue Note Records. Around this time he kept on performing for two years with the New Cuban Quartet all over the world.
In 2006 he arranged and played on Ignacio Berroa's new album 'Codes', also released by Blue Note Records and nominated for a Grammy as well. This led to performing with Mr. Berroa's quartet in diverse tours. Recently Felipe worked as a producer in Arturo Sandoval's latest album Rumba Palace, being in charge for all the arrangement and composing, which won a Grammy Award in 2008. By the end of 2007 his first solo album Dimensions, recorded in Brazil, was released. This project incorporates his Afro-cuban roots with strong influences of Jazz and Brazilian music. "I can assure you no other place in the world deserves my solo debut more. I really hope that everyone who in one way or another has followed and supported my music through all these years can enjoy this album and receive my sincere thanks through all my music".