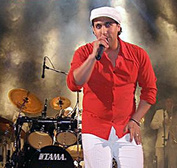 Frank Veliz
| Home Base | Established | Albums | Charts |
| --- | --- | --- | --- |
| Madrid, Spain | 2009 | 1 | 0 |
This artist has albums available.

Click on each album title for an expanded view.
| Album Name | Preview | Style | Price | |
| --- | --- | --- | --- | --- |
| Encrucijada | Your browser does not support the audio element | Tropical | $4.99 | |

Cantante cubano de Santa Clara ahora basado en Madrid, España.
ENGLISH: Frank Veliz; originally from Encrucijada, city of Santa Clara, Cuba, born February 6, 1983. He knew from an early age that music was his inspiration. Music runs through his blood and the rhythmic feel of the Old Cubans comes natural to him.

His father Francis drove his career; from leading his son to the entrance exams at the EVA Olga Alonso art academy, where he graduated from the elementary level of choral studies followed by a transition to the School of National Arts of Cuba (ENA). Following that he registered in the Santa Clara de Cuba Music School, graduating in basic piano and choral singing.

At the age of 15 he already belonged to several musical groups: Orquesta Salsa Rumbo in Santa Clara, in which he began his first performances in popular Cuban music. The he joined the Orquesta Condado, with whom he performed his own compositions, recorded at Radio WW Santa Clara the second production for the group and completed a six week tour of the central territories of the island.

At 17 he traveled to Spain where he shared the stage with the "Queen of Cuba" Celia Cruz, Oscar d' Leon, Estrellas de Niche, Los Adolescentes, El Gran Combo and several major groups in Spain. He spent two years with the Orquesta Domino de Asturias, ranked among the 10 best in the country, in which he participated as lead singer and keyboardist.

He was musical director and member of the Son Caribe orchestra, in which he participated with many styars of the Dominican Republic music scene: Juan Manuel, Luis Miguel de la Marge, Leidy Bonilla, Luiggi Arias, among others and shared the stage with artists like Bustamante, Sergio Dalma, Pastora Soler, Niña Pastori and Rosario Flores.

Frank is a vocalist in acclaimed producer Sergio George's special project -Dark Latin Groove (DLG)- one of the popular salsa intyernational salsa acts, in which he still works their main European tours.

In 2009 he releases his first solo album and begins his experience as a music producer. In this production we see a Frank Veliz that has matured with the ongoing success of his intense career yet still retains the simplicity and sensitivity of his roots.

Frank Veliz is a young man with a purpose –for you to get to know his great love, Cuban music. He loves his family and friends. I invite you to get to know him.
ESPAÑOL: Frank Veliz; Originario de Encrucijada, municipio de Santa Clara Cuba, nacido el 6 de Febrero de 1983. Supo desde muy joven que la música era su fuente de inspiración, le corría por la sangre el ritmo y el sentir de los viejos cubanos. Su padre Francisco fue el impulsor de su carrera llevándolo a las pruebas de acceso en la escuela vocacional de artes EVA Olga Alonso, en donde se graduó del nivel elemental de dirección coral , seguido realizo el paso de nivel a la escuela de artes nacional de cuba ENA ,al poco tiempo ingreso en la escuela de superación profesional para la música de Santa Clara, Cuba, graduándose finalmente en piano básico y canto coral.

Perteneció a varias agrupaciones. A la edad de 15 años se ingresó en la orquesta (Salsa Rumbo) de Santa Clara, en la cual empezó sus primeros pasos en la música Cubana. Al poco tiempo impartió en una agrupación con la que cantaba sus propias composiciones -la Orquesta Condado. Con esta grabó en la Emisora de Radio WW de Santa Clara -la segunda producción de la Orquesta- y donde completo una gira de seis semanas por el territorio central de la isla. A la edad de 17 años viaja a España y comparte el escenario con la "Reina de Cuba" Celia Cruz, Oscar d León, Estrellas de Niche, Los Adolescentes, El Gran Combo y varias agrupaciones importantes de España. Estuvo 2 años con la Orquesta Domino de Asturias, situada entre las 10 mejores del país, en la que participaba como cantante principal y tecladista.

Fue el director musical y socio de la orquesta Son Caribe, en la que participo con varios artistas importantes de la música Dominicana como: Juan Manuel, Luis Miguel de la Margue, Leidy Bonilla, Luiggi Arias, entre otros y compartió escenario con artistas como Bustamante, Sergio Dalma, Pastora Soler, Niña Pastori y Rosario Flores.

Frank es vocalista del proyecto especial del aclamado productor Sergio George -Dark Latin Groove (DLG)- una de las agrupaciones más importantes de la salsa a nivel internacional, en la cuál todavía sigue colaborando en sus giras europeas como corista principal de la banda.

En el 2009 lanzá su primer álbum como solista –Encrucijada- donde empieza su primera experiencia como productor musical. En esta producción vemos a un Frank Veliz que ha madurado con el éxito de una intensa carrera, pero que conserva la sencillez y sensibilidad de sus inicios. Frank Veliz es un joven cubano cual objetivo tiene darse a conocer su gran amor de la música cubana, ama a sus familiares y amigos, en fin les invito a que lo conozcan.