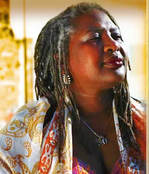 Bobi Cespedes
| Home Base | Established | Albums | Charts |
| --- | --- | --- | --- |
| Oakland (CA), United States | 1979 | 1 | 0 |
This artist has albums available.

Click on each album title for an expanded view.
| Album Name | Preview | Style | Price | |
| --- | --- | --- | --- | --- |
| Patakin | Your browser does not support the audio element | Son | $9.99 | |

Acclaimed folkloric singer, dancer and percussionist, Gladys "
Bobi
" Cespedes has been directly involved in the preservation and teaching of Afro-Cuban culture and traditions.
Gladys "Bobi" Cespedes is an acclaimed folkloric singer, dancer and percussionist; she is a recording artist, theatrical director, storyteller, accomplished historian, lecturer, and cultural arts teacher. She sings in three languages: English, Spanish, and Lucumi, the mother tongue of the descendants of the Yorubas of West Africa in Cuba. She makes and plays a variety of authentic folkloric percussion instruments, including the Chekere, a beautiful beaded calabash gourd. As a storyteller, she weaves the tales of the Orisas - deities of the Yoruba pantheon - in fluid word and gesture and illustrates the poetic, reverent vision of God and nature that is her ancestral heritage. As a dancer, she gives color, form and exuberant life to the intricate, polyrhythmic music of the Caribbean. As a priestess and IyanIfa in the Yoruba-Lucumi spiritual tradition, she carries unbroken the cord of spiritual tradition and inspiration which joins the past with the present. For over thirty years, Bobi has been directly involved in the preservation and teaching of Afro-Cuban culture and traditions.
Bobi was born the youngest of 14 children into a musical family who lived in the town of El Cotorro, on the outskirts of Havana, Cuba. She was raised in a family where everyone was involved in some in some aspect of the folklore and music of Cuba. "Everyone in my family's house was into music. I was raised and molded by it…music was all around me; it was always there," recalled Bobi. Bobi participated in all family performances, singing and dancing in public by the time she was seven years old. At ten, she began to write and publicity recite "decimas," a traditional ten-line poem in Cuban music and poetry. Bobi left Cuba in 1959 to live in New York City where she continued to study with such notable artists as Sylvia del Villar, the world-renowned African-Puerto Rican vocalist and exponent of African-Puerto Rican culture, and West African folklorist Baba Denizulu. For next 10 years, Bobi directed and performed in several Afro-Cuban troupes in the New York Area. In 1967, she was initiated as a priestess of Obatala in the Lucumi religion, and is currently well known and respected in that capacity in the Bay Area, New York, Florida, Los Angeles.
In 1979, Bobi became a founding member of the Ifa Players; a theater company, which produced plays, based on African mythology. Later in 1979, she became a California Arts Council "Artist-in-Residence" in San Francisco's Hunter Point teaching cultural arts to children. In 1980, she co-directed El Teatro Coco Santo. In 1981, Bobi, her brother Luis and nephew Guillermo formed the original son trio, called Trio Cespedes, who released their debut recording, "Guira con Son," on Caldero Records in 1984. Trio Cespedes later grew into what is now a 12-piece Conjunto Cespedes. In 1990, Bobi received an endowment to co-direct" Skin Talk: An Ancestral Ballet of Women," a multi-cultural production featuring a diverse group of female traditional drummers, for the San Francisco Drum Festival at the San Francisco Palace of the Fine Arts. She also arranged seven Caribbean Carnival instrumental suites for the "Children of Many Colors Company," which she directed for 10 years. Bobi is also an "Artist-in-Residence" at the Bay Area's Discovery Museum, where she has directed for Museum's Annual Carnaval Celebration since 1996. Bobi appears as a vocalist and dancer in Les Blank's film "Drums Across the Water," as a vocalist in the film "Follow Me Home," as vocalist on Mongo Santamaria's album "Ole Ola," as the director, vocalist and arranger on Music For Little People's award-winning children's recording. "Fiesta Musical," and as a featured vocalist and percussionist with Mickey Hart's Planet Drum tour.
Currently, she is the director of Siguaralla, a folkloric ensemble featuring stories and rhythms of Lucumi, and co-director and lead singer of the 12-piece Conjunto Cespedes, the Bay Area's oldest Afro-Cuban ensemble. As a songwriter and arranger for Conjunto Cespedes, Bobi composed and collaborated on their latest releases, "Una Sola Casa," "Vivito y Coleando," and "Flores: on Xenophile Records. Both "Una Sola Casa" and "Vivito y Coleando" and won the National Association of Independent Record Distributors and Manufacturers (NAIRD) INDIE award for best Latin Recording in 1994 and 1996, respectively. Bobi has performed nationally and internationally with Conjunto Cespedes in such state-of-the-art venues as Bill Graham's World Beat Festival, the BAM Festival in Barcelona, the Kentucky Center for the Arts, the Smithsonian Museum in Washington, D. C. and SOBs and Joe's Pub in New York City. Too numerous to mention, Bobi has opened for countless acts, including Tito Puente, Ruben Blades and El Gran Combo.
In 1989, Bobi Cespedes founded the Afro-Cuban folkloric ensemble, "Siguaralla," which performs Afro-Cuban religious music to educate audiences about the essence of Cuban rhythmic expression, its religious roots. Led by Bobi, Siguaralla is a folkloric performance group of five musical artists and culture specialists who present a complete artistic and educational experience of the African tradition in Cuba. Through storytelling, song, and percussion, Siguaralla explains and demonstrates the Bembe, guiro, rhumba of Havana, and other traditional Cuban and Caribbean celebrations. Combining education with entertainment, Siguaralla explores Cuba's contribution to other musical forms that draw their inspiration from Africa.
In additional to her other accomplishments, Bobi Cespedes teaches about the sources, form, magic and spirit of her music in public schools, community centers, colleges, universities, and museums through seminars, panels, classes, and workshops.