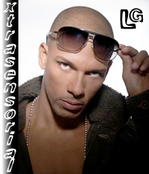 LG el Xtrasensorial
| Home Base | Established | Albums | Charts |
| --- | --- | --- | --- |
| Carolina, Puerto Rico | 1987 | 0 | 0 |
This artist has available.

Rapper, dancer and urban music composer LG "El Xtrasensorial" is a rising star of the Puerto Rican reggaeton movement.
ENGLISH: What happens when you combine the talent and the experience from the "old school", the moves and the grooves from one of the best hip hop dancers of the nation, and the physique of a sexy, hot Latino? These assets can only be translated into two letters: LG. Born October 19, 1973 and raised in the San Antòn community in Carolina, Puerto Rico, Jorge Luis Sànchez Lòpez started his artistic career at the age of 14 as a dancer in the group "DTK". He graduated high school and completed a Bachelors Degree in Criminal Justice. His incredible talent and charisma quickly landed him appearances performing with artists from the local rap scene such as Vico C, Brewley MC, Lisa M. and Ruben DJ. Later on, as he continued his career as a professional dancer, LG won first place at a national "Hip Hop" competition celebrated in 1990 at the Roberto Clemente Coliseum in San Juan, Puerto Rico. From then on LG went on to share the stage with important artist like Lourdes Robles, Juan Gabriel, Ednita Nazario, Angela Carrasco and Olga Tañón, giving him the opportunity to perform on many prestigious stages in Puerto Rico and abroad. In 2000 the artist took his act to Miami, Florida where he realizes he wants to take his career to the next level and starts writing and training his voice.
In 2004 he moves to Tampa, Florida where he meets a local dj named DJ Blaster, who provides him with some rhythms that helps the artist practice for what awaited him. Later LG met DJ Lex, they produced his first demo 'Quedate en Cuero' and started exposing their work all over Florida; including the National Puerto Rican Parade in Tampa. While making these presentations LG was discovered by a well-known reggeaton manager from Puerto Rico and was persuaded to come back to the island to continue working where everything was happening. Once back in Puerto Rico, "Luis Guille" meets many important people in the reggaeton scene and reunited with old friend Lisa M; for whom he composed two songs 'Viciosa' and 'Quedate en Cuero' to be included in her latest production.
While carefully searching for representation, LG gets the chance to meet a young and talented musician; Danny Fornaris. Together they founded Fusssion Musik and started to work on LG's first album. At the present time LG has revolutionized "reggaeton" with the very sensual hit "CUCHI CUCHI". He has also make appearances on well known reggaeton productions such as Naldo's Sangre Nueva Special Edition, Gargolas V and promoted the album Guatauba University with the hit song "Guatatata". He has also collaborated with artists such as Justin Timberlake, Shakira and Alexis "El Pitbull" from Alexis y Fido only to name a few. This very talented artist has also participated in commercial advertising campaigns such as Medalla "Si bebes no Guies" and Midori "Fresh Look". This remarkably talented artist has traveled overseas performing in the Caribbean, United States and Europe adding on to his already incredible expertise in the music industry.