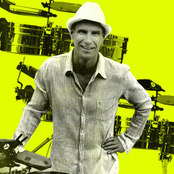 Michael Gerald
| Home Base | Established | Albums | Charts |
| --- | --- | --- | --- |
| Detroit (MI), United States | 1980 | 1 | 0 |
This artist has albums available.

Click on each album title for an expanded view.
| Album Name | Preview | Style | Price | |
| --- | --- | --- | --- | --- |
| Sol y Soul | Your browser does not support the audio element | Timba | $12.99 | |

Michael Gerald is one of Michigan's (USA) foremost drummers and educators specializing in Cuban musical styles.
Michael Gerald's story starts with his parents who were professional dancers. To keep up with the latest dance trends, they made many visits to Havana. Decades later, Michael also visited Cuba on a regular basis to study with established percussion masters. "I was very lucky to meet up with my now good friend, Edduar Bernal-Pina, whose brother played keys for Paulito F. G. and whose uncle plays trombone for Van Van. Through him I had a connection to virtually every timbalero in the city. Fortunately the musicians in Havana are very generous with their knowledge. Besides taking lessons, I was able to video tape drummers during performances. It took me years to transcribe entire concerts by Paulito and Van Van, but it was well worth it. The next step was to record a CD and try to get a group to perform in Canada." The result is Sol y Soul. "Again the Gods of Timba smiled down on us. We found great musicians for a very energetic recording. The bombas are undeniably strong, with well recorded drums and fantastic bass playing."
After Sol y Soul, Michael was even more determined to promote and dedicate his life to Timba. "At that time I was filming and transcribing Charanga Habanera. I was amazed at the power of the group without drumset. As a result my next recording would have some tracks with kit and some where I played timbales and bass drum." This new recording would be a combination of the biggest names in Timba, with Cucurucho and Osmani writing original material plus Michel Maza on vocals. The credits read like a who's who of the genre. "The one constant throughout both recordings is the presence of both Pina brothers – Josvel and Edduar. Edduar made everything possible, while Josvel wrote, arranged, sang both lead and backing vocals, playing keys and was in the studio most of the time collaborating ideas." Consequently I named this project Havana Heavy Hitters.
On the heels of Havana Heavy Hitters, Michael was asked by Kevin Moore (Timba historian and musician), to meet in Miami and transcribe a series of conga instructional books. "We were meeting Tomás Cruz (of Paulito FG & Manolín fame), who I played with in Havana. It was a real trip seeing him in the U.S. and doing so well for himself. Shortly after that my wife and I moved to Miami from Ontario, Canada. He referred me for some gigs he was playing on." Michael found himself performing with both Willie Chirino and a 23-piece big band called the Tropicana All Stars, with the late, great Israel Cantor on vocals. He then played on the album "Recuerda A Benny Moré" which earned him both a Grammy and Latin Grammy nomination. "The whole thing was put together by Ricardo Gutiérrez. I can't thank him enough for having the guts to put such a large group together in this day and age. The arrangements are super lush and to have the experience of playing with twelve Cuban horns filling up the room is something I am still thankful for."
Most recently Michael had an opportunity to co-own a historic drum shop in the Metro Detroit area of Michigan. "It was a heart-breaking decision. The All Stars just signed a contract to perform six months in Vegas, but actually I felt I had more control over my life with the drum shop. Six months earlier, if you were to tell me I would turn down the opportunity to play six nights a week with an all Cuban band, I would have said – you're crazy!"
Michael currently heads up the education department of Percussion World in Ferndale, Michigan. He also performs with a band that covers the entire Timba spectrum. "If you like Timba, it will find you even in Detroit. A musician in town named Steve Jaros is all over this stuff. And the owner of Energetic Soul Dance Studio (Duane Wrenn) is one of the greatest Cuban dancers I have ever seen." Michael can be contacted at Percussion World, 22741 Woodward Avenue, Ferndale, MI 48220, (248) 543-7020.