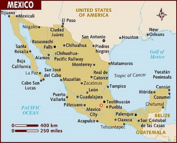 Music of Mexico
| Home Base | Established | Albums | Charts | PTracks |
| --- | --- | --- | --- | --- |
| Puro Mexico, Mexico | 1900 | 5 | 0 | 0 |
This artist has albums available.

Click on each album title for an expanded view.

The music of Mexico is diverse and features a wide range of different musical styles influenced by a variety of cultures, most notably Amerindian and European. Many traditional Mexican songs are well-known worldwide, although their origin in Mexico is not clear to the non-Mexican listener; "Bésame Mucho", "Granada", "Cielito Lindo", "El Rey", La Bamba, "Maria Bonita" and many more are part of the Mexican culture.
Traditional Mexican folk music can be classified by:

* type of ensemble (mariachi, banda, conjunto calentano, conjunto jarocho, etc.)
* type of musical form (canción ranchera, son huasteco, son jarocho, polka, etc.)

Mariachi is a type of musical group, originally from Guadalajara, Jalisco, Mexico. Usually a mariachi consists of at least three violins, two trumpets, one Spanish guitar, one vihuela (a high-pitched, five-string guitar) one guitarrón (a small-scaled acoustic bass) and occasionally a harp. They dress in silver studded charro outfits with wide-brimmed hats. The original Mariachi were Mexican street musicians or buskers.[1] Many mariachis are professional entertainers doing paid gigs in the mainstream entertainment industry. Professionals are normally skilled at more than one instrument, and they also sing. They sometimes accompany ranchera singers such as Vicente Fernandez or even pop star Luis Miguel. Although ranchera singers dress in a traje de charro (Charro suit), they are not mariachis.

The marimba is a musical instrument in the percussion family. Keys or bars (usually made of wood) are struck with mallets to produce musical tones. The keys are arranged as those of a piano, with the accidentals raised vertically and overlapping the natural keys to aid the performer both visually and physically.

A conjunto jarocho is a type of mexican folk ensemble. Often it consists of requinto, arpa jarocha and jarana, but can also have violin, pandero octagonal, quijada, marimbol or güiro. Its repertory covers sones jarochos in 3/4, 6/8 and 4/4.

Banda is a brass-based form of traditional Mexican music. Bandas play a wide variety of songs, including rancheras, corridos, cumbias, baladas, and boleros. Bandas are most widely known for their rancheras, but they also play modern Mexican pop, rock, and cumbias. A typical banda is made up of brass, woodwind, and percussion instruments. The most notable instrument is the tambora which is a type of bass drum with a head made from animal hide, with a cymbal on top. Bandas were previously called "tamboras", named after this drum. The tambora is played in a strong and embellished manner, which provides the drive for the rest of the band. The percussion section also includes the tarola which is a snare with timbales which would resemble the tom-toms on a regular drumset, cowbells, and cymbals. Banda el Recodo, the most famous banda, features 3 Trumpets, 4 clarinets, 3 valve trombones or slide trombones, 2 Eb alto horns, and 1 sousaphone. Like an orchestra, a banda can be organized into different sections. In the late 80's and throughout the 90's many new bandas were so-called "technobandas" or "electrobandas", in which some or all of the horns were replaced by electric instruments. A typical technobanda will substitute sousaphone with electric bass and the two alto horns with a synthesizer and a guitar. The clarinets were frequently replaced with saxophones also. However the bass part is still played in a style imitating a sousaphone, using a Synthesizer or substituting using a double bass or a bass guitar.

A conjunto norteño is a type of mexican folk ensemble. Often it consists of accordion, bajo sexto, double bass and drums, but it can also have saxophone. Its repertory covers canción ranchera, corrido, balada, huapango norteño, polka, redova and chotís.

Norteño is not to be confused with another important music style is música Norteña, or northern style tunes, which has been the basis for such sub-genres as musica de banda. Musica Norteña like musica Tejana, arose in the 1830s and 40's in the Rio Grande region, in the southern Texas. Influenced by both Bohemian music and immigrant miners, its rhythm was derived from European polkas, which were popular during the 1800s.

Gruperas are the mixed sound of rumba and ranchera music mostly heard in the mid south of Mexico. This music contains both rumba rhythms and ranchera rhythms which these are mostly heard at parties, clubs and Mexican radio. Artists representing this genre are the "Queen of Grupera" Ana Bárbara, Bronco, Guardianes del Amor, and Marco Antonio Solis, among others. Muzzaac.

The history of Cumbia in Mexico is almost as old as Cumbia in Colombia. In the 1940´s Colombian singer Luis Carlos Meyer Castandet, emigrated to Mexico where he worked with the Mexican orquestra director Rafael de Paz. In the 50s he recorded what many people think was the first cumbia recorded outside of Colombia, La Cumbia Cienaguera. He recorded other hits like Mi gallo tuerto, Caprichito, and Nochebuena . This is when Cumbia began to popularized in Mexico. In the 70s Aniceto Molina also emigrated to Mexico, where he joined the group from Guerrero, La Luz Roja de San Marcos , and recorded many popular tropical cumbias like El Gallo Mojado, El Peluquero, and La Mariscada. Also in the 70s Rigo Tovar became very popular with his fusion of Cumbia with ballad and Rock.

--from WIKIPEDIA, the free encyclopdia