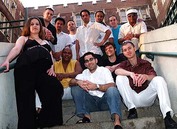 La Bola
| Home Base | Established | Albums | Charts |
| --- | --- | --- | --- |
| New York (NY), United States | 2005 | 1 | 0 |
This artist has albums available.

Click on each album title for an expanded view.
| Album Name | Preview | Style | Price | |
| --- | --- | --- | --- | --- |
| Sin Comentarios (DE) | Your browser does not support the audio element | Timba | $10.99 | |

Hard-hitting timba from NYC!
La Bolá is the newest timba band on the NYC music scene, and after just several performances, it has become quite obvious that this band is for real and unlike anything seen in recent years in the US. Drawing from some of the leading musicians in the tri-state area, this group emerged out of deep desire to establish a real timba-band in the NYC-area, one which reflected the real sounds of "la calle Cubana". Their approach is to provide an eclectic blend of Cuban music, ranging across the wide spectrum of style and genres, yet in a refreshingly modern timba style. La Bolá centers on harmonious, groove-set timba music, establishing an approach that is not aggressive, but easy to understand, and more importantly, very danceable.
The band's musical direction is headed by the brilliant Cuban pianist/arranger/composer, Ariacne Trujillo, while vocalists, Eduardo "el Niño" Alvarez and Lid Ferrera provide a magnificent marriage of different styles, pitches and approaches, and keep the crowds entertained at all times. A powerhouse rhythm section that is remindful of the Cuban-based timba bands (drums, congas, timbales, guiro) is led by Cuban percussionist Aryam Vázquez and bassist Richei Leyva. The band is complemented by a full-force horn section (1 trumpet, 2 trombones) and the harmonious, yet soulful, elegance of the Cuban flute and violin.
Schooled in the top Havana conservatories and music schools in the US, La Bolá encompasses some of the most in demand and successful musicians in NYC, all whom enjoying thriving careers in Latin music performing, touring and recording with such artists as Celia Cruz, Marc Anthony, Miles Peña, Michael Stuart, Alfredo de la Fe, José Fajardo, Cachao, Paulo FG, Manolito y Su Trabuco, Dave Valentin, Johnny Pacheco, Juan Pablo Torres, La Orquesta de Roberto Faz, the famed Tropicana show of La Habana, and many more. In just one year, the band has already appeared as headliners in the Noches Habanera and Salsa Groove series at SOBs, as well as famed musical establishments such as Copacabana, Salon Rosado de Las Palmas, Tribecca Nightclub, ROSE in Brooklyn and the El Pontal in Queens. Additionally, they headlined the AfroCuban Currents Music and Arts Festival in July 2006, the Chenango Music Festival in Virginia and the Annual Hispanic Cultural Festival in Elizabeth NJ. The band has been invited to the International Jazz Plaza Festival 2007 in Havana, Cuba and will be participating in the Lincoln Center MidSummer Night Swing festival and the South Street Seaport Concert Series this summer.
This band is poised to develop into a real musical force, as with much vigor and train-like energy (13 musicians) their music shines, particularly with the quality of their arrangements and the slick style of their execution, without ever losing sight of the fact that timba is all about dancing.