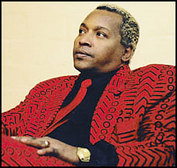 NG La Banda
| Home Base | Established | Albums | Charts |
| --- | --- | --- | --- |
| Havana, Cuba | 1988 | 1 | 0 |
This artist has albums available.

Click on each album title for an expanded view.
| Album Name | Preview | Style | Price | |
| --- | --- | --- | --- | --- |
| Simplemente Lo Mejor | Your browser does not support the audio element | Timba | $9.99 | |

Creators of the Timba genre, NG (Nueva Generación or New Generation) La Banda profoundly influenced all of the great Cuban music bands which followed it.
The musical genre we now call Timba was created by NG La Banda, an experimental offshoot of Irakere and spearheaded by flautist José Luis "El Tosco" Cortés ( who had previously written and played for Los Van Van). NG La Banda amalgamated the innovations of the groups that came before it with many of its own to create a type of music that wasn't Son, Songo or Rumba - nor was it Rock, Jazz or Funk. NG began as an all-star group which drew members from the most important pre-Timba bands, for example singer Tony Calá wrote and played violin in Ritmo Oriental, Issac Delgado, and the legendary conguero "Wickly".
Before leaving Irakere, El Tosco had begun what was to be a side-project to "make a study of Cuban music and Jazz". It was known alternately as "Nueva Generación" and "Orquesta Todos Estrellas". The members were handpicked from the raging Cuban Jazz scene of the 80's and included such giants as Gonzálo Rubalcalba, Hernán López-Nussa, Horacio "El Negro" Hernández, Calixto Oviedo and most of the musicians who would later become NG La Banda. The group produced four vinyl records which have never been released on CD although some of the tracks can be found on compilations -timeless classics such as "Santa Palabra", "La Expresiva", "Échale Limón", "Que Viva Changó", and "Picadillo de Soya".
Just as the great musical innovations of the 70's and 80's had funneled into NG La Banda, most of the best groups of the 90's grew directly out of it. Original bassist Feliciano Arango was a pervasive influence on all the bassist who followed him. Issac Delgado and Giraldo Piloto (leader of Klimax; writer for Charanga Habanera and Issac) were key members of the original NG La Banda, and Paulito FG and Manolín were both very much part of the NG scene. Paulito sang coro on critical early NG recordings and Manolín was "discovered" and introduced to the public by Tosco, who recorded one of his songs, coined his nickname, "El Médico de la Salsa", and produced his first album.
--by Kevin Moore of www.TIMBA.com
ESPAÑOL: El género musical que hoy en día conocemos como timba fue concebido por NG La Banda, grupo que empezó como un grupo de estrellas que reunía a miembros de las orquestas pretimberas más influyentes. El cantante Tony Calá era compositor y violinista de la Ritmo Oriental, Issac Delgado y el legendario conguero «Wickly» Nogueras debutaron en Pachito Alonso; Germán Velazco tocó con la Orquesta Revé y él, junto a José «El Greco» Crego, Carlos Averhoff y José Munguía formaron parte de Irakere a la par del flautista y fundador José Luis «El Tosco» Cortés, quién por su parte también habría hecho escala en Los Van Van. NG La Banda combinó las innovaciones de los grupos que vinieron antes de su creación para inventar una música que no era son, songo ni rumba, ni rock, jazz o funk. Tenía mucho de todos éstos estilos por dentro, pero el componente más poderoso de su concepto era algo totalmente inédito, algo que surgía de las calles y barrios habaneros a fines de los 80 mientras el mundo atestiguaba la caída del muro de Berlin. Cortés le dio un nombre: «La timba».
Antes de dejar a Irakere, El Tosco había empezado un proyecto experimental que describía como «un estudio sobre jazz y música cubana». Era conocido también como «La Nueva Generación» o «La Orquesta Todos Estrellas». Sus miembros fueron seleccionados del auge que vivió el jazz cubano a fines de los 80, e incluían a verdaderos prodigios de la música como Gonzálo Rubalcalba, Hernán López-Nussa, Horacio «El Negro» Hernández, Calixto Oviedo y muchos de los músicos que más tarde constituirían el reparto de NG. El conjunto lanzó cuatro discos en vinil, los cuales jamás fueron editados en CD, aunque algunos temas forman parte de ciertas compilaciones (véase arriba en la sección discográfica). Fue en algún punto de este proyecto que empezó a materializarse la idea de NG La Banda en el esquema del Tosco. Como explicaría más tarde en una entrevista a Jordan Levin del Miami Herald, el emprendedor compositor/ flautista «quería hacer algo con el sabor de los Van Van y la agresividad musical de Irakere... y dar a la [música popular] el mismo valor estético y artístico que le damos a otros grandes géneros de la música». El resultado fue un catálogo inmenso de clásicos inolvidables como «Santa Palabra», «La Expresiva», «Échale Limón», «Que Viva Changó» y «Picadillo de Soya».
NG La Banda fue una de las mayores influencia de las grandes agrupaciones timberas que siguieron sus pasos. Del mismo modo en que los mejores grupos e innovadores musicales de los 70 y 80 desembocaron en NG, la mayoría de los conjuntos de los 90 salieron directamente de sus bases. Issac Delgado y Giraldo Piloto (director de Klímax; compositor de la Charanga Habanera e Issac) fueron miembros claves de la formación original de NG La Banda, mientras que Paulito FG y Manolín eran partícipes insígnes del escenario que se formó a su alrededor. Paulito cantó coro en algunas de las pistas más antiguas e importantes y Manolín fue sacado a la luz por el propio Tosco, quien además grabaría una de sus canciones, le daría el apelativo «El Médico de la Salsa» y produciría su primer disco.
--por Kevin Moore de www.TIMBA.com