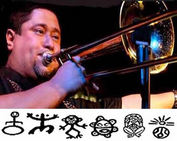 Papo Vazquez
| Home Base | Established | Albums | Charts | PTracks |
| --- | --- | --- | --- | --- |
| New York City (NY), United States | 1973 | 1 | 0 | 0 |
This artist has albums available.

Click on each album title for an expanded view.
| Album Name | Preview | Style | Price | |
| --- | --- | --- | --- | --- |
| Carnival in San Juan | Your browser does not support the audio element | Latin Jazz | $10.99 | |

P-Rican jazz trombonist leads his 'Band of Pirates' through extended journeys on the carribbean sea.
Trombonist, composer, arranger Papo Vazquez has continued to write for big band orchestras, when not performing with his small group Pirates Troubadours. Papo, originally from Philadelphia, recently received a grant from the Painted Bride Art Center, in Philadelphia, to write music for an Afro Puerto Rican Jazz Orchestra, in 2007. This orchestra will be a 17 piece Jazz Band. His first classical composition was premiered in 2004, at Hostos Performing Arts Center in the Bronx with the Bronx Arts Ensemble; a classical chamber orchestra. Vazquez was the first to receive a commission to compose new music for the Afro-Latin Jazz Orchestra; a resident band of Jazz at Lincoln Center. Papo's unique writing style can be heard on his latest CD titled "Carnival in San Juan" under Ubiquity Records, Cubop label. Papo's first recording as a leader "Breakout" was done on Timeless Record label, in 1992. Vazquez continues to blend his multi-faceted trombone style with rhythms of Afro-Caribbean origins and jazz.

Born in 1958, in Philadelphia, Pennsylvania, Papo grew up in the heart of North Philadelphia's Puerto Rican community and also spent early years in Vega Baja, Puerto Rico. At the age of 14, while in Philadelphia, an uncle [guitar and cuatro player] recommended him as trombonist for a local salsa band. That is when he met trumpet player Jimmy Purvis, who gave him his first two jazz records J.J. Johnson's "Blue Trombone" and "John Coltrane Live at the Village Vanguard." Jazz became a big part of Papo's life at an early age.

At the age of 15, Vazquez began performing at church dances in Philadelphia and shared the stage with New York bands such as, Willie Colon and Eddie Palmieri. He auditioned for trumpet player "Chocolate Armentero's" band. Chocolate gave him the job and Papo began working with other New York bands such as Larry Harlow, Conjunto Libre and Hector La Voe. He then became a hot item and was solicited for recordings and performances with other top names in the salsa scene, i.e., The Fania All Stars, Ray Barretto, Willie Colon, Grupo Folklorico Nuyorquino, Eddie Palmieri, etc.

Vazquez has always been deeply moved by Jazz and specifically cites the music of John Coltrane and J.J. Johnson as having the most influence. In 1979, he began studying with Slide Hampton and recorded and performed for Slide Hampton's World of Trombones. Eventually, Vazquez would tour Europe with the Ray Charles Orchestra and perform in New York with Jazz luminaries Dizzy Gillespie, Frank Foster, Mel Lewis. His involvement with musicians such as Mario Rivera, Hilton Ruiz, Jerry Gonzalez, Milton Cardona and others placed Vazquez as a key player in the burgeoning Latin Jazz genre in the late 70's and a founding member of groups such as the Jerry Gonzalez Fort Apache Band.

By 1980, Vazquez had traveled the globe. In 1981 he moved to Puerto Rico and became a founding member of Puerto Rico's Batacumbele, a popular Latin fusion band. He performed with Batacumbele from 1981 to 1985. After moving back to New York in 1985, he joined Tito Puente's Jazz Ensemble and traveled as principal trombonist. He also toured Europe with Dizzy Gillespie's United Nations Orchestra.

Vazquez' ability to fuse Afro-Caribbean rhythms, specifically those from Puerto Rico and Cuba, with freer melodic and harmonic elements of progressive Jazz has insured his popularity on many fronts. As a composer, Papo Vazquez showcased his talents on the soundtrack for the movie "Free Enterprise" a Star Trek spoof. Papo has also shared his compositions on recordings for Ruben Blades "Antecedente," Hilton Ruiz "Manhattan Mambo," Dave Valentin's "Tropic Heat," Batacumbele's "En Aquellos Tiempos" among others. He also performed on the soundtrack to Spike Lee's "Mo' Better Blues," "The Mambo Kings," Wayne Shorter's [grammy winner] "Alegria" and Bebo Valdes [grammy winner] "Bebo de Cuba," among others.

Papo Vazquez Pirates Troubadours "Afro Puerto Rican Jazz Band" is one of the fiercest bands on the planet with twisted variations on traditional themes like Yuba' Jazz, Holande Pirata, Jibaro Waltz, Plena Funk, Mapeye Jazz to help describe his music.