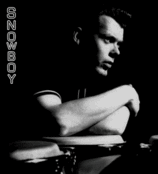 Snowboy
| Home Base | Established | Albums | Charts |
| --- | --- | --- | --- |
| | 1985 | 2 | 0 |
This artist has albums available.

Click on each album title for an expanded view.
| Album Name | Preview | Style | Price | |
| --- | --- | --- | --- | --- |
| Para Puente | Your browser does not support the audio element | Latin Jazz | $8.99 | |
| Afro-Cuban Jazz | Your browser does not support the audio element | Latin Jazz | $8.99 | |

UK's Ambassador of Afro-Cuban Jazz. Snowboy is an endorser of
L.P.
percussion and
Zildjian
cymbal's.
SNOWBOY (real name Mark Cotgrove) started as a D.J. when he was 17 years old. Inspired by the legendary D.J's CHRIS HILL and BOB JONES, he used to hire, monthly, the country's most legendary black music club, THE GOLDMINE.
The Goldmine was CHRIS HILL'S residency and it was voted the U.K's No. 1 club for 12 years and was Snowboy's grounding in Jazz, Funk and Soul. After doing 24 of these Wednesday events over the years, he found his collection was getting more biased towards the Latin Fusion that was prominent in the clubs in the late 70's/early 80's and Snowboy got interested in making all the 'exotic' sounds on these records (particularly by Brazilian percussionist AIRTO). So after working a summer season as a pretigious 'Redcoat' at a Butlins holiday centre in 1982, with his bonus, the day he returned he went and bought his first set of Congas.
After a year of trying to teach himself, Snowboy started having lessons studying Afro-Cuban and Brazilian percussion with the U.K's grandfather of Latin music, ROBIN JONES, whom he met at a Samba night at Londons WAG Club run by the legendary Jazz Dance D.J. PAUL MURPHY.
A few years later a friend by the name of BILL BAILEY decided, as a project, he'd like to put just one record out to see how the system works - from demoing to seeing it in the shops. So, co-funding it with a friend, ALLEN BURRELL, he asked Snowboy if he'd like to do the record as Bill was interested in his musical ideas and taste of music as a D.J..
This (his debut) was called 'BRING ON THE BEAT' and had a B-side called 'WHEN SNOWBOY'S ROCKING THE MIKE' which he was rapping on, as in those days he was a regular on the mike at the U.K's first rap night, 'THE LANGUAGE CLUB' in Soho, London. The A-side was a 'GO-GO' Funk track, very heavy on the percussion, which was when Mark decided to use the name SNOWBOY (after a character he played in the show WEST SIDE STORY - for a local amateur theatre company called The Little Theatre Club when he was 18).