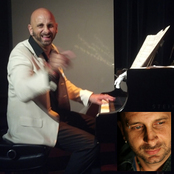 Marlow Rosado y la Riqueña
| Home Base | Established | Albums | Charts |
| --- | --- | --- | --- |
| M (FL), United States | 2008 | 1 | 0 |
This artist has albums available.

Click on each album title for an expanded view.
| Album Name | Preview | Style | Price | |
| --- | --- | --- | --- | --- |
| RETRO | Your browser does not support the audio element | Salsa | $9.99 | |

Pianist, Grammy nominated composer. band leader and educator Marlow Rosado is the man behind the salsa dura (hard salsa) and Latin jazz big band known simply as "La Riqueña".His second and latest CD, 'Retro', and its hit single, 'Fuego a la Jicotea', takes some of the strongest songs from the 1970's, maintaining the essentials of the originals, but arranging them in Marlow's 21st-century conception until they become entirely his own.
From salsa to rock, from merengue to hip-hop, from bachata to reggaeton, producer / composer / pianist Marlow Rosado has had his musical hand in all of it. A native of Puerto Rico, he is a salsero at heart, but has successfully written, played and produced hits in a variety of musical styles for some of the most renowned artists in Latin music.
From the driving rock tracks he co-wrote on Alejandra Guzman's "Lipstick," (nominated for Best Rock Album of the Year by both the American and Latin Grammys), to the emotionally charged Yolandita Monge production, "SENTIMIENTO BORINQUEÑO," written as a love letter to his home land, with touches of artists the likes of Elvis Crespo and Puerto Rican Power thrown in for good measure, and it's easy to realize that Marlow Rosado's compositions are heard across airwaves the world over on a daily basis. However, ask him what his proudest moments as a composer have been, and without pause he names his compositions "Me Dejo En El Aire" and "Un No Se Que," being recorded by the legendary El Gran Combo De Puerto Rico.
He has played and worked with a diverse repertoire of artists including Celia Cruz, the unforgettable Tejana signer Selena, Larry Harlow, Tommy Olivencia, Marc Anthony, Ricardo Montaner, Olga Tañón and Desmond Child, among others. Recently, he arranged and directed the horns sessions for Ricky Martin's new production.
Marlow earned a Masters degree in Jazz Education, and he has taught at the elementary as well as the University level. He is continually sought out by Latin Artists for his musical arrangement skills, his aggressive montunos on the piano, as well as his ability to direct orchestras for artists such as the late Salsa legend Celia Cruz, Tito Puente, Jr., Tito Nieves, and many others. It is not uncommon to see Marlow's name on CD liner notes, whether it is as a pianist, producer, songwriter or musical director.
But now, with the birth of Marlow Rosado y La Riqueña, the man behind the music takes to the stage himself, with the project closest to his heart and years in the making.