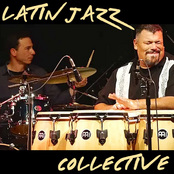 Latin Jazz Collective with John Nava
| Home Base | Established | Albums | Charts |
| --- | --- | --- | --- |
| Monterey (CA), United States | 2010 | 1 | 0 |
This artist has albums available.

Click on each album title for an expanded view.

Monterey, California based seven-piece, high-energy Latin Jazz ensemble led by percussionist John Nava and drummer Martin Binder.
The Latin Jazz Collective (LJC) is a seven piece high energy Latin Jazz ensemble led by percussionist John Nava and drummer Martin Binder. Founded by their close partnership and common vision in 2010, their goal is to perform a wide variety of Afro Caribbean music with passion, precision, and musical authenticity. Creating a rich emergence of original and established contemporary Jazz compositions with traditional and modern Latin rhythms as the prime driving musical force, LJC performs in front of audiences far and wide in a variety of settings including public and private concert venues, nightclubs, and festivals. With over fifty years of combined musical experience in the studio, on stage, and in the classroom, the members of LJC maintain active performance schedules as band leaders, arrangers, and music educators throughout the Central California Coast and Bay Areas. LJC members have shared the stage, recorded, and taught with the likes of Jorge Santana, Malo, Kim Stone (Rippingtons), Webber Iago, Jayson Fann (Ashe Ensemble), Joseph Lucido, Wayne Wallace, and many other respected artists around the world. ​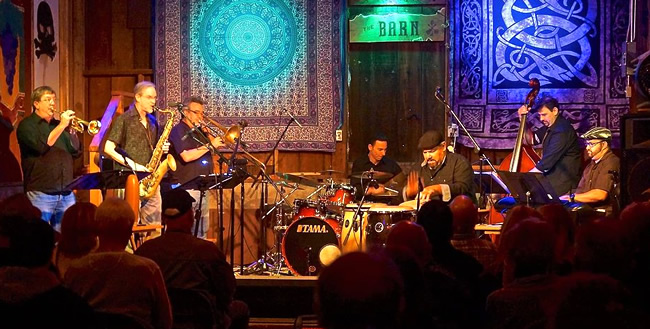 LJC Members:

John Nava - Congas / Band Leader / Founder

Martin Binder - Drums / Timbales / Co Founder

Kevin McCullough - Piano / Music Director / Arranger ​

Stu Reynolds - Saxophones

Ric Feliciano - Trombone

Steve Uccello - Bass ​

David Hoffaman - Trumpet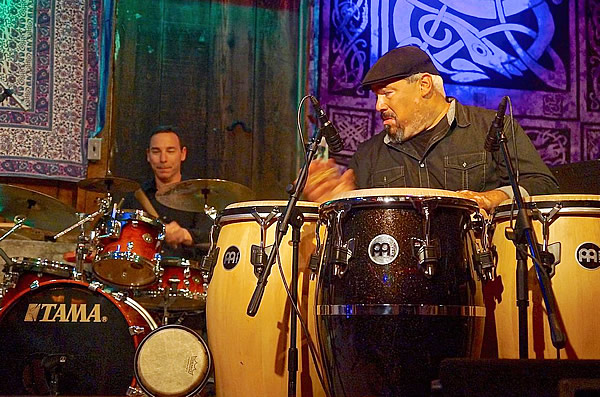 About John Nava - John began playing music at the age of 6. He comes from a family of musicians, of which he is the 5th generation. At the age of 9, John began playing in the church band under the tutelage of his father and brother. Throughout his high school years, John recorded on percussion and saxophone for numerous local choirs and solo artists. After high school, John joined the Marines and took his soprano sax with him. He was a regular at Washington D.C. area jazz clubs every weekend while stationed at Ft. Lee in Virginia.

In 1999, John became a founding member of the Chicano All Stars band where he played congas, sax, and sang backing vocals. While in the All Stars, John was asked to help form a Santana Tribute Band named called Ritmo. Whenever his schedule allowed, John has shared the stage or recorded with several bands. These include Malo, El Chicano, Tierra, The Neil Banks Band, The Beat, Vintage, Bosco el Gitano and Havana Jazz, Salson, Latin Affect, Carlos Tottress, Lucidology, Big Sur Natives, Pat Caison,Darren Thomas, Sekou Bunch, John Wineglass, The Funkery, Darrian Gray, Steve Vasquez and the Groove Masters, Randy Uchida, Nat Sherman, Richard Hall, Sweet Spice, BTA, & The CK band.

In 2006, John was invited by world renown guitarist Joseph Lucido to join a Jazz fusion group forming in Big Sur named Dark Chocolate. This all star roster included Joseph Lucido, Kim Stone, Michael Shannon, Weber Iago, Clay Henry, Brock Bradford, and master Percussionist Jayson Fann. The band recorded 3 albums on the Megawave Records Label.

Throughout all this, John has continued to teach and mentor any young musician who shows the desire to musically better themselves.

About Martin Binder - Martin Binder has been playing drum set since he was 9 years old and has been playing professionally since the age of sixteen. His formal studies in music began in high school and continued through junior college where he performed in symphonic band, jazz ensemble, and various small group combos. Martin continued exploring the art of drumming as an undergraduate at San Diego State University, taking two music educational tours to Cuba with his long time mentor Chuck Silverman, where he immersed himself in Afro-Cuban percussion, traditional folkloric rhythms, and contemporary musical styles. His playing exhibits versatility, precision, and passion and brings an unmistakable energy to each performance. He continues to play throughout the Monterey Bay Area with various artists.