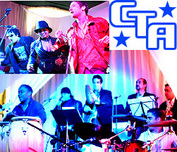 Cuban Timba All Stars
| Home Base | Established | Albums | Charts |
| --- | --- | --- | --- |
| Miami (FL), United States | 2006 | 1 | 0 |
This artist has albums available.

Click on each album title for an expanded view.
| Album Name | Preview | Style | Price | |
| --- | --- | --- | --- | --- |
| CTA Live! 02-23-06 | Your browser does not support the audio element | Timba | $9.99 | |

Miami supergroup keeps timba alive!
The Cuban Timba Allstars is the most exciting band to tour the US since the instigation of the Bush Administration's policy of denying visas to Cuban musicians. All the musicians are current residents of the US, so they're able to tour the country without visa problems.
The Cuban Timba Allstars reunite the rhythm section that played on Manolín's legendary El Puente, arguably the greatest live timba CD ever recorded. This blistering concert combined Tomasito Cruz's conga-playing with a stunning performance by the incomparable Reinier Guerra on drums. Only in his early 20's, Guerra is universally acknowledged to be among the top three or four timba drummers in the world. It's impossible to watch him live without feeling a jolt of electrifying rhythm energy pound through your body!
Selected Artist Bios:
The group is the brainchild of Tomás "Tomasito" Cruz, who reinvented the way the congas are played in salsa and timba in his recordings and live performances with Paulito FG's finest group. His three volume "Tomás Cruz Conga Method" was awarded 4.5 stars by Modern Drummer magazine. Since relocating to Miami, Tomasito has played and recorded with Manolín, el Médico de la Salsa, Arturo Sandoval, Celia Cruz, and many others.
Yordamis Megret, whose personal band is located in New York, sang for 5 years with Bamboleo and recorded on three of the CD's, Ya No Hace Falta, ñññño!, and El Virus. Prior to joining Bamboleo, Yordamis sang with PG. This was a group that El Tosco of NG La Banda produced in the mid-90's. It featured Gilbertón Moreaux on timbales, and according to Tomasito, utilized some very interesting rhythm section approaches which have been one of the influences for the new system he's unveiling for the Cuban Timba Allstars.
Trombonist, composer, and singer Braily Ramos, has played with a long list of stars, including Manolín, Rolando y su Dan Den, Celia Cruz, Willy Chirino, Albita, Carlos Manuel and Elain. Braily has written several CTA's original songs, which are primarily arranged by saxophonist Felipe Lamoglia.