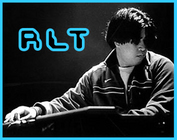 Ramon Lazo
| Home Base | Established | Albums | Charts |
| --- | --- | --- | --- |
| San Francisco (CA), United States | 1982 | 1 | 0 |
This artist has albums available.

Click on each album title for an expanded view.
| Album Name | Preview | Style | Price | |
| --- | --- | --- | --- | --- |
| Focus | Your browser does not support the audio element | Latin Rock | $8.99 | |

SF-based keyboardist/composer/producer.
Ramon Lazo is a keyboardist, composer, producer and engineer from San Francisco California, United States. He has worked with a wide spectrum of artists from many different styles over the past 20 years. A versatile artist, he has worked with jazz groups --Mission Project, Bobby Hutcherson, Curtis Ohlson, rock, funk and hip-hop bands --Ozomatli and Los Mocosos, as well as world music projects --Kulintang Arts Ensemble and the Rolando Morales Group. Past projects also include: "The Wire" (Season 1) an HBO series now in it's 3rd season of production, Spearhead featuring Michael Franti (Six Degrees Records), Alana Davis (WEA Records), Martika Marrero (Warner Brothers Records), Conga Club (Aztlan Records), Los Mocosos (Six Degrees Records). His best known work was with Michael Franti & Spearhead (1999-2001) which culminated in the release of two albums, "Live At The Baobab" and the critically acclaimed "Stay Human". For the latter project he co-wrote two of the band's most important songs to date, "Oh My God" and "We Don't Mind". As a production note, he successfully placed the song "Oh My God" on the critically acclaimed HBO crime-drama "The Wire" for the 2001-2002 premiere season.
He is the owner/operator of RLT Music Productions in San Francisco, CA which specializes in music production for film, television, commercial jingles, as well as writing for commercial music artists (including Alana Davis, Martika Marrero, Michael Franti and Joey Blake of a cappella group SoVoSo). Their byline is "...beyond soul jazz" which reflects the eclectic and widely encompassing sound of this powerful nuevo latin rock group. This record will be released mid-winter 2007 and will be an exclusive release for LatinPulseMusic.com. This yet-to-be named release features current and former members of Spearhead and showcases all new original compositions. Ramon is voting member of the National Recording Arts & Sciences (NARAS) and ASCAP. RLT official website: 'http://trio.rltmusic.org'.