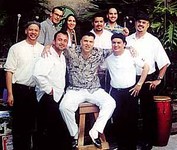 Cubanacan
| Home Base | Established | Albums | Charts |
| --- | --- | --- | --- |
| San Francisco (CA), United States | 2007 | 1 | 0 |
This artist has albums available.

Click on each album title for an expanded view.
| Album Name | Preview | Style | Price | |
| --- | --- | --- | --- | --- |
| Cafe Society | Your browser does not support the audio element | Salsa | $7.99 | |

SF-based cuban music orquestra directed by bassist Marcus López.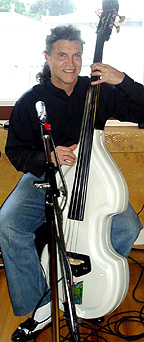 Marcus was introduced to music on the streets of his spiritual Havana, Cuba. As a child he was drawn to percussion instruments and played them exclusively until his arrival in the United States. A friend's school band was in need of a bass player, he persuaded Marcus to play, and the rest is history. Once he fell in love with the instrument, Marcus continued to grow as a musician by taking lessons from different teachers, and to date he still returns to his native island of Cuba to the E.N.A. (School of National Arts) for additional course work.
In 1978 Marcus had the pleasure of joining Cuban masters Francisco Aguabella and Armando Peraza (formerly with Santana). His band at the time opened for such artists as Ray Barreto, Fania All Stars and Al D'imeola. He has also performed and recorded with Malo, the George Santana Project, Pete and Sheila Escovedo, blues singer Amanda Hughes, and Cesar's Band.
In 2004 Marcus released a CD titled "Cafe Society" with his salsa band Cubanacan. The band has attracted local as well as international recognition. An independent film production company is currently using four of the CD tracks for the movie "Salsa Caliente".
Marcus & Jose Luis 'Changuito' Quintana
Osvaldo Carvajal, Marcus & Carlos Caro