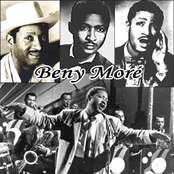 Beny More
| Home Base | Established | Albums | Charts |
| --- | --- | --- | --- |
| Santa Isabel de las Lajas, Cuba | 1950 | 1 | 0 |
This artist has albums available.

Click on each album title for an expanded view.
| Album Name | Preview | Style | Price | |
| --- | --- | --- | --- | --- |
| The Greatest | Your browser does not support the audio element | Tropical | $10.99 | |

All-time greatest Cuban music singer and performer. This is what many consider Beny Moré to be.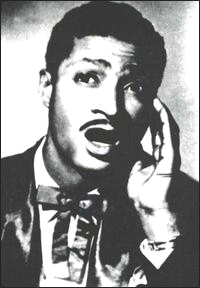 ENGLISH: Beny (sometimes Benny) Moré (August 24, 1919 – February 19, 1963) is considered by many fans of Cuban music as the greatest Cuban singer of all time. He was gifted with an innate musicality and fluid tenor voice which he colored and phrased with great expressivity. Moré was a master all the genres of Cuban music, including son montuno, mambo, guaracha, guajira, cha cha cha, Afro-Cuban, canción, guaguancó, and bolero. Moré was given a variety of nicknames, including el Bárbaro del Ritmo (the "wildman of the rhythm").
The Early years - The eldest of eighteen children, Moré was born Bartolomé Moré in Santa Isabel de las Lajas in the former province of Las Villas in central Cuba. His maternal great-great grandfather, Ta Ramón Gundo Paredes, was said to be the son of the king of a tribe in the Congo who was captured by slave traders and sold to a Cuban plantation owner (he was later liberated and died as a freeman at age 64).As a child Moré learned to play the guitar, making his first instrument at age six, according to his mother, out of a board and a ball of string.
In 1936, at age seventeen, he left Las Lajas for Havana, where he lived by selling bruised and damaged fruits and vegetables and medicinal herbs. Six months later he returned to Las Lajas and went to cut cane for a season with his brother Teodoro. With the money he earned and Teodoro's savings, he bought his first decent guitar. In 1940, Moré returned to Havana. He lived from hand-to-mouth, playing in bars and cafés, passing the hat.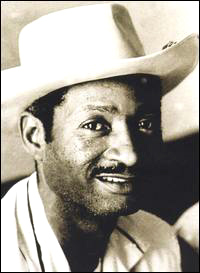 His first breakthrough was winning a radio competition. In the early 1940s, the radio station CMQ had a program called "The Supreme Court of Art" in which a wide variety of artists participated. Winners were given contracts by unscrupulous businessmen who exploited them. The less fortunate were treated to the humiliation of a loud church bell which brutally terminated their performances. In his first appearance, Moré had scarcely begun to sing when the bell sounded. He later competed again and won first prize. He then landed his first stable job with the Cauto conjunto led by Mozo Borgellá. He also sang with success on the radio station CMZ with the sextet Fígaro of Lázaro Cordero. In 1944, he made his debut on station 1010 performing with the Cauto quartet

Then came Moré's major breakthrough: El Trío Matamoros.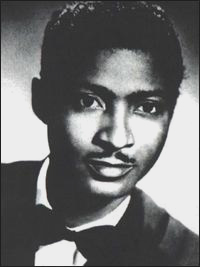 Mexico - Siro Rodríguez, of the famed Trío Matamoros, heard Moré singing in the bar El Temple and was greatly impressed. Shortly thereafter, Conjunto Matamoros was engaged for a live performance for the station 1010. However, Miguel Matamoros was indisposed and asked Mozo Borgellá (director of septeto Cauto), to lend him a singer. Borguellá sent Moré, who remained several years with the Matamoros, making a number of recordings. Moré replaced Miguel Matamoros as lead singer, and the latter dedicated himself to leading the band.
In 1945 Moré went with Conjunto Matamoros to Mexico, where he performed in two of the most famous cabarets of the age, the Montparnasse and the Río Rosa. He made several recordings. Conjunto Matamoros returned to Havana, but Moré remained in Mexico. Rafael Cueto said to him: "Fine, but just remember that they call burros "bartolo" here. Stay, but change your name." "Ok," replied Moré, "from now on my name is Beny, Beny Moré." Moré was left penniless and obtained permission to work from the performing artists' union. With this, he was able to get a job at the Río Rosa, where he formed the duet Dueto Fantasma with Lalo Montané.
In Mexico, Moré made recordings for RCA Victor, together with the orchestra of Mariano Mercerón: Me voy pal pueblo y Desdichado. He also recorded with Perez Prado: Bonito y sabroso, Mucho corazón, Pachito el che, and Ensalada de mambo. The public baptized him the Prince of Mambo. He also recorded Dolor Carabalí, which Moré considered his best composition recorded with Pérez Prado, one he never wanted to re-record.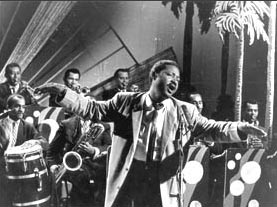 Return to Cuba - At the end of 1950, Moré returned to Cuba. He was a star in Mexico, Panama, Colombia, Brazil and Puerto Rico, but virtually unknown on the island. His first Cuban recording was Bonito y Sabroso. Moré began alternating between performances in the Cadena Oriental and trips to Havana to record at the RCA studios. In Havana, Moré worked for the radio station RHC Cadena Azul, with the orchestra of Bebo Valdés, who introduced the new style called "batanga". The presenter of the show, Ibraín Urbino, presented him as El Bárbaro del Ritmo. They offered him the opportunity to record with Sonora Matancera, but he declined the offer because he didn't care for the sound of the group. After the batanga fell out of fashion, Moré was contracted by Radio Progreso with the orchestra of Ernesto Duarte. In addition to the radio, he also performed at dances, cabarets and parties. When he sang at the Centro Gallego, people filled the sidewalks and the gardens of the Capitolio to hear him.
In 1952, Moré made a recording with the Orquesta Aragón and he decided that he would perform with this group in the dance halls. Orquesta Aragón was from Cienfuegos and was having trouble breaking into Havana and Moré helped them in this way. At this point, Moré broke with Duarte when he discovered that Duarte was not taking him to Saturday and Sunday gigs because he was black. Moré was furious. He presented himself to the agent of RCA in Cuba and told him he was not going to record again with the orchestra of Duarte. Moré decided at that point to start his own orchestra.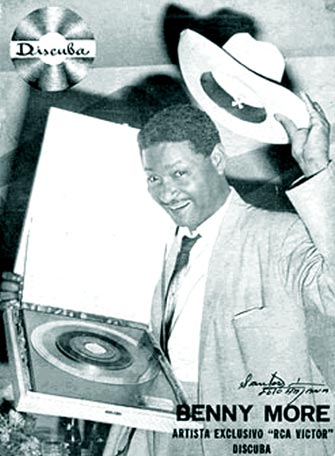 Banda Gigante - The first performance of Moré's Banda Gigante (literally Giant Band, or Gigantic Band) was in the program Cascabeles Candado of the station CMQ. The Banda was a large ensemble, numbering up to forty musicians, only comparable in size with the big band of Xavier Cugat. Although Moré could not read music, he arranged material by singing parts to his musicians. In the years 1954 and 1955, the Banda Gigante became immensely popular. In 1956 and 1957, it toured Venezuela, Jamaica, Haiti, Colombia, Panama, Mexico and the United States, where the group played at the Oscar ceremonies. In Havana, it played at the dance halls La Tropical and El Sierra. In 1960, it started performing at Night and Day. Moré was offered a tour of Europe -- France in particular -- but he rejected it because of fear of flying (he had by that time been in three air accidents).
The Last Years - In the aftermath of the Cuban Revolution, many of Cuba's top musical figures left, most for the US and some for Mexico. Monguito el Unico and Celia Cruz went to Mexico, but after a few years they moved to the US. The Charanga bands went to Miami and everyone else went to NYC, but Beny, the greatest of them all, stayed in Cuba, among as he said, "mi gente" - "my people". When Moré died in 1963 of cirrhosis, an estimated 100,000 fans attended his funeral. He was only 43 years old.

His memory is honored in Cuba in September of every year by a festival in Cienfuegos that bears his name. Many Cuban singers refer to him in their songs. In the Cuban capital Havana, a salsa club is named after him. On the malecon in Manzanillo, there is a statue of him. In 2006, a film called El Benny was released. It is based on parts of his life and includes new versions of his songs performed by musicians including Chucho Valdes, Juan Formell and Orishas.
-- from 'Beny Moré' on Wikipedia, the free encyclopedia