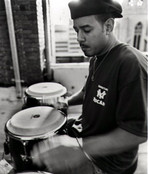 Johnny Blas
| Home Base | Established | Albums | Charts |
| --- | --- | --- | --- |
| San Bernardino (CA), United States | 1992 | 1 | 0 |
This artist has albums available.

Click on each album title for an expanded view.
| Album Name | Preview | Style | Price | |
| --- | --- | --- | --- | --- |
| King Conga | Your browser does not support the audio element | Latin Jazz | $11.99 | |

Percussionist and composer signed to the latin jazz CuBop label.
Blas plays Latin jazz with the swing, energy, originality and attitude that is often missing from modern day recordings. Over the period of three albums his band has recorded only one cover version, prefering to compose their own tunes and create a mix of sounds that is unique and forward thinking. Blas, along with music director-pianist-guitarist, Mark Gutierrez, and the multi-talented trombonist-violinist, Dan Weinstein, plays a big role fashioning this group's unique brand of fiery, yet accomplished Latin jazz. On "Skin and Bones", his first CuBop album, it was the unusual use of a four piece trombone section that set the Blas outfit apart. He earned praise from magazines like Latin Percussionist, who gave the CD an "Excellent" rating and said "This is not a case of nostalgia - this group definitely has its own Latin jazz sound." King Conga, album number three, presents heaps of forward thinking ideas. We hope you enjoy their fresh approach to the world of Latin jazz.
"Among Latin music's top ten bands."
-Max Salazar, Latin Jazz Historian
"A summer sizzler of some fresh Latin jazz from an emerging talent...the solos are exceptional, with Blas proving why he's boss as he tears into the cueros with authority and excitement."
-Latin Beat Magazine
"With a herd of trombones, a driving swing, jazz cat Dave Pike on vibes and a percussion section that will melt asphalt, Skin and Bones is a summer sizzler of some fresh Latin jazz from an emerging talent. Originally from NYC, Blas is a conguero with old shool chops a la [Ray] Barretto and Mongo [Santamaria], who is infusing those influences with a vibrant ensemble that doesn't let up."
-Latin Beat Magazine
"The CuBop arm of San Francisco rare groove stable Ubiquity continues its support of a new generation of latin rhythym rockers with Skin and Bones by rising conga sensation Johnny Blas. No slouch at wringing the rhythm inside out at a moment's notice, Blas' greatest strengthas a percusionist is getting his congas talking in both flashy solos and more restrained interior lines. He's also got a remarkable support crew to fall back on. Shadowed by an airtight band of Los Angeles hotshots including timbale terror Jose Deleon, Jr. and four roaring trombones, Blas and company pound out a classis Nu Yorican big band sound with few difficulties and superb results. Veteran vibist Dave Pike stops by to complete the elegant ensemble. Summer begins here."
-Eye Magazine, Toronto
"Conguero Johnny Blas has assembled a fiery group of musicians for 'Skin and Bones', and it pulses with an authentic intensity. He's working with Mark Gutierrez-piano, Jonathan Pintoff-bass, Jose Deleon-timbales, Robertito Melendez-bongos/bell and four very sturdy trombonists--Dan Weinstein (who also did many arrangements), Steve Baxter, Francisco Torres and Isaac Smith. With vibist Dave Pike on some cuts, the CD provides a variety of moods. The most compelling, however, is an infectious, danceable party groove. Blas opens with sizzling "Los Huesos" to get things off to a good start. Pike adds a silky vibe touch to "Adelantes". 'Gianna' has a very pretty melody and the vocal chorus is a nice touch. Gutirrez does a marvelous job with the Latin rhythms but he does add some jazz inflections in his playing. As the leader, Blas has his congas in the forefront and he manages to make the tunes distinctive, by changing his dynamics and emphasis. The t-bones are wonderful; exciting and there are plenty of solo spots... 'Something Within Me' is energetic throughout with Pike coming in to smooth and soothe things down for a bit. Melendez gets a good work out on timbales. 'I Remember Bennie Green,' (Weinstein bolero) is silky and pretty. 'Skin and Bones' (written by Blas) has Gutierrez playing guitar on another extra-spicy number. 'Cool Blas' cools things down with muted horns and Pike's vibe work. A really great tune. This is a strong outing by Blas and his sidmen and should be sought out by Latin jazz and dance lovers."
-LA Jazz Scene