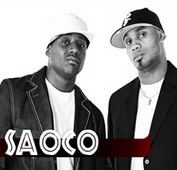 Saoco
| Home Base | Established | Albums | Charts |
| --- | --- | --- | --- |
| Oakland (CA), United States | 2005 | 1 | 0 |
This artist has albums available.

Click on each album title for an expanded view.
| Album Name | Preview | Style | Price | |
| --- | --- | --- | --- | --- |
| Farandula | Your browser does not support the audio element | Reggaeton | $8.99 | |

Cuban reggaeton.
Led by rappers/dancers Leyder (Two Four) and Moixes (Mano Negra), Saoco is a cuban reggaeton duo that mixes spanish hip-hop and timba. Their live show features their catchy lyrics backed by a five piece salsa rhythm section (bass, piano, keyboard, congas, drumset w/ timbales) and a turntablist.
Biography (English):
Leyder Chapman - The events leading up to Leyder's career as a band leader and producer are as interesting as unforeseen. Born in Holguín, Eastern Cuba, his life was dedicated to basketball and other sports since a very young age. It was during a trip to play in the Good Will Games in Australia that his life took an unexpected turn: he decided to stay in Los Angeles with the intent of becoming a professional basketball player. Due to circumstances that he faced in the US, he found himself part of the Cuban art expression. He became a salsa aerobics instructor and a founder of a dance group called Estrellas Cubanas. In time, he founded SAOCO, a band specializing in the fusion of Cuban rhythms into the popular reggaeton.
Moises Rodriguez - Born in Havana, Moises begain at the age of 15 his lifetime career of music with studying piano and guitar. He became part of "Fuera de Ley" performing in this rap band in well-known venues like "Café Cantante" and the touristic center "Marina Hemingway." He eventually joined SAOCO where his work has developed into a unique expression of Cuban music.
Biografia (Español):
Leyder - Nacido en Holguin, ciudad hubicada en la parte oriental de Cuba. Dedico toda su vida hasta los 24 anos al deporte de basketball, integrando el Equipo Nacional juvenil de basket Cubano integrando posteriormente el equipo de adultos. En un viaje para los juegos de Buena voluntad en Australia la delegacion cubana tenia que pasar por Los Angeles, CA y decidio desertar para tratar de convertirse en un jugador profesional de basketball. Debido a las circumstancias de la vida, su destino cambio y se vio metido en el arte. Se convirtio en un instructor de salsa aerobica creando el grupo danzario "Estrellas Cubanas". Posteriormente, creo el grupo Saoco que produce una mezcla de reggaeton con ritmos cubanos.
Moises - Nacido en la Habana, comenzo su trabajo en la musica cuando tenia 15 anos integrando un grupo de RAP llamado "Fuera de Ley" presentandose en el Café Cantante y la Marina Heminguey, dos sitios muy frecuentados en La Habana. Estudio piano y guitarra con un maestro autodidacta el cual lo introdujo a la musica. Integro el grupo SAOCO hace un ano y medio y su trabajo con el mismo es el fruto de todo el tiempo de su vida dedicado a la musica.