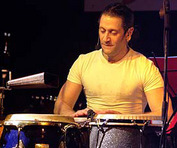 Giovanni Imparato
| Home Base | Established | Albums | Charts |
| --- | --- | --- | --- |
| Naples, Italy | 1991 | 1 | 0 |
This artist has albums available.

Click on each album title for an expanded view.

Italian percussionist, singer, dancer and performer Giovanni Imparato.
Born in Naples on November 25, 1961, percussionist, singer, dancer and performer Giovanni Imparato began his afro-cuban journey by studying percussion at his local conservatory.
Later he sought specialized instruction in percussion with teachers Justo Pelladito, Carlos Aldama Perez, Lowered Angel Chang, Reinaldo Hernandez Guillermo Lopez Clemente, Nenè Alejandro Carvajal. He also studied with John Amira in New York and in Africa (Senegal) with Sing Sing Faye of Dakàr. His vocal instrucion includes Goyo Hernandez and Lazaro Ros from Cuba and in Italy with the "Tenore" Luigi Rumbo and the soprano Rosanna Rossoni. In addition he completed cuban dance studies with Carmen de Armas. In 1991 he composed music for theater for the Festival of Todi.
He has collaborated with international artists such as: RICHIE HAVEN, PACO DE LUCIA, RAY CHARLES, CHICO BUARQUE, GEORGE GARZONE, FORREST BUTCHELL.
In Italy he has collaborated with: RENZO ARBORE e l'Orchestra Italiana, MINA, RICCARDO COCCIANTE, ORNELLA VANONI, GIGI PROIETTI, JAMES SENESE, LUCA BARBAROSSA, RENATO ZERO, ANDREA BOCELLI, GIANNI MORANDI, MIETTA, SAMUELE BERSANI, NUOVA COMPAGNIA DI CANTO POPOLARE, EUGENIO BENNATO, CARLO D'ANGIO', MIA MARTINI, MANGO, LORETTA GOGGI, GIORGIA, TOSCA, PAOLA TURCI, MASSIMO RANIERI, ZENIMA, GIGLIOLA CINQUETTI, GIANLUIGI DI FRANCO, TONY ESPOSITO, TULLIO DE PISCOPO, ROSSANA CASALE, GEGE' TELESFORO, MIMMO LOCASCIULLI, PEPPINO DI CAPRI, PIPPO CARUSO, FRED BONGUSTO, EDUARDO DE CRESCENZO, ENZO GRAGNANIELLO, GINO PAOLI, FRANCESCO DE GREGORI, ALESSANDRO MARA, (produzione di EROS RAMAZZOTTI), MIKE FRANCIS, ALEX BARONI, LUCIO DALLA, EROS RAMAZZOTTI, LUCREZIA LANTE DELLA ROVERE.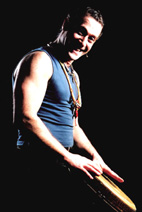 Currently he collaborates with: CRISTIANO DE ANDRE', NINO D'ANGELO, MYSTIC DIVERSIONS (project Mike's Francis lounge)
Giovanni teaches Afro-Cuban performance in Rome, Naples and Cagliari. Giovanni is endorsed by REMO Percussion and he teaches exclusively in Italy's DRUMCIRCLE for the MANANARA's Company. He is fascinated by the ritual use of the drums and with the musical concepts of "sciamanico" and "maieutico". During the last few years he joined a reserach program whose objective is to explore the fundamental role of music, from its intuitive aspects to its inherent experiences -factors that can be rouped into three categories:
Ritual Simulation
A learning technique where musical ability is developed via folkloric music, use of and ancestral languages, song and dance.
The Center
Exploring the original healing function of music, where a musical instrument is used to seek an energy balance and thus find the center of the innate artistic essence in each of us.
Ritual Drums
When seeking spiritual knowledge some prefer teaching the drums due to their specific function: their ability to serve as a medium and communicate with the dieties. The learning of each of these rhythms, called 'toques', gravitates around to the knowledges of the etnies and the Afro-Cuban orishas (dieties).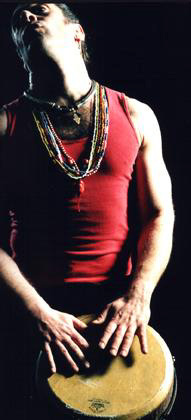 DISCOGRAFY (as a soloist)
Huballè (La Strada)
Yoruba (La Strada/BMG)
Sensi (La Strada/BMG)
Kuba Sound System Proyecto (Hullabaloo/Venus)
VIDEO
SENSI (La Strada/BMG)
THE BATAs (Hullabaloo-Mananara/Aramini) Video on the Drums of the Yoruba Liturgy
Other musical projects currently in progress with the HULLABALOO production company in Naples:
Necklace of Music Esoteric
1. The Sound Of the Tarots
2. The Archetypes of Zodiac
3. The 4 Elements (Fire, Water, Earth, Air)
4. The Planets
5. The CHINGs
6. Him Ancient 8 TRIGAMMIs Cinesi
7. Orientations "SCIAMANICI" in the tradition of the indians of america (Wheel Medicine - Animals Totem)
8. Archetypes Of the Liturgy Afrocuban (SANTERIA)
9. Mediterranean archetypes of the Big Mother (Ladies in the tradition of the TAMMURRIATEs)