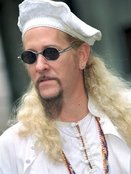 Edesio Alejandro
| Home Base | Established | Albums | Charts |
| --- | --- | --- | --- |
| Havana, AF | 1988 | 1 | 0 |
This artist has albums available.

Click on each album title for an expanded view.
| Album Name | Preview | Style | Price | |
| --- | --- | --- | --- | --- |
| Calentando La Ilusion | Your browser does not support the audio element | Son | $12.99 | |

A former rock musician, Edesio Alejandro is Cuba's most renowned composer of electronic music for film.
NEW!! - See the * Ritmo Caliente * video here:
The composer of more than 36 film scores, Edesio Alejandro is one of Cuba's most imaginative songwriters. While rooted in the musical traditions of his homeland, including conga, rumba, and son, Alejandro has incorporated such contemporary styles as funk, rap, and hip-hop, to create what he calls acid son. According to Jon Bon Jovi's engineer, Obie O'Brien, who traveled to Havana to work with him, Alejandro combines "the virtues and charismatic talent of Elvis Presley, Miles Davis, and James Dean." Initially studying classical guitar and composition, Alejandro has made his greatest marks since switching to the synthesizer and electronic programming. His 1998 debut album, Corazón de Son, released in the United States as Heart of Son, took a modern approach to Cuba's traditional music of the '50s.
The album featured the vocals of 74-year-old Adriano Rodriguez, a veteran of the Cuban music scene who had previously gone unrecorded. His second album, Black Angel, featured all-original material and continued to fuse traditional styles and modern influences.