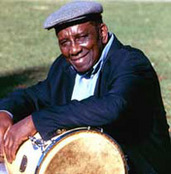 Francisco Aguabella
| Home Base | Established | Albums | Charts |
| --- | --- | --- | --- |
| Matanzas, Cuba | 1957 | 1 | 0 |
This artist has albums available.

Click on each album title for an expanded view.
| Album Name | Preview | Style | Price | |
| --- | --- | --- | --- | --- |
| H2O | Your browser does not support the audio element | Latin Jazz | $12.99 | |

Francisco Aguabella is widely recognized as a master conguero, a caring and knowledgeable instructor, and one of the most inspiring artists of all time.
Biography:
Conguero Francisco is one of the first echelon of drummers who came to America and are responsible for all drummers that came after them," says Latin percussionist John Santos in the movie "Sworn To The Drum". "He is one of the strongholds of our music and has always kept the commitment to our Cuban rhythm. He plays with everybody but always maintains our rhythm, that's very important," adds Israel "Cachao" Lopez.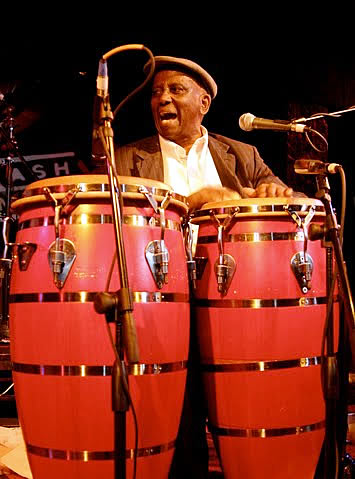 He has performed all over Europe, Australia, South America and all over the United States (including the White House). Francisco has enjoyed an extensive music performing and recording career and has delighted many audiences with his masterful and powerful rhythms.
Chano Pozo is widely acknowledged as the first Cuban drummer to make a mark in the American music scene. Directly following him were Patato Valdez, Candido, Mongo Santamaria and Francisco Aguabella. As a master of the Batá (talking drum) Aguabella immediately impressed many. He was hired early on by Dizzy Gillespie and during his career has played and recorded with Peggy Lee, Tito Puente, Eddie Palmieri, Malo and Carlos Santana.
He has performed with many great artists such as Dizzy Gillespie, Tito Puente, Frank Sinatra, Eddie Palmieri, Cachao, Lalo Schifrin, Cal Tjader, Peggy Lee, Nancy Wilson, Carlos Santana, Poncho Sanchez, Paul Simon, Bebo Valdes, and many more.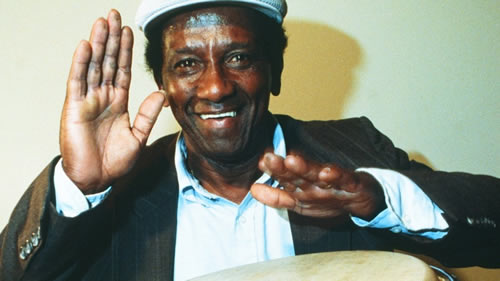 The first Aguabella release on Cubop recordings is a re-issue of "Hitting Hard"-- an aptly titled rare groove record from the mid '70s. "Discovered" by Japanese DJ and Latin jazz aficionado Raphael Sebbag (from the United Future Organization), "Hitting Hard" exchanged hands for major money a few years back. For the first time, this gem is available on CD and we re-mastered the recording for release on quality vinyl. Mixing Latin jazz with soul , Brazilian influences and a raw funk feel "Hitting Hard" is definitely one for fans of Pucho and The Latin Soul Brothers. Other Aguabella recordings now available on CuBop include: "Agua De Cuba", a new recording featuring some of Aguabella's legendary peers.
Francisco is a recipient of awards such as the National Heritage Fellowship of the National Endowment for the Arts, and the Los Angeles County Arts Commission and received a fellowship for the Durfee Foundation. He is featured in the documentary, "Sworn to the Drum" by Les Blank, and is currently featured in a new documentary, "Aguabella," currently in production. He also appeared on the Orlando Jones Show on FX.
Francisco Aguabella's passion and fire on the conga drums are absolutely contagious and not to be missed!