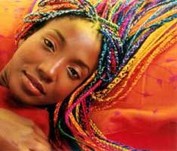 Lucrecia
| Home Base | Established | Albums | Charts |
| --- | --- | --- | --- |
| Havana, Cuba | 2007 | 1 | 0 |
This artist has albums available.

Click on each album title for an expanded view.
| Album Name | Preview | Style | Price | |
| --- | --- | --- | --- | --- |
| Mis Boleros | Your browser does not support the audio element | Tropical | $11.99 | |

Cuban tropical singer Lucrecia shines on classic ballads as well as her own musical creations.
Lucrecia was born in Havana, Cuba. At a very young age she felt attracted by everything to everything having to do with music. When she was only seven years old she began studying music. Later she received a Master's Degree with a piano and voice specialty form the Superior Institute of Art of Cuba. A year later, she received recognition for her songwriting and instrumentalist skills. Soon after, Lucrecia joined Anacoana, a famous local orchestra, singing and playing keyboards. During that length of time, the artist temporarily settled down in Barcelona, Spain. She still resides there after going on her own and records and tours regularly in the US and around the World.
In 1993 she participated in the international festival of Boleros (Ballads) of Havana, where she was one of the most outstanding artists. In 1994 publishes her first album "Me Debes un Beso" (You owe me a kiss) under her own musical direction. Her second disc, "Prohibido" (Prohibited), is published in 1996 again under her own musical direction, which contained the title track of the film score for the movie "Balseros" (Raft People).
Her third album, "My Boleros" (My Ballads), is released in 1996 and quickly followed in 1997 by publishes "Pronósticos" (Prognoses). In 1999 "Cubaname" is released where Lucrecia, once again, produces and directs. One of the titles of this disc, a version of the song "Youkali" of Kurt Weill and Fernay serves as the central theme of the film "Second Skin" directed by Gerald Side and carried out by Ariadna Gíl, Javier Bardem and Jordi Mollá.
In 1999 she takes part as an actress in the film "Verbal Attack" directed by Miguel Albadalejo sharing distribution with Adriana Ozores, Antonia San Juan, Sergi Lopez, Elvira Lindo and Antonio Resines, among others.
Also in that year was a single, "Amparame", was released with great success. This song was them rewritten for a new disc - "WATER"- with a surprising result. In these 2 years without publishing an album, Lucrecia discovered new personal and musical facets, performed and recorded with Chavela Vargas, Celia Cross, Paquito D´rivera, Albita, Chano Lobato, Manzanita and Alex Acuña, among others...
ESPAÑOL: La cantante Lucrecia nació en La Habana, Cuba, y siendo muy niña ya se sentía atraída por todo aquello que tenía relación con la música. Con tan solo siete años comenzó a cursar estudios de música, licenciándose en la especialidad de piano en el Instituto Superior de Arte de Cuba. Para completar su formación, también recibió clases de canto.
Participó como cantante y teclista en la orquesta Anacaona, con la que realizó giras por todo el mundo, hasta que llegó a España y se quedó a residir en Barcelona.
En 1993 participó en el festival internacional de boleros de La Habana, donde fue una de las artistas más destacadas. Ese mismo año fue finalista del concurso para seleccionar al cantante que representaría a Cuba en el festival de la OTI.
En 1994 edita su primer álbum "Me debes un beso" donde la producción y dirección musical fue realizada por ella misma. Su segundo disco "Prohibido" se edita en 1996 repitiendo la producción y dirección musical, de este disco se extrae la canción "La noche de la iguana" de Juan Pablo Silvestre, que sirvió de tema principal de la banda sonora de la película "Balseros". En 1996 se edita su tercer álbum, "Mis Boleros". Un año más tarde en 1997 publica "Pronósticos" y posteriormente en 1999 "Cubaname" donde Lucrecia una vez más, produce y dirige musicalmente su disco. De este disco se extrae la versión de la canción "Youkali" de Kurt Weill y Fernay, que sirvió de tema central de la película "Segunda Piel" dirigida por Gerardo Vera y protagonizada por Ariadna Gíl, Javier Bardem y Jordi Mollá.
En 1999 participa como actriz en la película "Ataque Verbal" dirigida por Miguel Albadalejo compartiendo reparto con Adriana Ozores, Antonia San Juan, Sergi López, Elvira Lindo y Antonio Resines, entre otros... También en ese año se editó un single con gran éxito "Ampárame", que ahora se ha regrabado para su nuevo disco "AGUA" con un sorprendente resultado. En estos 2 años sin editar un álbum, Lucrecia ha descubierto nuevas facetas personales y musicales, ha realizando actuaciones y grabaciones de lujo junto a Chavela Vargas, Celia Cruz, Paquito D´rivera, Albita, Chano Lobato, Manzanita y Alex Acuña, entre otros….