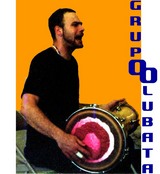 Grupo Olubata
| Home Base | Established | Albums | Charts |
| --- | --- | --- | --- |
| Emeryville (CA), United States | 2000 | 3 | 1 |
This artist has albums and charts available.

Click on each album title for an expanded view.

Batá drum group.
This trio of percussionists -Colin Douglas (Iyá), Matt Lucas (Itótele) and Scott Pauker (Okónolo)- provides the music behind the many dance productions and classes led by teacher and choreographer Susana Arenas Pedroso. Established in 2000 and based primarily in the Bay Area, the repertoire of Grupo Olubata focuses on Afro-Cuban folkloric traditions. This highly talented and energetic ensemble is part of a growing movement of new-generation artists dedicated to preserving and promoting the musical heritage of Cuba.
Under the direction of Susana Arenas -once a member of cuban theater dance troupes Tierra Virgen, Alafia Ire, Oche Olorum, and Oriki- the group has performed numerous concerts including the 5th Annual Exploration in AfroCuban Dance & Drum at Humboldt State University, the Yo Soy Cuba show series, the Cuba Caribe Festivals and during classes of popular and folkloric Afro-Cuban dance at Dance Mission in San Francisco, The Beat in Berkeley, and the East Bay Center for the Performing Arts.
Grupo Olubatá and Latin Pulse Music bring you the Oru Seco Play-Along Set: Volumes 1, 2 and 3. These are sets of audio tracks created to help percussionists practice and learn the rich rhythmic content of the afro-cuban Oru del Igbodú (or Oru Seco, meaning without singing). It is meant to be purchased in conjunction with the 48-page lead sheet chart or "road map" chart made available on-site (see the Vol.1 album page). It is extremely important to note that no two groups play the oru seco in the same exact way and its interpretation continues to vary.
The Oru Seco Play-Along Volume 1 is a very clean performance of the complete movement and it's
23 sub-movements (the orishas) in addtion to two bonus tracks, an Eleguá-Cantado and an Arará-Palo, (both with singing) as well as the 23 MIDI output tracks of the road map chart exported directly from the notation software. Though not an absolutely exact transcription, we recommend playing along with the chart and MIDI tracks first, and then performing with the tracks recorded by the live drummers. Volume 2 contains the same 23 orishas (tracks) without the Itótele part and Volume 3 without the Okónkolo part. These instructional volumes offer a great way to practice both the movements and the "calls" -the key transitions that cue the drummers to move from one orisha to the next. Enjoy!