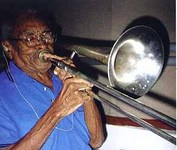 Generoso Jiménez
| Home Base | Established | Albums | Charts |
| --- | --- | --- | --- |
| Cienfuegos, Cuba | 1950 | 1 | 0 |
This artist has albums available.

Click on each album title for an expanded view.

Generoso "El Tojo" Jiménez is noteworthy as one of the best trombone players in Cuban history.
Although the trombone often gets short shrift behind vocals, flute or even saxophone in Cuban music, Generoso "El Tojo" Jiménez is noteworthy as one of the best trombone players in Cuban history. He was born in the small town in Cruces, in what is now the province of Cienfuegos, on July 17, 1917. Jiménez thrived in Havana's opulent musical nightlife, eventually winning a coveted spot with Beny Moré's wildly popular orchestra in 1955. He stayed with the band as a composer and lead soloist until 1959, but his time there is still marked by the coros of Moré's hit "Que Bueno Baila Usted," where the band sings out repeatedly "Generoso! How well you play!" "Generoso, que bueno toca Ud."
After leaving Moré's orchestra, Jiménez recorded several albums with his own orchestra, including El Trombón Majadero, meaning "The Unruly Trombone," which was re-released in the United States by Bembé Records in 1997. By that time, Jiménez had been retired for decades and was living in obscurity and near-poverty like most other Cubans. The re-release aimed not only to revive some great Cuban session playing, but also to provide a supplement to Jiménez's income, a bonus that was a richly deserved perk of the rekindled American interest in old Cuban music.
It was a sad day for Afro-Cuban music when Generoso "El Tojo" Jimenez retired from music; he was, after all, one of Cuba's most legendary trombonists. Before 2001, there was no reason to believe that the Cuban trombonist would ever come out of retirement. But surprisingly, an 84-year-old Jimenez did exactly that in 2001 and recorded Generoso Que Bueno Toca Usted, which came out in the U.S. in early 2002 and was his first album as a leader since 1965's El Trombón Majadero. Leading a big band that is billed as the Grand Afro-Cuban Orchestra of Generoso Jimenez, he gets in a few trombone solos. But he doesn't solo extensively, which is probably just as well because his chops aren't what they were in the '50s and '60s.
When a musician has been in retirement for over 30 years, his chops willinevitably suffer — especially if his instrument is as demanding as the trombone. Nonetheless, Generoso 'Que Bueno Toca Usted' is generally quite enjoyable. On this CD, Jimenez's primary role is that of a bandleader/composer/arranger — not a soloist. He employs a lot of talented Cuban musicians (including trumpeter Arturo Sandoval and saxman Paquito D'Rivera, both ex-members of Irakere), and they have solid material to work with (all of it new material that Jimenez wrote especially for this album). Generoso Que Bueno Toca Usted shows no awareness of the New York-style salsa that young Cubans and Puerto Ricans were eating up in 2001; lively, hard-swinging numbers like "Aprendiendo a Tocar Saxofon" and "Vengo Con Sed" favor a '50s-like approach and recall Jimenez's years with the influential Beny Moré. Generoso Que Bueno Toca Usted demonstrates that while Jimenez, at 84, wasn't the trombonist he once was, his considerable talents as a composer and arranger never went away. Jimenez was awarded a Lifetime Achievement Award by the Recording Academy (Grammys) in 2005 and is still playing, at 89 in concerts and albums as guest soloist.