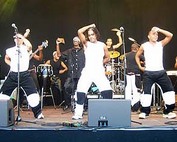 Charanga Forever
| Home Base | Established | Albums | Charts |
| --- | --- | --- | --- |
| Havana, Cuba | 1998 | 2 | 0 |
This artist has albums available.

Click on each album title for an expanded view.

Charanga Forever was formed in the summer of 1998 as a result of the famous breakup of Charanga Habanera. At one point this band was in fact nearly a complete reunion of the original Charanga Habanera that recorded "Pa' Que Se Entere La Habana".

Charanga Forever The original members of the group were all formerly in Charanga Habanera and the early parts of their careers are covered in great depth in our now completed section on the four albums of the original Charanga Habanera: Love Fever, Hey You Loca, Pa' Que Se Entere La Habana and Tremendo Delirio. The story of the breakup and the early years of Charanga Forever is covered in the article "Charanga Habanera: The Breakup and Beyond".

On September 14, 1998, less than two months after being left with only a singer and a soundman, David Calzado y su Charanga Habanera were back on the stage of La Tropical and once again among the elite of Timba. One of Duarte's first contributions was the song "Charanguero Mayor" which, along with a never-released gem called "Confianza", was the last song that Michel Maza sang with Charanga Habanera. A radio demo recording was a big hit in Havana, but by the time the group recorded it for the album of the same, Maza was long gone. He left the group in late '98. In the version that was finally recorded, Michel's part is split up between no less than five singers, including the multi-talented timbalero Yulién.
Maza was replaced by Dantes "Riki Ricón" Cardosa and this was the group that recorded "Charanguero Mayor", the subject of our next in-depth musical analysis. This album was also released in Peru as "El Baile del Azúcar". The tracks are in a different order and some have different titles, but all the recordings are the same with the exception of an additional live descarga called "El Baile del Azúcar".

The band continued to develop new material, but Tirso Duarte left the band in January of 200, before they recorded again. Osmani Collado now doubles on synth and sax and Helder Rojas has taken over on piano. Tirso's singing duties are now handled by new member Leonid Torres. The 2001 release, which includes a significant amount of Duarte material, is called "Tiene de Cuba, Tiene Mela'o" in Cuba and "Chan Chan Charanga" in the US.

Having gotten all the way to 2002 with Charanga Habanera, we now return to the summer of 1998 to find out what happened to the original charangueros. They were able to start playing almost instantly. They needed only a new name, "Charanga Forever", and a singer, Armando Cantero, to replace Michel.

And so, ironically, the first Charanga Forever was formed from the musicians of the second Charanga Habanera, while the second Charanga Forever was in fact nearly a complete reunion of the original Charanga Habanera that recorded Pa' Que Se Entere La Habana.

"La Charanga que tú conoces, la que siempre te sofocó", JC González, Pedro Pablo, Sombrilla, Michel, Polledo, Manolito, Vitico & Co., were back in business and they corded a short, but brilliant album for a French label that included the astounding "Somos la Charanga" which turns out to have been composed by none other than Juan Formell! In fact, on the French release, the track is listed as "Dice Formell". It also contained a great early Limonta song called "El Avión" which the original Charanga Habanera played live but had never recorded, as well as the great "La Menor" and other tracks.
-- by Kevin Moore of www.TIMBA.com