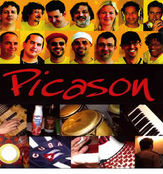 Picason
| Home Base | Established | Albums | Charts |
| --- | --- | --- | --- |
| Zuerich, Switzerland | 1985 | 2 | 0 |
This artist has albums available.

Click on each album title for an expanded view.
| Album Name | Preview | Style | Price | |
| --- | --- | --- | --- | --- |
| Que Felicidad | Your browser does not support the audio element | Timba | $10.99 | |
| Timba | Your browser does not support the audio element | Timba | $10.99 | |

#1 swiss timba & salsa band.
NEW!! - See a clip of *
Picason
* live here:
Biography:
Picason is one of the few well-known but non-cuban bands to play Cuba's most modern style "Timba"; this means a hot groovy Salsa with a funkyfied horn-section and an extra dose of afro-cuban rhythm. The Picason story started in 1985 and the band played more than 400 concerts in Europe and Latin America, including three tours in Cuba. Guests like Arturo Sandoval, José Luís Cortés or Juan Munguia have been shaping Picason's typical sound and groove. Today's leading Latin Jazz flutist Orlando "Maraca" Valle was amazed by the group at the Jazz Festival Montreux 1996 and decided to compose a completely new repertoire for them.
After being a lead singer with "Klimax" (one of Cuba's leading Timba-bands) for three years, Ernesto Manuitt moved to Europe and joined Picason adding another swinging dimension to the band. The Picason albums 'Timba' and 'Qué felicidad' are the first results of this collaboration.

The Band:

| | | | |
| --- | --- | --- | --- |
| Ernesto Manuitt | (vocals) | Signe Asmussen | (vocals) |
| Iván Villalonga | (vocals) | Flavio Arias | (vocals) |
| Bernhard Schoch | (trumpet, flugelhorn) | Lukas Thöni | (trumpet, flugelhorn) |
| Beat Affolter | (trumpet, flugelhorn) | Carlo Schöb | (tenor saxophone) |
| Erwin Brünisholz | (alto,bari saxes, leader) | Reto Manser | (piano, keyboards) |
| André Buser | (bass) | Georg Mikirozis | (congas) |
| Michael Wipf | (drums, timbales) | Ohlê Gagneux | (bongos, vocals) |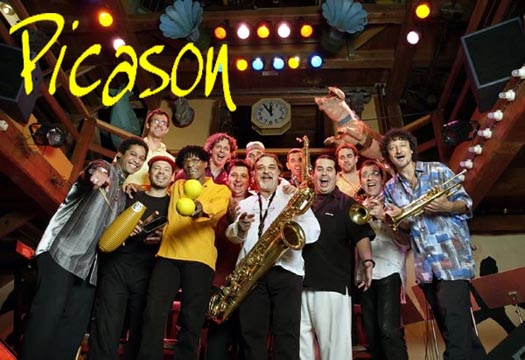 Son
The name of Picason is a combination of the words "picante" (hot, spicy) and "son" an original style of Cuban music. The band was founded back in 1985 using the specific "conjunto" instrumentation with congas, bongos, piano, tres (Cuban guitar) and five horns -following the example of the great "soneros" Arsenio Rodriguez, Felix Chapotín, Miguel Matamoros, Ignacio Piñeiro or Beny Moré.
Very soon (1987) the group was invited to the country of origin of the son, and could present their ork at the "Festival del Son", "Festival de Charanga", in the world-famous "Tropicana" in Havanna and on Cuban television. The audience was surprised and amazed. To succeed in Cuba is probably the greatest honor a European salsa band can recieve! The second tour in 1988 took them to the eastern part of the coutry, to Santiago de Cuba, where Picason again attracted a lot of attention. Back home the band recorded their first album "Picason".
Salsa
In the following years the "conjunto" Picason grew to an "orquesta" and the band's sound was influenced by a variety of musical styles –mostly by jazz. Jazz greats like Dizzy illespie had already integrated elements of Cuban music in their playing and in New York the latin scene started to use a new term: "salsa" (sauce). After having played far more than a hundred concerts Picason recorded a second CD "Son de los Alpes" under the direction of jazz pianist Christoph Baumann. With this album the band stayed on the road to success. In 1991 star-trumpetist Arturo Sandoval was invited to join Picason for a tour in Switzerland and Germany. Other famous Cuban musicians such as Juan Munguía (Irakere), José Luís Cortés (NG La Banda), Calixto Oviedo (NG La Banda) followed to be featured as special guests with the band.
In 1993 it was time for another trip to El Salvador, Mexico, and Cuba. On this tour they first met a very talented young musician by the name of Orlando "Maraca" Valle. He was the flute player of Irakere, the world-famous salsa band with band leader "Jesus Chucho" Valdés. When Maraca heard Picason playing at a festival he was that astonished that he offered the group his collaboration. But first another young Cuban composer joined the group: the saxplayer Tony Martinez wrote most songs for the third Picason album that was published in 1995. "Un estilo diferente" announced another step to a more modern stilistic concept. The promotion tour of this record in Germany and Switzerland was a big success. In 1996 Picason played the Latin Night of the Jazz Festival Montreux together with Ray Barretto (Puerto Rico/USA) and Orlando "Maraca" Valle who had formed his own group in the meantime. Maraca was again amazed by Picason's sound and decided to compose a completely new repertoire for them.
Timba
Unlike the international trend to a "neo-traditional" salsa style, the musicians in Cuba developed their music into a completely different direction. They came out with a fresher sound, more complex rhythm and harmony and they called it "timba". José Luís Cortés (bandleader of NG La Banda) who has worked with Picason in the early nineties is considered to be the father of the new style. Timba uses all kinds of musical influences. The funky seventies (Kool & the Gang, Earth Wind & ire, etc.) play their parts together with Hip-Hop and Rap. Compared to traditional salsa, the timba groove is heavier and even more syncopated. There's more space for the rhythm section to improvise, bass and piano play their poly-rhythmical "tumbaos" with much more power. The horn-riffs have become sharper and the lyrics cheekier.
Picason has put the finishing touches to Orlando Valle's wonderful compositions by adding the latest spices from the Cuban timba-kitchen. There's also a "special red hot pepper" with the group now: Ernesto Manuitt. Ernesto is known as a lead singer of one of the top Cuban timba bands, "Klimax". After having lised in Europe for a couple of years, the youngest member of Picason is one good reason for the authenticity, the high quality, and the refreshing energy of the most recent Picason albums "Timba" and "Que Felicidad".