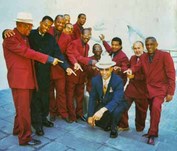 La Sublime
| Home Base | Established | Albums | Charts |
| --- | --- | --- | --- |
| Havana, Cuba | 1956 | 3 | 0 |
This artist has albums available.

Click on each album title for an expanded view.

La Sublime (sometimes called La Pachanguera de Cuba) has been around since 1956, when it was organized in Havana by flautist Melquiades Fundora. They scored their greatest hits in the 1950s fueled by the international dominance of the chachachá. La Sublime now hosts a younger generation of musicians in its ranks while maintaining its legendary repertoire of danzones, chachachás, boleros, sones and pachangas.
Three footloose cadenza of the shoe hole "chachachá" had mastered the every-day stimulus. Step by step, Havana had become the continent's melting-pot. La Sublime has been in the history of Cuban popular and dancing music one of the ensembles which fastest charmed the audience taste. Its major breakthrough came with hot shot debut in 1956. The LDs "Sabor de Cuba", "Rico chachachá"and "El Divertido" turned Sublime into the scale of Exclusive Artist of PANART Label. For sure, and in respect to this tradition, many of these unchallenged hits were included in the CD "A La Pachanga con La Sublime" edited by Bis Music Label in 1994.
In 1959, La Sublime was unanimously nicknamed as La Pachanguera de Cuba inspired by DJ Humberto Santaló's air-waves from Radio Salas, after the launching of La Pachanga rhythm at El Salón Rosado de La Tropical in 1959, still today one of the hottest thermometers in Cuba and America as far as concerns to popular music dance bands.
La Pachanga, a creation of novelist-composer Eduardo Davidson, and arranged by flute hero Richard Egues, from La Aragón fame, has toured the world in multiple versions, and it is still present in La Sublime repertory.
Among the worldwide distinctions LA PACHANGUERA DE CUBA has achieved a Golden Record received on September 29, 1993, in Havana by Ivory Coast based music label manager Daniel Cuxzac for their biggest-selling albums in Africa and Europe.
The modes imposed by La Sublime flourish in the beautiful chachachas led by Melquiades Fundora`s flute solos. "El machuquillo", the characteristic hammered touch of the legendary pianists, timbal beats, the impulse of "el guiro", the unison of the The Three M vocalists, Marcos Maximo and Miguelito, print the lifetime of this approach.
Chachachá is still constituting its backbone, combining elements of rumba, sones, danzones, mambo, yambú, pachanga, plenas, Mozambique, guarachas and boleros, shaping its non-stopping repertoire with rich dancing and harmonic tunes.
Among their many experiments, outstand el bolero "Importancia" an invention of pianist-arranger-composer Rolando Fundora that fuses two anthological boleros "No te importe saber"(Just don't care about it) and "Que me importa" (Nothing matters to me, except you ) plus Jorrin's danzon "Constancia"montuno, sung by Miguelito Agramonte and Iluminada Zequiera. After this, she was baptisted as "The ebony wonder" . "…. let's forget the whole world, …. 'cause finally, it has no Importance let's dance with la Sublime until the earth stops rolling down …"
The dance-on "Angoa", dedicated to the dancer Ricardo Benedit Varela, still active at 85 years, and also to his composer Felix Reina, sung in chachacha swinging-style " ….. how happy you look dancing, Angoa under Sublime's magic playing, Angoa … ." "Six Cuban Pearls" is a wonderful response to "Three beautiful Cubans" written by Guillermo Castillo and propelled by keys wiz Antonio María Romeu became an homage to the ancient six provinces of Cuba.
Sublime's background can be found in the leading charangas of Arcano y sus Maravillas, Fajardo and his Charanga show, Neno González, Melodías del '40, Aragón, Sensación and América. Also outstand the medleys, sones memories, instrumental music, in which the charanga rhythms are mixed to good effect with an open jazz concept of improvisation.
Since 1956, the Sublime sound has left its footprints in the Cuban popular and dancing music. For that reason, they received The Popularity Award in Venezuela in 1962, due to the audience reached by LP "El Divertido" (PANART), a Golden Record in Africa in 1994, and a Latin Grammy Award pre-nomination in year 2001 after their new entrance in the U.S.A. Hit Parades with their album "Sublime Havana". Last but not least, the Nicolas Guillen Certificate, the highest distinction of the Cuban Artists and Writers Union (UNEAC).
2002 witnesses the coming of ''Dulce Ternura'' CD, gathering an anthology to soon left its prints as testimony of what millions of fans want to keep on listening.
It is not easy to summarize the story of an authentic charanga that has resumed an authentic charanga story that has survived to the Heavy Metal distortions, the computers, the Salsa Dura heirs and the New Age performers. -- courtesy Toni Basanta of soycubano.com