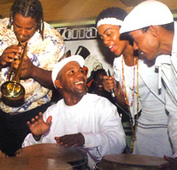 Joaquin Pozo
| Home Base | Established | Albums | Charts |
| --- | --- | --- | --- |
| Havana, Cuba | 1985 | 2 | 0 |
This artist has albums available.

Click on each album title for an expanded view.
| Album Name | Preview | Style | Price | |
| --- | --- | --- | --- | --- |
| Ahora Vengo Con Rumba | Your browser does not support the audio element | Afro-Cuban | $11.99 | |
| Descarga Cubana | Your browser does not support the audio element | Latin Jazz | $12.99 | |

Primo hermano de Chano Pozo y nieto de Domingo, Joaquín Pozo Calderón es una figura imporatante de la tradición musical conocida como la rumba cubana.
Español: Cuba es un país de Reyes del Tambor, uno de esos reyes fue Chano Pozo, paradigma de los percusionistas, conguero mayor que abrió el camino de muchos músicos cubanos en New York. Heredero de ese gran maestro sagrado y mítico, es Joaquín Pozo Calderón.
Joaquín es nieto de Domingo, primo hermano de Chano Pozo, Domingo era un habanero gozador de la rumba, aunque la matriz de la obra musical de Joaquín viene de su padre, un compositor guantanamero, de nombre Perico Jorge Pozo Sayú, compositor de los hits de Pello El Afrokan, "Ajá, Que Risa Me Da", "La Negra Quiere Chocolate" o "Perico Esta Llorando", entre otras muchas.
"Mi padre (cuenta Joaquín) vivía en el solar de La California, famoso por las rumbas que organizaba Chano Pozo en la década de 1940. Yo fui respirando ese ambiente, donde había que tocar, y tocar bien, en este mundo de conocedores exigentes, no se aceptan lo malos tocadores".
La frase de un rumbero lo dice "Si no sabes…no te metas". Eso es lo que se llama escuela de la percusión tradicional oral. Yo fui aprendiendo, tocando el quinto, junto a mi papá en las rumbas y congas carnavalescas. En las congas de la comparsa "La Boyera", una de las más famosas en La Habana.
Joaquín nace en el famoso barrio de la Victoria, en la época que antecede a la revolución, donde vivieron Benny Moré y Abelardo Barroso. Joaquín empieza a tocar profesionalmente en 1985 en el grupo Orú, del guitarrista Sergio Vitier, Conel que viaja por primera vez al exterior, Posteriormente se integra en la Jazz Band "La Grande de Benny Moré" para viajar a México.
En los inicios del boom de la salsa cubana sobre 1991, se integra en el grupo Layé donde coincide con Fidelito Morales, Pepe Maza y Armando Gola. Está dos años con ellos haciendo múltiples giras por todo el mundo. Posteriormente pasa una etapa en la que llega a entrar en el profesorado del Centro Nacional de Superación artística y Escuela Nacional de Arte, también empieza a dar clases a multitud de percusionistas de todas las nacionalidades que se interesan por su trabajo y aprender de él . Fruto de este período nace su proyecto Latín Millenium, en esta experiencia Joaquín monta un set de seis tumbadoras, que es algo asombroso, con este proyecto creará un concepto rítmico con la base de la conga y del timbal.
English: Cuba is a country full of great percussionists and one of its 'drum kings' was Chano Pozo, who opened the path to many Cuban musicians in New York. Joaquín Pozo Calderón is the heir apparent of that great percussionist.
Joaquín is Domingo's grandson, Chano Pozo's first cousin. Domingo was a rumba lover, however Joaquin's main influence was his father comes from his farher, a composer from the eastern Guantanamo area, named Perico Jorge Pozo Sayú, author of hits as 'Ajá, Que Risa Me Da', 'La Negra Quiere Chocolate' and 'Perico Esta Llorando', among others that were later played by Pello El Afrokan.
Joaquín explains: "My father lived by the empty lot known as 'El Solar de La California', famous by the rumbas organized by Chano Pozo in the 40's. I grew up in that atmosphere, where you have to play and do it well. In a world of demanding connoisseurs, we do not accept bad players". As the common saying goes: 'If you don't know, don't sit in'. That's called the school of the traditional oral percussion. I was learning, playing the quinto, next to my Dad in rumbas and congas at the carnivals, and also in the comparsa of the group "La Boyera", one of the most famous carnival groups in Havana.
Joaqín was born in the famous district of 'La Victoria', where Benny Moré and Abelardo Barroso had lived before. Joaquín started to play professionally in 1985 in the Orú band, a group led by guitarist Sergio Vitier, with whom he traveled abroad for the first time. Later on he joined 'The Great Benny Moré Jazz Band', traveling this time to Mexico. During the Cuban Salsa boom of the early 1990's, Joaquin joined a band called Layé, where he worked with with Fidelito Morales, Pepe Maza and Armando Gola. He stays two years with them doing several worldwide tours.