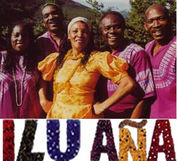 Ilu Aña
| Home Base | Established | Albums | Charts |
| --- | --- | --- | --- |
| Havana, Cuba | 1994 | 1 | 0 |
This artist has albums available.

Click on each album title for an expanded view.
| Album Name | Preview | Style | Price | |
| --- | --- | --- | --- | --- |
| Sacred Rhythms | Your browser does not support the audio element | Afro-Cuban | $10.99 | |

Grupo folklorico afro-cubano.
Grupo Ilu Aña:
Regino Jiménez - Iyá, percussion, background vocals
Regino, considered one of the foremost authorities on Afro-Cuban music, is currently the musical director of Danza Contemporanea de Cuba. Regino directs one of the most sought-after sacred batá groups in the Havana Santeria community, pefrorming upward sof six to eight cereminies a week. He is also skilled in classical and popular forms, having worked with Sonoridad led by Gonzalo Rubalcaba, Orú led by Sergio Vitier, and the Orquesta Sinfónica Nacional. Regino has been decorated on many occasions for his outsatnding work as a musician and lecturer at Cuban and foreign universities.
Fermín Nani - Itótele, percussion, background vocals
Fermín began his career at the ENA (Escuela Nacional del Arte) and then joined the Conjunto Folklórico Nacional de Cuba. After traveling with the conjunto extensively he joined the Danza Contemporanea de Cuba, where he currently performs. He has also played and toured with Irakere, Frank Fernandez, Romeu, and the Tropicana Cabaret show.
José Pilar - Okónkolo, percussion,vocals
In addition to being a great percussionist and singer, José is the principal dancer with the group Clave y Guaguancó and works full-time at Danza Contemporanea de Cuba. He is the composer of the Rumba Tonada that is featured at the end of the 'Sacred Rhythms' album.
Amelia Pedroso - vocals
Among the most highly respected religious singers in Havana, Amelia has been performing professionally for 25 years, traveling and singing worldwide with groups such as Clave y Guaguancó, Lazaris Ros, and currently Danza Contemporanea de Cuba. She also leads a folkloric group comprised solely of women called Ibbu Okun.
Librada Queseada - background vocals
Prima Solo Dancer with the Conjunto Folklórico Nacional de Cuba, she has performed extensively throughout Europe, North America, Latin America, and Africa, and she was decorated with the "Medal of National Culture" for her 25 years in the Conjunto Folklorico.