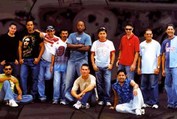 Salsa del Barrio
| Home Base | Established | Albums | Charts |
| --- | --- | --- | --- |
| Barcelona, Spain | 2000 | 1 | 0 |
This artist has albums available.

Click on each album title for an expanded view.
| Album Name | Preview | Style | Price | |
| --- | --- | --- | --- | --- |
| Sabor A Melao | Your browser does not support the audio element | Salsa | $9.99 | |

Bajo la dirección del trompetista Juan Carlos Pabón, SALSA DEL BARRIO es una orquesta salsera actualmente basada en España con origines de Colombia.
Reportes sobre SALSA DEL BARRIO:

Una de las orquestas más populares y con un gran impulso dentro de la música salsera que se hace en Colombia es SALSA DEL BARRIO, bajo la dirección del trompetista Juan Carlos Pabón. Sus constantes giras por Europa han dado a SALSA DEL BARRIO una situación de privilegio con respecto a su proyección. Su música es salsa de la que se hace en Medellín, con un toque muy personal de su productor que ha trabajado con el GRUPO GALÉ, SONORA CARRUSELES o LATIN BROTHERS, salsa para el buen bailador, con temas como la versión a salsa de "Tengo" popularizada por Queco, los clásicos "Fuego a la Jicotea" o "La Casa" y con novedades como "Montuneando", "Sabor a Melao", "Canto a Mi Tierra" o "Que Es Lo Que Hay". Salsa de la buena con muchos quilates, que va a poner a revolucionar a los buenos bailadores y aficionados del mundo entero.

Después de girar por Latinoamérica y Europa, SALSA DEL BARRIO se asienta en Barcelona. Orquesta colombiana formada por 12 excelentes músicos. Bajo la dirección del trompetista Juan Carlos Pabón, SALSA DEL BARRIO han sido la banda de acompañamiento de artistas como Cano Estremera (SEE VIDEO IN THIS PAGE), Pedro Arroyo o Henry Fiol. En 2006 se publica su disco "Sabor a melao" en Envidia Records. Diez (10) temas donde la mejor salsa de Puerto Rico se abraza al sonido New York 70's.

Doce excelentes musicos latinos forman una de las mejores orquestas de salsa que hay radicadas en Espana. Tres vocalistas, piano, bajo, timbal, congas, bongo, 2 trombones y dos trompetas. Los integrantes de Salsa del Barrio han integrado prestigiosas orquestas, reconocidas a nivel internacional. Su fundador y director musical Juan Carlos Pabon ha formado parte de agrupaciones musicales tales como: Grupo Gale, Fruko y sus Tesos, Sonora Carruseles, The Latin Brothers. Esta es su ultima produccion musical "Sabor a melao", un disco cargado con mucha SALSABROSURA. Desde Barcelona y para el mundo... ¡SALSA DEL BARRIO!