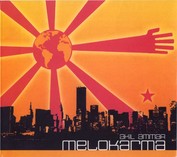 Melokarma
| Style | Released | Album Tracks | Charts |
| --- | --- | --- | --- |
| Hip-Hop | 2005 | 16 | 0 |
#
Name
Play
Time
Info
01
Melokarma
4:12
melodia, drama y karma
02
Es Tiempo
3:42
groovy folk rock vibe
03
La Noche Es Nuestra
3:51
featuring BocaFloja
04
Campesino
3:11
situacion critica, resiste la corrupcion
05
La Tentación
5:39
mujer, sigue siendo tu
06
Es Amor
4:08
reggae power, resistencia con ciencia y progreso
07
HH
3:09
sabes que naciste para esto
08
Vagabundo
4:50
straight up traveler story
09
Guerrero
4:17
featuring Skool 77
10
Mi Diario
3:27
hoy es un dia ordinario
11
Cuando Muera
4:32
very funky backing tracks
12
International Life
4:01
featuring Note Rock, Bocafloja and Transcend
13
Un Día Más
2:46
voz y guitarra - nada mas
14
Resiste
4:15
GOVERNMENTS LIE!
15
Comprendo
4:33
haste la pregunta - en verdad comprendes?
16
Todo Sigue Igual (Live)
2:52
jazz trip - a must listen!
Desgraciadamente todo sigue igual
MC, Spoken Word Artist and Urban Poet, Akil Ammar reminds us to maintain a real perspective in a troubled world.
English: (para version en Español as click aquí)
A native of DF with more than 12 years of experience with Hip Hop culture, Akil Ammar is an MC, Spoken Word Artist and Urban Poet, that has reinvented his role and commitment with his community. With varied themes and lyrics ranging from day-to-day experineces to socio-political problems, Akil seeks to opens your eyes and ears while driving home a positive message. Rap is the tool through which he builds poetry and reflects on the world at hand.
Co-founder of 'IndieGente', an independent organization created in 2005 with the objective to develop and recognize hip-hop culture, his efforts are focused on diverse artistic manifestations that are inspired by progress, resistamce, and the education of marginalized communities across the globe that wish to raise their voice.
A solo artist since 1996, even though he was part of the group 'LifeStyle' from 1997-98, his influences have evolved from Public Enemy, Nas y Krs-One to Common, The Roots, Dead Prez, Blackalicious, Michael Franti y Mos Def, as well as musical styles like reggae, funk, jazz, blues and latin rhythms like salsa and cumbia.
He has shared the stage with the following artists:
Dead Prez, Freestyle Fellowship, Aztlán Underground, Warclub, 2Mex, Ozomatli, El Vuh, Global City, Frank T, Payo Malo, SFDK, El Cojín, Falsalarma, Skool 77, Bocafloja, Magisterio de México
National & International Festivals and Shows:
In addition to various Rap festivals in Cuba bewteen 2000 and 2003, Akil has appeared in various US shows since 2004 thnaks to the International Hip Hop Exchange, Mano a Mano, Soul & Sol, Sexto Sol, Xicano Records and Film, Divine Force Radio y otras organizaciones