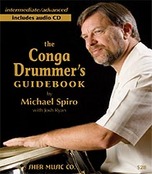 Conga Drummers Guidebook
| Style | Released | Album Tracks | Charts |
| --- | --- | --- | --- |
| Instructional | 2006 | 43 | 1 |
$5.99

© 2006 Sher Music Corp. All rights reserved.
Audio album download includes album tracks and cover art.
All audio tracks in MP3-VBR format. About LPM album downloads.

| # | Name | Play | Time | Info |
| --- | --- | --- | --- | --- |
| 01 | Track04 SherCongaBook | Your browser does not support the audio element | 0:32 | segundo part, rumba guaguanco, in 2-3 clave |
| 02 | Track16 SherCongaBook | Your browser does not support the audio element | 3:06 | 12/8 bell coordination exercises |
| 03 | Track30 SherCongaBook | Your browser does not support the audio element | 1:25 | examples of Chanmguito's movements |
| 04 | Track43 SherCongaBook | Your browser does not support the audio element | 2:15 | solo on Mark Levine's grammy nominated CD "Isla" |

Do NOT use Safari or Microsoft Explorer / Edge browsers to make eBook purchases.
Google Chrome and Firefox browsers are the ones that work. You will need Adobe Acrobat Reader to view.
| Name | | Difficulty | Notation | Price | |
| --- | --- | --- | --- | --- | --- |
| eBook SherCongaBook | Sample | Med - Hard | Percussion | $21.99 | |

"The Conga Drummer's Guidebook" is the only method book specifically designed for intermediate to advanced conga drummers---packed with exercises on every aspect of the craft! Featuring internationally renown percussionist, and LP endorsee, Michael Spiro this album + book combination has over 48 minutes of play-along exercises (43 tracks total) with their corresponding sheet music (115 pages / 115 páginas). HIGHLY RECOMMENDED for all musicians studying afro-cuban styles!
** This Conga Drummer's Guidebook ALBUM (audio) and eBOOK (charts) are sold separately.
** La descarga del album (audio) y el libro (partituras) se venden separadamente.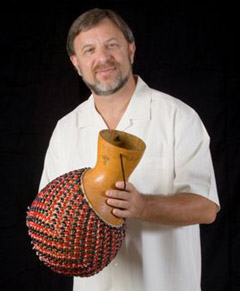 With 43 audio exercises and detailed explanations, international artist and percussion clinician Michael Spiro goes behind the superficial licks and shows you how to approach any Afro-Latin rhythm with the right feel, i.e. he explains the concepts of HOW to play correctly, not just WHAT to play. This work is the only method book specifically designed for intermediate to advanced conga drummers.
Includes complete chapters on:
• a clear, lucid explanation of clave
• exercises on playing quinto
• correct phrasing concepts
• revoicing ideas to give more depth to your playing
• 12 coordination exercises
• explanation of many different rhythmic styles
• stamina exercises
• agility exercises
• heel-toe technique, and much more!
"The Conga Drummer's Guidebook" is endorsed by Karl Perazzo, Dave Garibaldi, John Santos, Ignacia Berroa, Mark Levine, Rebeca Mauleon, Jesus Diaz and more.
ENDORSEMENTS
"This book is awesome. When I wanted to study Afro-Cuban music, everyone said, 'Go see Spiro'. I took that advice, and it was one of the best decisions I ever made. Each time we play together, I learn something. Michael is one of the rare ones who is completely knowledgable about his subject, is always current, and is the consumate player as well. This book explains, very simply in his elegant way, the concepts of conga drumming in this style, but more importantly, the basic concept of Afro-Cuban music and rhythm. Bravo, Michael!!"
Dave Garibaldi, drummer with Tower Of Power, Talking Drums
"This is a breakthrough book for all students of the conga drum!"
Karl Perazzo, percussionist with Carlos Santana
"The Conga Drummer's Guidebook is that and much, much more. Michael's awesome 'Spirology' will have all students and even seasoned professionals looking at their conga playing in new and exciting ways. His in-depth descriptions and the many exercises are extremely helpful (and fun!). Everyone interested in congas needs to own and work with this book."
Rich Holly, president of The Percussive Arts Society
"A wonderful treasure trove of techniques written by someone who truly knows and loves this music! The 12/8 bell coordination exercises alone are worth the price of this excellent guide for congueros--and musicians- of all levels."
Rebeca Mauleon, author of The Salsa Guidebook
"The clearest explanation of clave I have ever encountered--worth the price of the book just for that!"
Mark Levine, Latin Jazz Grammy nominee, pianist with Cal Tjader
"Michael Spiro is a great percussionist and educator; his knowledge about percussion and his musicality have always impressed me. He is a true example of devotion, dedication and respect for the music. Michael's book will greatly expand the knowledge of both students and professionals, and will help them to become great percussionists."
Ignacio Berroa, drummer and percussionist
"It is nice to see useful information on paper that can benefit both beginners and seasoned pros. But I expect nothing less from Spiro. Great job!"
Jesus Diaz, percussionist with Talking Drums, QBT, etc.
"This book is full of wonderful exercises and ideas from a great musician/teacher who's earned his stripes. Mike's experience and dedication shine from beginning to end.
John Santos, founder and director of The Machete Ensemble
---
BOOK REVIEW: Conga Drummer's Guidebook by Michael Spiro
review by Eric Stuer, Dec 2006, www.rhythmweb.com


We found out about Michael Spiro approximately ten years ago when he came through the Guitar Center in Dallas with David Garibaldi and Jesus Diaz, the trio known as Talking Drums. Upon watching him play for 45 seconds, it was already obvious that here was a guy who knew the real secrets to making the conga drum speak with the ancient voices..never mind that his left foot, seemingly unattended, was nailing clave with a Gajate pedal the whole time; it was the way that he phrased, the exact sounds and spaces in time that he chose, that said he was one of those who KNEW, he sounded a thousand years old.
Mr.Spiro's studies include a long time student/teacher association with Fransisco Aguabella , and study with Changuito and a long list of other illustrious master drummers. He has traveled extensively to Cuba and South America, and he is fortunate to be based in the San Fransisco Bay area, home to some of the best percussion teachers and players, within an elite group of which he is wholeheartedly accepted.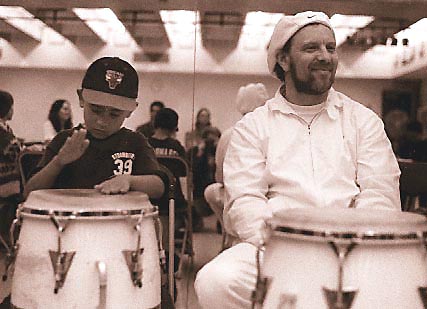 So it comes as no surprise to us that this is no ordinary conga book. As promised in the preface, the book contains a little of everything. It is for intermediate and advanced students, and uses standard music notation throughout; Michael spends time talking about the art of reconciling the actual FEEL of Afro-Caribbean music with what is normally written on paper. He uses ties to indicate the true phrasing, which seldom starts or ends at the beginning of a written measure.
He also accounts for the slight shift in time we often find in these musics, a 'swing', of sorts, where the rhythm actually falls between 3 and 4. Without the ability to play this way, one is doomed to play stiffly, with an 'accent', as it were, he calls the adjustment 'fix', as in halfway between four and six, and he includes examples to develop the sense of it.
The section on clave is one of the best I have seen so far. There are plenty of exercises to develop the heel toe [or palm/tip] 'Mano Secreto' technique so thoroughly developed by Changuito and his students..(All due respect to Tata Guines, who paved the way for Changuito's work.) Included are excersises for stamina and agility.
An interesting approach to improvisation appears in the book, using the concept of Rhythmic 'cells' or patterns that over and over form the building blocks of improvisation; when revoicing is applied to these permutations, infinite variety becomes possible.
There is a great section on 12/8, including some crucial cell coordination excercises against the short bell part I wish I had seen and wrestled with 30 years ago. Time now to do so. He stresses the need to be able to truly hear and feel the 12/8 figures as four groups of triplets, instead of as a waltz, and to be able to tap one's feet in four while playing these various rhythmic cells against the short bell part, one in each limb. Mr. Spiro also pays serious attention to the middle triplet, the more subtle and difficult one so important to Afro-Caribbean music.
I have not managed to mention everything in the book, by any means. Suffice it to say here that it is now a classic work for the conga drum (tumbadora). As Rebecca Mauleon wrote, the 12/8 coordination exercises alone are worth the price of the book.
---