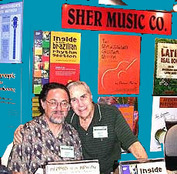 Sher Music Co.
| Home Base | Established | Albums | Charts |
| --- | --- | --- | --- |
| Petaluma, AF | 1985 | 2 | 2 |
This artist has albums and charts available.

Click on each album title for an expanded view.
| Album Name | Preview | Style | Price | |
| --- | --- | --- | --- | --- |
| Conga Drummers Guidebook | Your browser does not support the audio element | Instructional | $5.99 | |
| Muy Caliente | Your browser does not support the audio element | Instructional | $9.99 | |

The finest in Jazz & Latin Music publications! Led by renown bassist Chuck Sher, his company continues to publish excellent instructional books, most notably the 100% legal jazz and latin "real" books. Made by musicians for musicians, his titles are designed to be the most informative and comprehensive books ever published on their respective topics.

Please click on the following featured products from SHER MUSIC: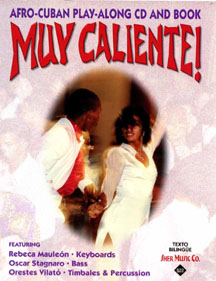 Muy Caliente

---
Featuring Rebeca Mauleón (keyboards, Oscar Stagnaro (bass), Orestes Vilató (timbales), Edgardo Cambón (congas) and Carlos Caro (bongos).

Rebeca Mauleón - Author of The Salsa Guide Book, Rebeca has played and/or recorded with Tito Puente, Carlos Santana, the Machete Ensemble, Pete Escovedo, Israel Cachao Lopez, Giovanni Hildago, Planet Drum, etc.

Oscar Stagnaro - Professor of Bass at Berklee College Of Music and bassist with Paquito D'Rivera, The United Nations Orchestra, The Caribbean Jazz Project, etc.

Orestes Vilató - One of the original masters of Latin percussion. Orestes has recorded with The Fania All-Stars, Celia Cruz, Ray Barretto, Ruben Blades, Santana, Cal Tjader, Eddie Palmieri, and hundreds of others.

This Afro-Cuban play-along book, with its accompanying audio tracks of over 70 minutes of smokin' latin grooves, is a must for those who want to focus on latin piano, percussion, and bass. The 'balance' control can be used to separate the bass or piano so that they can be eliminated while playing along.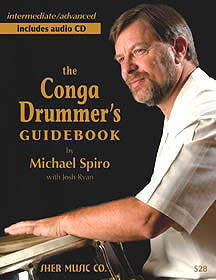 The Conga Drummer's Guidebook by Michael Spiro

---
Endorsed by Karl Perazzo, Dave Garibaldi, John Santos, Ignacio Berroa, Mark Levine, Rebeca Mauleon, Jesus Diaz and more.

"The Conga Drummer's Guidebook" is the only method book specifically designed for intermediate to advanced conga drummers---packed with exercises on every aspect of the craft!

Includes complete chapters on:
> a clear, lucid explanation of clave
> exercises on playing quinto
> correct phrasing concepts
> revoicing ideas to give more depth to your playing
> 12 coordination exercises
> explanation of many different rhythmic styles
> stamina exercises
> agility exercises
> heel-toe technique, and much more!

Spiro goes behind the superficial licks and shows you how to approach any Afro-Latin rhythm with the right feel, i.e. he explains the concepts of HOW to play correctly, not just WHAT to play.